Introduced in 1973
It's often thought to be discontinued, but as of 2010, Boo Berry cereal is still in production. While Count Chocula can be found in grocery stores throughout the year, distribution of Boo Berry (and to a lesser extent Franken Berry) is sporadic. All three monsters cereals can be found in larger grocery outlets during the Halloween season. Target and Wal-Mart often feature the cereals on endcaps from late-September through Halloween.
This monster cereal has been described on the box as a "sweet blueberry flavor cereal plus marshmallow bits" and an "artificial blueberry flavor frosted cereal with blueberry marshmallows". Occasionally the marshmallows are referred to as "spooky-fun marshmallows".
The following is a transcript of the very first
Boo Berry television commercial from 1973:
[ Franken Berry and Count Chocula are seen arguing in cobweb-ridden, spooky kitchen. The doorbell rings. ]

Announcer: Someone's come for a nutritious breakfast.

[ Opening the door, Franken Berry and the Count are greeted by a floating yellow pork pie hat. The body of a ghost materializes beneath the hat. He's blue and carries a jangling chain. ]

Boo Berry: Hello. My Name is Boo...

[ Reacting to the word "boo", a frightened Count Chocula jumps into the arms of an equally frightened Franken Berry. ]

Boo Berry: Let me finish... Boo Berry. My ghostly good blueberry-flavored cereal, Boo Berry, is part of this complete breakfast.

[ An image appears of a bowl of Boo Berry Cereal, two slices of white toast, a glass of milk and a glass of orange juice. As action resumes, Count Chocula and Franken Berry react defensively, tying Boo Berry in his own clain. ]

Franken Berry: Franken Berry has got strawberry-flavored marshmallows.

Count Chocula: Count Chocula has got chocolate marshmallows.

[ Franken Berry and Count Chocula force the blue ghost out the door and slam it violently shut. ]

Boo Berry: But I've got blueberry-flavored marshmallows.

[ Back inside the kitchen, Franken Berry and Count Chocula continue the argument they were presumably having at the start of the commercial. ]

Franken Berry: Franken Berry!

Count Chocula: Count Chocula!

[ Boo Berry suddenly materializes through the door. ]

Boo Berry: Boo Berry

[ Surprised to see their unwelcome visitor once more, Franken Berry and Count Chocula jump up and down and wave their hands in horror. ]

- - - END OF COMMERCIAL - - -
The following description of Boo Berry is from 2010 marketing material promoting the cereal for Halloween:
"A spoonful of spooky fun in every bowl, Boo Berry is a whimsical way to start the day. Made with whole grain corn, Boo Berry combines blueberry-flavored frosted cereal with colorful marshmallow shapes to create a delicious cereal that kids and adults can enjoy. Each serving of this playful, monster-themed cereal is low in fat with no cholesterol or saturated fat. It's also a good source of calcium, whole grain, and 9 other essential vitamins and minerals."
Fun Facts About Boo Berry:
Third cereal of the line of Monster Cereals
Boo Berry is a blue ghost with a red bow-tie and red and yellow striped hat
Launched in 1973
Cereal compared to Lucky Charms however it's a blueberry cereal with blueberry marshmallows
The marshmallows are often referred to as "spooky fun marshmallows"
The voice of Boo Berry was based on that of Peter Lorre - the voice was provided by Paul Frees who was also the voice of the Pillsbury Doughboy and Santa Claus in Frosty the Snowman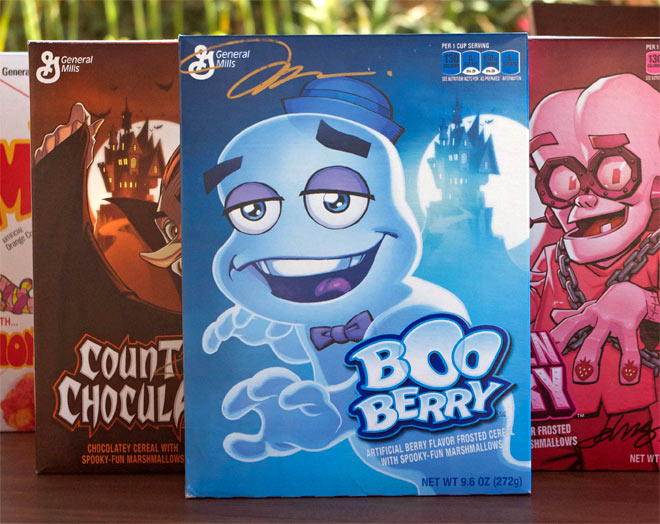 For the 2014 Halloween version of the Boo Berry cereal box, General Mills turned to comic artist Jim Lee to give Boo Berry a fresh look. Artists from DC Comics also reinvigorated Franken Berry and Count Chocula. For more about the 2014 boxes, see
Monster Cereals Get Comic Book Makeover
.
For more information on Boo Berry including more images of boxes and prizes, be sure to check out
The Unofficial Boo Berry Page
from Boo Berry fanatic Roger Barr.
Click here
to see all cereals from General Mills.
---
Additional Images
These are the most recent images. Click here to see all pictures for Boo Berry.
There's More Pictures! See all images for Boo Berry cereal
---

Overall Average Rating = 4 (out of 5)

View all 48 comments for this cereal.


By Major Lee Sad


| | |
| --- | --- |
| Cereal Rating (out of 5): | |

Terrible! I bought a box of this and Count Chocula a few weeks ago, wanting to capture a taste of long ago. It was tasteless. Someone making 6 figures thought he would save the company money I'm sure. Well, you lost my business and everyone else I know. Bad idea. Change it back and I'll buy General Mills products again.

Comment submitted: 10/7/2015 (#19528)



By 80sChild


| | |
| --- | --- |
| Cereal Rating (out of 5): | |

While the flavor is indeed worse in the revived Monster cereals, the thing I noticed the most was the texture. Changing the cereal parts to corn from oat (mentioned also by another poster), ruined the consistency of the cereal. One bite was all it took; I didn't even finish the bowl. This was my favorite cereal growing up (I liked them all, even Fruity Mummy, but Boo-Berry was always my first choice), and it's a shame that they don't make it like they used to. It's absolutely terrible now.

Comment submitted: 2/25/2015 (#18603)





By wickywicky76 (Team Breakfast Member)


| | |
| --- | --- |
| Cereal Rating (out of 5): | |

Wow!!! :( How did they take the greatest cereals of all time and turn them to garbage and still label and market them as if they actually have any quality worth wasting one penny on? What once tasted like blueberry now tastes exactly the same as the strawberry which tastes exactly like the chocolate. All the monster cereals taste the same. If I close my eyes I couldn't tell which one I was eating. All of them are flavorless and the milk doesn't even change to match the color of the cereal like it used to. This is an insult to the past memories of this ill fated block buster cereal.. I was embarrassed having my girlfriend try these cereals after I basically praised theses cereals as gods of Saturday morning cartoons... shut down manufacturing and don't waste the world's time any longer! What lunatic took over and thought this would be unnoticed... totally unacceptable. .. period.

Comment submitted: 11/4/2014 (#17971)



By Was Better B4


| | |
| --- | --- |
| Cereal Rating (out of 5): | |

Boo Berry and Frankenberry recipes have changed but I still love both of them when I can get them.

Comment submitted: 7/24/2014 (#17401)





By viciousangel (Team Breakfast Member)


| | |
| --- | --- |
| Cereal Rating (out of 5): | |

The recipes for Boo Berry, Franken berry and many others have changed - FOR THE WORSE... I started a petition to bring back the original recipes for these and other cereals. Join me and fight this injustice! http://www.gopetition.com/petitions/bring-original-general-mills-cereal-recipes-back.html

Comment submitted: 11/4/2013 (#15255)



By Boo4Real

Sorry, monster cereal fans. Boo Berry tastes terrible now - recipe is completely different from our childhood memories. Sad.

Comment submitted: 9/23/2013 (#14291)



By Mr. Jeff


| | |
| --- | --- |
| Cereal Rating (out of 5): | |

The comments here are correct. Boo Berry, these days, is like eating Styrofoam. No taste... the cereal melts before you can taste it. It wasn't that way "back in the day".

Comment submitted: 8/19/2013 (#13349)



By Boo Hunter


| | |
| --- | --- |
| Cereal Rating (out of 5): | |

I just don't understand what you have to do to get through to a company to get Boo Berry back on the shelf all the time. Obviously the people are begging for it so why wouldn't they want to sell it all the time, except at the time of Halloween! Hello... wake up and smell the Boo Berry. If something is in demand, produce it!

Comment submitted: 8/18/2013 (#13342)



By Pooket

Ha. The old Boo Berry kind of looks like a condom.

Comment submitted: 5/30/2013 (#12231)



By Postman


| | |
| --- | --- |
| Cereal Rating (out of 5): | |

The reason the Monster cereals taste different is that they are now corn based instead of oat based. General Mills please bring back the oat based cereal that we all love. If Lucky Charms can still be oat based why can't the Monster cereals?

Comment submitted: 5/2/2013 (#11901)



View all 48 comments for this cereal.