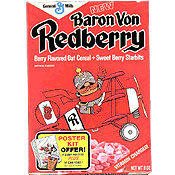 From: General Mills
Introduced in 1972
General Mills introduced Baron Von Redberry cereal in or about 1972. The cereal was described on the box as being, "Berry Flavored Oat Cereal Plus Sweet Berry Starbits - Vitamin Charged!". The "starbits" were star-shaped marshmallow pieces similar to those found in Lucky Charms cereal. The flavor of the cereal has been described as being similar to fruit punch.
The cereal box mascot for Baron Von Redberry Cereal was a World War One-style German fighter pilot named Barron Von Redberry. The box featured an image of the character flying a red World War II plane with what appeared to be raspberries painted on its tail.
Concurrent to the introduction of this cereal , General Mills introduced a grape-flavored cereal called Sir Grapefellow Cereal, which featured a British fighter pilot in a purple plane with a bunch of grapes painted on the tail.
The two cereals were usually promoted together showing the characters as good-natured enemies, with each proclaiming they represented the best cereal.
Among the cereal premiums offered with Baron Von Redberry were a cut-away "Propeller Plane" (printed on the back of the box), a send-away offer for a balsa wood biplane glider with a 3 foot wingspan, and a send-away offer for a collection of 4 giant posters and 16 crayons.
Click here
to see all cereals from General Mills.
This cereal belongs to the following Mr Breakfast Cereal Families:
The Marshmallow Madness Cereal Family
Featuring:
Baron Von Redberry

Wearing googles over his spiked, classic Prussian / German style Pickelhaube (helmet), the mustachioed Baron Von Redberry promoted his berry cereal namesake with the words, "Achtung! Baron Von Redberry is derberry goodest cereal!"

Beyond the obvious distinctions between the Baron and his cereal nemesis Sir Grape Fellow, it's interesting to note that the Baron was often pictured giving a thumbs-up hand gesture, while Grapefellow was more inclined to display a rounded thumb and index finger okay sign.
Additional Images
Title:
Baron Von Redberry Pilot's Patch
Submitter: jeffrey
Uploaded: 10/10/2010
Additional details
Title:
Baron Von Redberry Box And Ad
Submitter: Mr Breakfast
Uploaded: 3/13/2008
Additional details
Title:
Baron Von Redberry / Sir Grapefellow Gliders
Submitter: kidpancake
Uploaded: 3/13/2008
Additional details
Upload an image for this cereal
Comments About This Cereal
What do you think of Baron Von RedBerry?

Overall Average Rating = 5 (out of 5)

By Walt


| | |
| --- | --- |
| Cereal Rating (out of 5): | |

I remember these cereals way back when I was nine years old. I wish General Mills could remake these cereals like Redberry and Grapefellow once again, because I can relive them once again.

Comment submitted: 6/21/2012 (#8145)



By SanClemente62


| | |
| --- | --- |
| Cereal Rating (out of 5): | |

These were the best cereals ever! I even had a special spoon that I used for Sir Grapefellow and Baron Von Redberry!

Comment submitted: 5/3/2012 (#7537)





By emilyw1963 (Team Breakfast Member)


| | |
| --- | --- |
| Cereal Rating (out of 5): | |

I loved these cereals as a child! Wish they were still around!!

Comment submitted: 8/16/2010 (#2665)



By TomCatDriver


| | |
| --- | --- |
| Cereal Rating (out of 5): | |

I wish General Mills would bring Der Baron and Sir Grapefellow back again! {aviation-themed cereals.... what a great preflight breakfast!} Al C.,Captain,COAir.

Comment submitted: 8/31/2009 (#427)