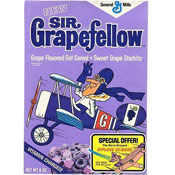 From: General Mills
Introduced in 1972
General Mills introduced Sir Grapefellow cereal in or about 1972. The cereal was described on the box as being, "Grape Flavored Oat Cereal Plus Sweet Grape Starbits - Vitamin Charged!". The "starbits" were star-shaped marshmallows pieces similar to those found in Lucky Charms cereal. According to many accounts, the fragrance of artificial grape was incredibly strong when a box of the cereal was first opened.
The cereal box mascot for Sir Grapefellow cereal was a World War One-style British fighter pilot named Sir Grapefellow. The box featured an image of the character flying a purple World War I plane with a bunch of grapes painted its tail.
Concurrent to the introduction of this cereal , General Mills introduced a berry-flavored cereal called Baron Von Redberry cereal, which featured a German fighter pilot in a red plane with what appeared to be raspberries painted on the tail.
The two cereals were usually promoted together showing the characters as good-natured enemies, with each proclaiming they represented the best cereal.
Text from the back of Sir Grapefellow Cereal Box:
"Tally-Ho! Hello Mothers. This is Sir Grapefellow with important nutritional information. We at General Mills realize all you mothers are naturally concerned with nutrition. Well, so are we. That is why we vitamin charged this new cereal with 8 of the essential vitamins and iron that you and your family should get in a good nutritious breakfast."
Among the cereal premiums offered with Sir Grapefellow were a cut-away "Grape New Propeller Plane" (printed on the back of the box), a send-away offer for a balsa wood biplane glider with a 3 foot wingspan, and - included in some boxes - "Sir Grapefellow's Air Car" - a small plastic car that was propelled by a balloon.
Click here
to see all cereals from General Mills.
This cereal belongs to the following Mr Breakfast Cereal Families:
The Marshmallow Madness Cereal Family
Featuring:
Sir Grapefellow

Wearing a parka jacket and goggles under his purple presumably-leather helmet, the long-nosed Sir Grapefellow promoted his grape-flavored cereal namesake with the words, "Tally-ho! Sir Grapefellow's the greatest cereal!"

Beyond the obvious distinctions between Grapefellow and his cereal nemesis Baron Von Redberry, it's interesting to note that Grapefellow was often pictured giving a rounded thumb and index finger okay sign, while Von Redberry was more inclined to offer a thumbs-up hand gesture.
Additional Images
Title:
Two Sir Grapefellow Boxes And An Ad
Submitter: Mr Breakfast
Uploaded: 3/14/2008
Additional details
Upload an image for this cereal
Comments About This Cereal
What do you think of Sir Grapefellow?

Overall Average Rating = 4 (out of 5)

By Ashley


| | |
| --- | --- |
| Cereal Rating (out of 5): | |

After Quisp this was my favorite cereal! I eat cereal dry, so it might have been a different experience for me?

Comment submitted: 3/23/2012 (#6931)



By yesberry


| | |
| --- | --- |
| Cereal Rating (out of 5): | |

I didn't care for this cereal growing up. It gave me gas, seriously. The Redberry cereal was the better of the two.

Comment submitted: 10/18/2011 (#5518)





By Sugar Boy (Team Breakfast Member)


| | |
| --- | --- |
| Cereal Rating (out of 5): | |

Ahh, the good ol' days. The only thing I cared about was the prize (balloon powered vehicle), and the cut-outs. What's amazing is the amount of money collectors pay for these cardboard boxes. Oi!

Comment submitted: 9/29/2011 (#5378)



By Joe Spliggins


| | |
| --- | --- |
| Cereal Rating (out of 5): | |

What the **** were they thinking? Grape flavored milk! EWWWWW! I remember begging for a box of this (because of the biplane), choking down part of a bowl, and my mom eventually throwing it away after it went stale. BTW... Grapefellow and the Baron flew WW1 planes, not WW2.

Comment submitted: 2/15/2011 (#3933)





By yammy (Team Breakfast Member)

The pilot eye wear are goggles, not googles.

Note from Mr Breakfast: I fixed that spelling mistake. Thanks for pointing it out Yammy.

Comment submitted: 2/8/2010 (#1393)





By klize (Team Breakfast Member)


| | |
| --- | --- |
| Cereal Rating (out of 5): | |

It's funny you should mention the aroma of grapes. My father used to complain about that all the time but I loved that cereal.

Comment submitted: 8/26/2009 (#408)





By DixieChick (Team Breakfast Member)


| | |
| --- | --- |
| Cereal Rating (out of 5): | |

Grapefellow kicked VonRedFairy's (swear) in cereal sales if I'm not mistaken.

Comment submitted: 11/13/2007 (#4)