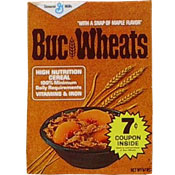 From: General Mills
Introduced in 1971
According to cereal boxes from the 1970's, Buc Wheats cereal was a "high nutrition cereal (with) 100% minimum daily requirements (for) vitamins and iron... with stoneground buckwheat... (and) a snap of maple flavor".
Using achieved grocery store circulars, MrBreakfast.com has been able to prove this cereal was in existence as early as 1971 and as late as 1982.
Those who remember the cereal have said the following:
"Buc-Wheats cereal was pretty much corn flakes mixed with the dark buckwheat. Essentially, they looked like bran flakes as far as color, but they were lighter more like corn flakes. Here was the kicker, instead of being covered with powdered sugar as like Frosted Flakes, they were coated with a Maple Syrup glaze, which really enhanced the flavor of the flake."

"Kinda like dark colored Frosted Flakes, but they were glazed with sugar, instead of covered in powdered sugar. They were more wheat flavored, and quite yummy."

"When they had enough glaze that sometimes they'd stick together in a huge lump in the box."
There are conflicting reports that the cereal may have been originally produced by the Ralston Purina Company. Most of these accounts infer that the the cereal traded hands when General Mills purchased Ralston's cereal line. Since this event took place in 1994 long after Buc Wheats had disappeared from grocery store shelves, it is unlikely that Ralston originally produced the cereal.
In 1974, New York composer Steve Karmen penned a jingle for the cereal titled "Feelin' Like A Million Bucks". There is an unverified account that another jingle with the lyrics "pass the buck, pass the buck, pass the Buc Wheats" also existed.
It's known that television commercials with the following plot lines were produced for the cereal:
- water mill grinds grains, then man eat product
- man in Vermont cabin says product has maple syrup flavor
- wife serves product to her husband
- man getting maple syrup from trees eats cereal
Late in the production of the cereal, General Mills replaced the maple glaze with a honey coating. Fans of the original version were united in feeling that Buc Wheats had lost its magic. The new version was said to taste like a sweet and sticky bowl of Wheaties.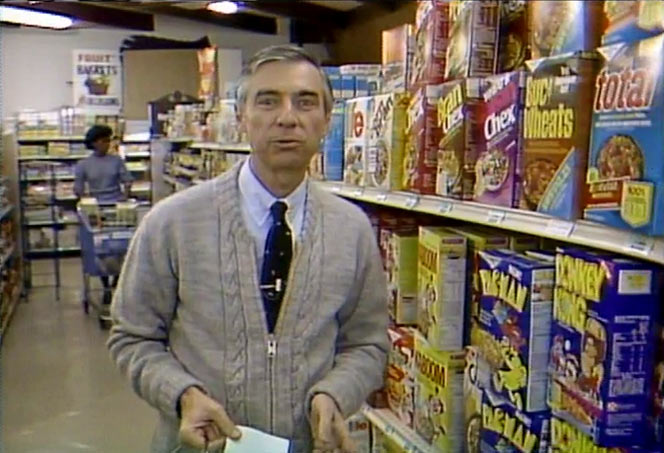 In a 1984 episode (#1529) of
Mr. Rogers' Neighborhood
, Mr. Rogers takes a trip down the cereal aisle where you can see Buc Wheats Cereal along with other discontinued favorites like Pac-Man Cereal and Donkey Kong Cereal.
Click here
to see all cereals from General Mills.
Buc Wheats Cereal Theater
Additional Images
Title:
Another Buc Wheats Cereal Box
Submitter: CornFlake
Uploaded: 3/27/2009
Additional details
Title:
Three Buc Wheats Cereal Boxes
Submitter: Mr Breakfast
Uploaded: 3/13/2008
Additional details
Upload an image for this cereal
Comments About This Cereal
What do you think of Buc Wheats?

Overall Average Rating = 5 (out of 5)

View all 189 comments for this cereal.


By Geanie


| | |
| --- | --- |
| Cereal Rating (out of 5): | |

Come on... bring Buc Wheats back! Definitely the best cereal!

Comment submitted: 7/7/2014 (#17303)



By PAtoTX


| | |
| --- | --- |
| Cereal Rating (out of 5): | |

This is hilarious. I can't believe I'm not alone in remembering this cereal and missing it greatly. I'm truly stunned. Misery loves company I guess because I don't imagine they'll bring it back. Only the crappy songs and fashions etc ever get brought back. Sigh.

Comment submitted: 7/1/2014 (#17272)



By G. Mann


| | |
| --- | --- |
| Cereal Rating (out of 5): | |

I want General Mills to bring Buc Wheats cereal back. I was just asking my family if they remembered them. They were my favorite and I always wondered what happened.

Comment submitted: 6/24/2014 (#17243)



By Buck Wheaty


| | |
| --- | --- |
| Cereal Rating (out of 5): | |

Get in my belly! I need my Buc Wheats back! I have been craving this cereal since I was 12 years old. Best tasting thing I have ever eaten, except for the pizza flavored ravioli's made back in the early '80's.

Comment submitted: 6/13/2014 (#17186)



By Beezer


| | |
| --- | --- |
| Cereal Rating (out of 5): | |

Best cereal ever! BRING IT BACK!

Comment submitted: 6/9/2014 (#17158)





By BURGUNDY (Team Breakfast Member)


| | |
| --- | --- |
| Cereal Rating (out of 5): | |

Bring it back! It's the only cereal I ever really liked!

Comment submitted: 6/2/2014 (#17130)



By Ashlyn


| | |
| --- | --- |
| Cereal Rating (out of 5): | |

Memory is a strange thing. While I remember the smell, texture and most of all flavor of this cereal so vividly - even though it's been 30+ years since I had it as a child - my memory of the name of the cereal was foggy all these years. I'm glad that an extensive Google search finally lead me here to this site to discover not only the actual name of it, but that I was not alone in my love of this awesome cereal. I still think about this cereal often, and as I pass through the cereal aisles in the grocery store I feel that so many of the selections on the shelf just don't hold a candle to Buc Wheats. I really, really wish this cereal would come back. I would buy it in a heartbeat!

Comment submitted: 5/15/2014 (#17052)



By Julie


| | |
| --- | --- |
| Cereal Rating (out of 5): | |

Great cereal. Loved when the flakes stuck together when too much maple coating was on it. I remember the deer picture they had on the back once; I think it had a log cabin behind the deer, with maybe four prints you could buy? And I remember they gave away (sold?) the Farmer's Almanac as a promotion for the cereal. It was 1977, and I still have a copy. It has the "Pass the Buc" advertisement on the back. And I remember once I accidentally put tomato juice on my Buc Wheats because my mom put tomato juice in the same pitcher that she usually put the reconstituted powdered milk in... It tasted awful, but as a dutiful daughter who didn't want to waste GREAT BUC WHEATS, I tried to eat it anyway. Maple and tomato don't mix... Don't ever try Buc Wheats that way!

Comment submitted: 5/10/2014 (#17040)



By Bestflavor


| | |
| --- | --- |
| Cereal Rating (out of 5): | |

This was the best tasting cereal ever. It had a very unique taste! They could sell trainloads if they kept the taste exactly the same!

Comment submitted: 4/27/2014 (#16996)



By Danno


| | |
| --- | --- |
| Cereal Rating (out of 5): | |

PLEASE bring my Buc Wheats back! Best all-time cereal ever!

Comment submitted: 4/23/2014 (#16971)



View all 189 comments for this cereal.