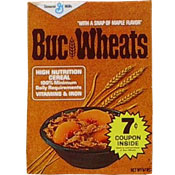 From: General Mills
Introduced in 1971
According to cereal boxes from the 1970's, Buc Wheats cereal was a "high nutrition cereal (with) 100% minimum daily requirements (for) vitamins and iron... with stoneground buckwheat... (and) a snap of maple flavor".
Using achieved grocery store circulars, MrBreakfast.com has been able to prove this cereal was in existence as early as 1971 and as late as 1982.
Those who remember the cereal have said the following:
"Buc-Wheats cereal was pretty much corn flakes mixed with the dark buckwheat. Essentially, they looked like bran flakes as far as color, but they were lighter more like corn flakes. Here was the kicker, instead of being covered with powdered sugar as like Frosted Flakes, they were coated with a Maple Syrup glaze, which really enhanced the flavor of the flake."

"Kinda like dark colored Frosted Flakes, but they were glazed with sugar, instead of covered in powdered sugar. They were more wheat flavored, and quite yummy."

"When they had enough glaze that sometimes they'd stick together in a huge lump in the box."
There are conflicting reports that the cereal may have been originally produced by the Ralston Purina Company. Most of these accounts infer that the the cereal traded hands when General Mills purchased Ralston's cereal line. Since this event took place in 1994 long after Buc Wheats had disappeared from grocery store shelves, it is unlikely that Ralston originally produced the cereal.
In 1974, New York composer Steve Karmen penned a jingle for the cereal titled "Feelin' Like A Million Bucks". There is an unverified account that another jingle with the lyrics "pass the buck, pass the buck, pass the Buc Wheats" also existed.
It's known that television commercials with the following plot lines were produced for the cereal:
- water mill grinds grains, then man eat product
- man in Vermont cabin says product has maple syrup flavor
- wife serves product to her husband
- man getting maple syrup from trees eats cereal
Late in the production of the cereal, General Mills replaced the maple glaze with a honey coating. Fans of the original version were united in feeling that Buc Wheats had lost its magic. The new version was said to taste like a sweet and sticky bowl of Wheaties.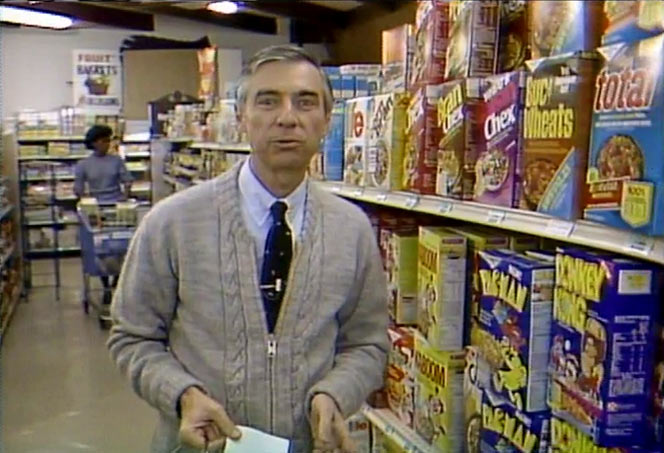 In a 1984 episode (#1529) of
Mr. Rogers' Neighborhood
, Mr. Rogers takes a trip down the cereal aisle where you can see Buc Wheats Cereal along with other discontinued favorites like Pac-Man Cereal and Donkey Kong Cereal.
Click here
to see all cereals from General Mills.
---
Buc Wheats Cereal Theater

Now Showing: 1976 Pass The Buc Wheats Ad
---
Additional Images
---
Comments About This Cereal
What do you think of Buc Wheats?

Overall Average Rating = 5 (out of 5)

View all 236 comments for this cereal.


By Jess


| | |
| --- | --- |
| Cereal Rating (out of 5): | |

Please bring back Buc Wheats! It was the best cereal ever made. My life hasn't been complete since it left store shelves. I know it would sell really well, especially with the original maple recipe! I would pay twice as much for it as I do for the cereals that are out now.

Comment submitted: 4/19/2015 (#18922)



By BucWheatBelievr


| | |
| --- | --- |
| Cereal Rating (out of 5): | |

Greatest food ever of all time ever. Like crack cocaine. I would pass over all other cereals as a kid to eat this stuff. They must resurrect this cereal. Raise the price per box, who cares, we addicts will pay it. Who CARES if it clumps. C'mon General Mills!

Comment submitted: 4/5/2015 (#18847)



By Rocks


| | |
| --- | --- |
| Cereal Rating (out of 5): | |

This was one great cereal. Only one I liked more than the sugar bomb cereals. Getting a clump of Buc Wheats on your spoon meant that maple goodness was about to explode. I would hunt for those clumps in the box, and if you shook the box just right you could get them to the surface and in your bowl. Never told my brother about that trick :-)

Comment submitted: 4/3/2015 (#18841)





By detect688 (Team Breakfast Member)


| | |
| --- | --- |
| Cereal Rating (out of 5): | |

Bring this cereal back please! Nothing else was like it. I remember eating this cereal from when it started around 1972 to 1982. We always had boxes of it in the house. The maple flavor made this cereal great tasting. Bring this one back and you'll have one satisfied customer!

Comment submitted: 3/28/2015 (#18821)



By Vince


| | |
| --- | --- |
| Cereal Rating (out of 5): | |

Ate this a lot as a kid/teenager. Like Wheaties are now, with very light maple coating you could see. Not overly sweet, but you could eat it without adding sugar. I'd buy it if it reappeared.

Comment submitted: 3/11/2015 (#18726)



By CerealKiller5


| | |
| --- | --- |
| Cereal Rating (out of 5): | |

I loved Buc-Wheats as a kid. Team Flakes were another favorite. Both discontinued in the 80's, while so many other lame cereals remain. In the meantime, I've found a reasonable surrogate for Buc-Wheats: take some Wheaties and pour a little maple syrup over them and then add milk as usual. You'll be surprised, pretty close to the original in flavor!

Comment submitted: 3/1/2015 (#18650)



By deni1965


| | |
| --- | --- |
| Cereal Rating (out of 5): | |

I would definitely buy Buc Wheats again. I loved that cereal growing up. There have been many times that I wish I could buy it again. Bring it back please.

Comment submitted: 2/27/2015 (#18640)



By Double B.


| | |
| --- | --- |
| Cereal Rating (out of 5): | |

Bring the original maple back... I have missed them since they pulled it... my favorite cereal of all time, would totally buy too much :). Best cereal ever!!

Comment submitted: 2/8/2015 (#18505)





By corvetteguy15 (Team Breakfast Member)


| | |
| --- | --- |
| Cereal Rating (out of 5): | |

Here's what I think: Financially, General Mills would certainly rake in a huge amount of money bringing theses back to the consumer is they use the original formula. PLEASE BRING THIS GREAT CEREAL BACK!

Comment submitted: 1/31/2015 (#18461)





By Sonnieday (Team Breakfast Member)


| | |
| --- | --- |
| Cereal Rating (out of 5): | |

I searched for this cereal today on the shelves at the store and was sadly disappointed when I couldn't find it. Please bring it back.

Comment submitted: 1/24/2015 (#18421)



View all 236 comments for this cereal.