M Cereals
114 cereals start
with the letter
"M"

CEREALS LISTED ALPHABETICALLY: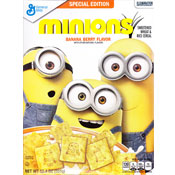 Featured " M" Cereal:
Minions
This special edition cereal is described on the front of the box as a "sweetened wheat & rice cereal" with "banana berry flavor." The front of the box features Kevin, Stuart and Bob, characters from the 2015 animated film
Minions
.
The back of the box features...
Read More
Other Featured "M" Cereals:






More Cereals That Start with "M"