M Cereals
116 cereals start
with the letter
"M"

CEREALS LISTED ALPHABETICALLY: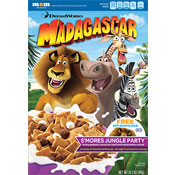 Featured " M" Cereal:
Madagascar S'Mores Jungle Party
This cereal is described on the box as a "honey graham, cocoa corn puff and marshmallow cereal." According to the Mom Brands website, it "combines squares of honey graham with a chocolatey crunch and marshmallows... each flavorful bowl serves up a party of great taste that you can enjoy for breakfast or snack anytime!" From a visual perspective...
Read More
Other Featured "M" Cereals:






More Cereals That Start with "M"