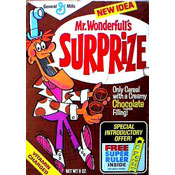 From: General Mills
Introduced in 1972
Mr. Wonderfull's Surprize was promoted on the box as the "only cereal with a creamy chocolate flavor filling!"
While the concept was "wonderfull", many of the flavor-filled puffs burst sometime time between production and the breakfast table, leaving the consumer with a bowl full of hollow puffs and small glops of hardened filling.
This cereal also came in a vanilla variety.
Company Description:
Officially created in 1928, General Mills traces it's history back to the 1860's and the ownership of two flour mills. Since then, the company has become the world's 6th largest food company - marketing to over 100 countries...
Read on and see all cereals from General Mills
This cereal belongs to the following Mr Breakfast Cereal Families:
The Chocolate Cereal Family
Additional Images
Title:
Mr. Wonderfull's Surprize Ruler
Submitter: jeffrey
Uploaded: 10/15/2010
Additional details
Upload an image for this cereal
Comments About This Cereal
What do you think of Mr. Wonderfull's Surprize - Chocolate?

Overall Average Rating = 4 (out of 5)

By noodles


| | |
| --- | --- |
| Cereal Rating (out of 5): | |

That cereal box is great. However, this American girl has never in her life eaten or even seen Mr. Wonderfull's Surprize. It sounds kind of bad. I just Google'd it. It's terrifying, but where is this boat you speak of? I didn't see it on any of the images I found.

Comment submitted: 5/28/2012 (#7806)



By Cereal Freak


| | |
| --- | --- |
| Cereal Rating (out of 5): | |

Oh my GOSH - we loved this cereal as kids! Nobody we've talked to even remembers it. Wish it would make a comeback, even for a little while!

Comment submitted: 2/25/2012 (#6614)





By cocharl (Team Breakfast Member)


| | |
| --- | --- |
| Cereal Rating (out of 5): | |

I loved this cereal and was really dissappointed when it was discontinued.

Comment submitted: 4/18/2011 (#4696)





By NerdsCereal (Team Breakfast Member)


| | |
| --- | --- |
| Cereal Rating (out of 5): | |

I do recall that Mr. Wonderfull's Surprize was a short-lived test market item that General Mills discontinued shortly after it was introduced, mainly because parents and nutritionists were complaining that the cereal had no nutritional value, as well as production problems with the cereal. I wanted to try this cereal when I was younger, having read about it in the newspaper, problems and all, but Mr. Wonderfull's Surprize never made national distribution. At the time, my mother mainly brought home variety-pack cereals in the single serving boxes, because she said that I eat too much cereal. That didn't stop me, though... I just ate two variety-pack cereals per sitting.

Comment submitted: 5/31/2010 (#2213)



By decker14626


| | |
| --- | --- |
| Cereal Rating (out of 5): | |

This was my favorite cereal ever. My sister and I would eat a whole box watching Saturday morning cartoons!

Comment submitted: 4/15/2010 (#1911)



By jjb


| | |
| --- | --- |
| Cereal Rating (out of 5): | |

I agree with the comments below. While I was very young, I still remember the taste and still have cravings for it.

Comment submitted: 3/24/2010 (#1675)



By grewup70s


| | |
| --- | --- |
| Cereal Rating (out of 5): | |

My uncle worked for General Mills and we got some of the first off the line. My parents let us have it once or twine until they discovered it had no nutritional value. Maybe so but it was amazing! You bit into slightly crisp milk soaked pillows filled with a slightly firm chocolate frosting!!! MMMMMM!

Comment submitted: 3/22/2010 (#1668)



By Mr. Wonderfull


| | |
| --- | --- |
| Cereal Rating (out of 5): | |

I can still taste it. Best ever.

Comment submitted: 3/2/2010 (#1520)





By zephead64 (Team Breakfast Member)


| | |
| --- | --- |
| Cereal Rating (out of 5): | |

This cereal was amazing. I still have cravings for it to this day.

Comment submitted: 9/11/2009 (#544)