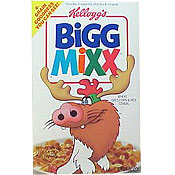 From: Kellogg's
Introduced in 1990
In the Spring of 1990, Kellogg's introduced Bigg Mixx, a ready-to-eat cereal with rolled oats, rice, toasted corn flakes and whole grain wheat. The cereal came in 2 varieties: regular and raisin.
Bigg Mixx was promoted as a "big mix" of Kellogg's then-existing cereals, with ads alluding that the cereal was swept together off of the Kellogg's factory floor.
The mascot for for the cereal was a "big mix" of animals named Bigg Mixx. He had the head of rooster, moose antlers, the snout of a pig and the fur of wolf. His wide, uneven eyes gave the impression that Bigg Mixx was loopy and all "mixed" up.
The side-panel on some boxes of the cereal gave a newspaper-style account of the character's origins:
Combine the wild appetites of a wolf, a moose, a pig, and a chicken, and you have Bigg Mixx - the legendary Chicken-wolf-Moose-pig of the Yakima Valley.

The first reported Bigg Mixx sighting took place in 1978 when Yakima native, Travis Uddlebock, was hiking near Toppenish Creek.

"I saw the tip of an antler peeking out over a bush and I heard a loud snort. I thought it was a wart hog, so you can imagine my surprise when he stood upright on two paws, flapped his wings, and howled like a wolf. I laughed so hard I passed out."

Since then, there have been countless other sightings - in the woods, at shopping malls, and even once on a subway in New York City (unconfirmed). And eye witnesses all agree, "He eats like a pig."

Now, in the spirit of this noble creature, Kellogg's introduces Bigg Mixx cereal.

"I'm sure Bigg Mixx would be proud knowing Kellogg's had named a new cereal after him," Uddlebock explained. "He's a proud creature. A little stupid, but definitely proud."
Sightings of the cereal in grocery stores began to cease in 1991. Bigg Mixx was discontinued within two years of it's debut.
In 2007, "The Top 10 Blog" ranked the Bigg Mixx character as the 4th Scariest Cereal Box Personality Of All Time.
Known premiums:
Souvenir yellow police line tape
Bigg Mixx poster
Unconfirmed premium:
Plastic figurines of the Bigg Mixx character

1990 Bigg Mixx Basketball Commercial
Boy (V.O.): I was shooting baskets when I felt a wild hunger. I had to eat fast. The ball was too big so I went for my shoe. He came from nowhere...
Bigg Mixx: Waaaooo... oooo... oooo
Boy (V.O.): Bixx Mixx... the Chicken-wolf-Moose-pig of the Yakima Valley... what's he doing in (Sweet Oak)... he gave me this (a box of cereal).
Narrator (V.O.): Kellogg's Bigg Mixx has mixed up this big mix himself with the sweet cinnamon and brown sugar taste to tame your wildest appetite. Part of this complete breakfast.
Boy (V.O.): Then he showed me how to stuff a basketball.
Narrator (V.O.): When your hunger runs wild, answer the call of Bigg Mixx.
Click here
to see all cereals from Kellogg's.
Featuring:
Bigg Mixx

Ads for Bigg Mixx Cereal portrayed the character Bigg Mixx as constantly hungry and borderline-retarded.

There has been some speculation that the "Chicken-wolf-Moose-pig" character may have been the inspiration for the ManBearPig character featured in a 2006 episode of South Park entitled "ManBearPig".
Bigg Mixx Cereal Theater
Additional Images
Upload an image for this cereal
Comments About This Cereal
What do you think of Bigg Mixx?

Overall Average Rating = 5 (out of 5)

View all 22 comments for this cereal.


By Abbie


| | |
| --- | --- |
| Cereal Rating (out of 5): | |

My whole family loved it! I wish they'd bring it back. Never fails... find something you like and they discontinue it.

Comment submitted: 9/19/2014 (#17703)



By jimoo


| | |
| --- | --- |
| Cereal Rating (out of 5): | |

Bigg Mixx had other premiums and related items. The ones I have: plush doll; t-shirt; tote bag; beach blanket, pin, pin with Olympic rings, doll house sized cereal boxes (both purple and white); and watch (send away premium). Others I know that exist: frisbee and sunglasses.

Comment submitted: 4/24/2014 (#16978)



By Sir Chickenwolf


| | |
| --- | --- |
| Cereal Rating (out of 5): | |

I still have coupons for Bigg Mixx that I never got to use because they quit making it. 35 cents off and no expiration date! I loved this cereal and the marketing campaign - yellow police tape, sweeping the cereal off the floor, the Chickenwolf Moosepig - was amazing.

Comment submitted: 2/19/2014 (#16107)



By bodisafa


| | |
| --- | --- |
| Cereal Rating (out of 5): | |

My friends and I made up the sound he would make for his bark: "Moooo chick chick chick chick burrr wolf"

Comment submitted: 10/25/2013 (#15209)



By JJRR Esq.


| | |
| --- | --- |
| Cereal Rating (out of 5): | |

The stuff of legend. Only 1 in 500 people I know have any recollection of this gem. Loved the raisin even more than the original.

Comment submitted: 9/11/2013 (#13919)



By old school


| | |
| --- | --- |
| Cereal Rating (out of 5): | |

Good Stuff!! I miss it.

Comment submitted: 8/26/2013 (#13429)



By halofolife


| | |
| --- | --- |
| Cereal Rating (out of 5): | |

I remember eating this back in high school. I was usually stoned outta my mind.

Comment submitted: 5/31/2013 (#12232)



By Donnab


| | |
| --- | --- |
| Cereal Rating (out of 5): | |

Anyone know what was in Bigg Mixx so we could make our own?

Comment submitted: 3/13/2013 (#11210)



By Twis23


| | |
| --- | --- |
| Cereal Rating (out of 5): | |

This is my all-time favorite! Wish they would bring it back.

Comment submitted: 1/13/2013 (#10359)



By Little Miss Sun

I have a limited edition Bigg Mix wrist watch. This cereal was really good!

Comment submitted: 1/5/2013 (#10296)



View all 22 comments for this cereal.