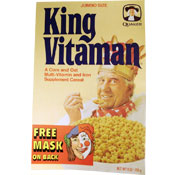 From: Quaker
Introduced in 1970
In development, this product was called King Vitamin. The name was changed when a federal regulatory agency disallowed the use of the name "vitamin" for a product that wasn't a vitamin. The second to last letter was changed to an "a" and King Vitaman was named.
According to ads shortly after the cereal was introduced, King Vitaman contained "100% of the minimum daily adult requirements for vitamins and iron established by the U.S. Government".
In its initial years, the cereal was described on boxes as "sugary sweet tasty little crowns... kids love 'em" and "a corn and oat multi-vitamin and iron supplement cereal". When the cereal industry was forced to reign in the claims made on cereal boxes, the description was changed to "a low fat and cholesterol free food - excellent source of 8 vitamins & iron."
The first mascot for King Vitaman cereal in 1970 was an animated king created by Jay Ward Production, the same company that created Cap'n Crunch, Quisp, Quake and Rocky & Bullwinkle. A year later, the animated king was replaced by a real-life man, George Mann, playing the part of King Vitaman.
In 2000, Quaker gave the King another overhaul. The current King Vitaman is again illustrated and has an older, wiser look that his animated predecessor.
These days, the super vitamin rhetoric continues to be toned down. Pepsico, the current parent company of Quaker, describes the cereal on their website as "a good source of 12 essential vitamins and iron and 100% of the recommended daily value of folic acid".
One early box of the cereal described itself like this:
"King Vitaman Cereal is the delicious corn and oat cereal packed with a full 100% of your minimum daily vitamin and iron needs. Children love the sweetly crisp little crunchy crowns - as you will too! Have a breakfast - solidly nutritious as well as delicious - with cereal, toast and butter, fruit and a glass of milk. Crunchy goodness, that's King Vitaman's crowning achievement."
Click here
to see all cereals from Quaker.
King Vitaman Cereal Theater
Additional Images
These are the most recent images. Click here to see all pictures for King Vitaman.
There's More Pictures! See all images for King Vitaman cereal
Upload an image for this cereal

Overall Average Rating = 5 (out of 5)

View all 62 comments for this cereal.




By Lynxx (Team Breakfast Member)


| | |
| --- | --- |
| Cereal Rating (out of 5): | |

Another of my personal favorites that I'd love to see back on shelves!!

Comment submitted: 10/6/2013 (#14648)





By Ismaelpr100x35 (Team Breakfast Member)


| | |
| --- | --- |
| Cereal Rating (out of 5): | |

I wish I could get it in Puerto Rico. I ate this cereal when I was tiny, but I can not find it in supermarkets these days.

Comment submitted: 7/7/2013 (#12691)





By Alexapoda (Team Breakfast Member)

I found this cereal again! I'm so happy! It was at a Piggly Wiggly in Edisto Beach, South Carolina. I bought five boxes of it to take home. The store says they get it all the time, Maybe it's a test market? Yay!

Comment submitted: 4/7/2013 (#11548)



By Meme


| | |
| --- | --- |
| Cereal Rating (out of 5): | |

I purchase this cereal online from Amazon or from Hometown Favorites. I live in NYC.

Comment submitted: 4/2/2013 (#11489)



By Rexmi


| | |
| --- | --- |
| Cereal Rating (out of 5): | |

I was wondering as to where to find this cereal again in either Tucson AZ or Pittsburgh, PA or anywhere in between? Last time I found it was in a Big Lots store.

Comment submitted: 3/29/2013 (#11428)



By Lionhearted


| | |
| --- | --- |
| Cereal Rating (out of 5): | |

The voice of the first King Vitaman was Joe Flynn of McHALE'S NAVY fame.

Comment submitted: 3/28/2013 (#11421)



By Maria


| | |
| --- | --- |
| Cereal Rating (out of 5): | |

I was one of the first kids to have Breakfast with the King! It was a coloring contest of his float. I road in the float with him in the 70's. George Mann was a great King Vitaman. I still have his picture and letter from Quaker Oats company. Thanks for a wonderful memory !

Comment submitted: 3/22/2013 (#11351)



By picky_eater_31


| | |
| --- | --- |
| Cereal Rating (out of 5): | |

This was the worst cereal ever! I can't believe people actually liked this stuff!

Comment submitted: 2/16/2013 (#10846)





By DrJackstraw (Team Breakfast Member)


| | |
| --- | --- |
| Cereal Rating (out of 5): | |

Hadn't had this since I was a kid, until I saw it on a shelf at Big Lots around a year ago. Tastes a like a less flavorful Cap'n Crunch and gets soggy much quicker.

Comment submitted: 2/8/2013 (#10672)



By K. Vitaman 4


| | |
| --- | --- |
| Cereal Rating (out of 5): | |

This cereal was delicious. Why did I give a 4 spoons rating, instead of 5? Because it was, to my taste, Cap'n Crunch in a different shape, just like Quisp and Quake. Also, the stuff came out when I was just old enough to dislike the name and find the slogan, "Have breakfast with the King", rather lame. I'll save the highest rating for the original.

Comment submitted: 2/5/2013 (#10642)



View all 62 comments for this cereal.