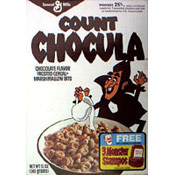 From: General Mills
Introduced in 1971
This cereal has been described on the box as a "chocolate flavor frosted cereal + marshmallow bits."
In 2007, "The Top 10 Blog" ranked the Count Chocula character as the #1 Scariest Cereal Box Personality Of All Time.
The following description of Count Chocula is from 2010 marketing material promoting the cereal for Halloween:
"A spoonful of spooky fun in every bowl, Count Chocula is a whimsical way to start the day. Made with whole grain corn, Count Chocula combines chocolaty cereal with colorful marshmallow shapes to create a delicious cereal that kids and adults can enjoy. Each serving of this playful, monster-themed cereal is low in fat with no cholesterol or saturated fat. It's also a good source of calcium, whole grain, and 9 other essential vitamins and minerals."
Fun Facts About Count Chocula:
Count Chocula cereal was first introduced in March of 1971
Count Chocula is a vampire who prefers chocolate to blood
Count Chocula tagline: "I vant to eat your cereal!"
The first images of Count Chocula were drawn by artist George Karn
In the 1980's the Count Chocula character was 're-stylized' and new boxes were introduced (including a set where Bela Lagosi, as Count Dracula, is chasing a terrified Count Chocula)
In 1993, another character overhaul returned the Count Chocula image to resemble his former self --large early, pointy nose & fingers; long, thin fingers etc.
Sales of Count Chocula cereal (along with the other Monster Cereals) double in October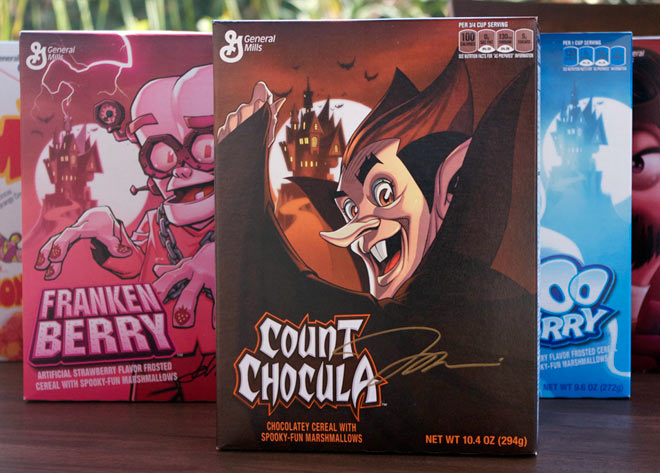 For the 2014 Halloween version of the Count Chocula cereal box, General Mills went to comic artists Terry and Rachel Dodson to give the Count a fresh look. Artists from DC Comics also reinvigorated Franken Berry and Boo Berry. For more about the 2014 boxes, see
Monster Cereals Get Comic Book Makeover
.
Company Description:
Officially created in 1928, General Mills traces it's history back to the 1860's and the ownership of two flour mills. Since then, the company has become the world's 6th largest food company - marketing to over 100 countries...
Read on and see all cereals from General Mills
This cereal belongs to the following Mr Breakfast Cereal Families: