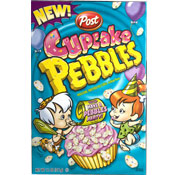 From: Post
Introduced in 2010
This cereal is described on the box as a "wholesome, sweetened rice cereal" with "artificial flavor". The box features The Flintstones' characters Pebbles Flintstone and Bamm-Bamm Rubble.
The introductory box included a "Pin The Tail On Dino" cutout game on the back and a recipe for a "Pebbles Giant Cupcake" on the side.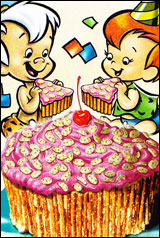 Cupcake Pebbles Giant Cupcake Cake Recipe
(From the side of the original box)
Makes 1 Giant Cupcake (10-12 servings)
- 4 cups Cupcake Pebbles cereal - divided
- 1 box yellow cake mix (plus required cake ingredients)
- 2 16-ounce containers canned vanilla frosting
- decorations: mini pretzel sticks; chocolate sticks; licorice or rolled cookies (about 30-60 pieces each, depending on thickness)
- food coloring
Preheat oven to 350 degrees. Grease and flour two 9-inch round cake pans.
Place 2 cups of Cupcake Pebbles cereal in a small bowl. Set aside.
Prepare cake mix as directed on package and fold in 2 cups of cereal. Divide the batter equally between 2 cake pans. Bake 25 to 35 minutes or until the top springs back when touched lightly and a toothpick inserted in the middle comes out clean. Allow cakes to cool 10 minutes in pans. Invert cakes on cooling rack and cool completely.
Once cooled, the cupcake is ready to assemble. Place one cake layer on a plate and frost top evenly with 1/2 can frosting. Sprinkle with 1 cup of cereal. Top with second cake layer. Frost sides of cupcake with 1/2 can frosting - heavier at the top edge to create a slightly flared effect. Adhere pretzel sticks, chocolate sticks (or other cookies/candies) around sides of cake, close to each other. Trim as necessary to resemble a cupcake liner.
Tint remaining frosting with desired coloring and spread on top to resemble giant cupcake. Sprinkle top with remaining 1 cup of cereal right before serving. Enjoy.
Click here
to see all cereals from Post.
This cereal belongs to the following Mr Breakfast Cereal Families:
The The Flintstones Cereal Family
Cupcake Pebbles Cereal Theater


Now Showing:
2010 Cupcake Pebbles 15 Second Ad

More Videos For Cupcake Pebbles





There's more videos!

Click Here

To Visit The Cupcake Pebbles DELUXE Theater

Cupcake Pebbles Cereal has been reviewed on MrBreakfast.com.

Click here to read the review.







Additional Images





Title:

Cupcake Pebbles Box - Front

Submitter: Mr Breakfast

Uploaded: 2/17/2010

Additional details





Title:

Cupcake Pebbles Box - Back

Submitter: Mr Breakfast

Uploaded: 2/17/2010

Additional details





Upload an image for this cereal




Comments About This Cereal

What do you think of Cupcake Pebbles?


Overall Average Rating = 4 (out of 5)

By DeDe


| | |
| --- | --- |
| Cereal Rating (out of 5): | |

When will they return? Please tell me it will be soon. Cupcake Pebbles are awesome!

Comment submitted: 5/5/2013 (#11947)



By lexi


| | |
| --- | --- |
| Cereal Rating (out of 5): | |

I need to know when this cereal will return to the market. Does anyone know when it will be available?

Comment submitted: 1/6/2013 (#10313)



By Beau


| | |
| --- | --- |
| Cereal Rating (out of 5): | |

I loved Cupcake Pebbles but sadly I haven't seen them on any shelves around my area lately. But the new and improved Marshmallow Pebbles are amazing too.

Comment submitted: 2/13/2012 (#6503)



By Postman


| | |
| --- | --- |
| Cereal Rating (out of 5): | |

My kids love this cereal. I have seen it at Food Lion, Publix and Wal Mart.

Comment submitted: 8/3/2010 (#2572)



By DoIt4UrKid


| | |
| --- | --- |
| Cereal Rating (out of 5): | |

My daughter loved it dry and with milk. I think the biggest pull for a 3 year old is the commercials are ran a lot on Discovery Kids so to hear her ask for it by name was very cute I have to admit. Only down side is now that box is gone I can't find it anywhere but at Walmart which is a good 40 minutes away. Lucky my daughter is not an addict to sweets so it isn't mentioned all that much even after commercial runs... again and again. But the taste wasn't that bad, was like a Frosted Rice Krispie but way better (in our opinion) than Fruity or Cocoa Pebbles. Yukk!

Comment submitted: 5/20/2010 (#2148)



By kellie

Wal-mart has it. I've never tried it.

Comment submitted: 5/9/2010 (#2077)



By bab

Where can I buy it at? I've looked everywhere.

Comment submitted: 4/21/2010 (#1941)





By andrew88 (Team Breakfast Member)


| | |
| --- | --- |
| Cereal Rating (out of 5): | |

When i first saw this on store shelves I was immediately reminded of one of my favorite cereals, "Marshmallow Mania Pebbles" which unfortunately was discontinued about 5 years ago. This cereal looks similar to it except for not including marshmallows. However after recent failed attempts by Post, like Bam-Bam Berry pebbles and Dino's S'more Pebbles I didn't get overly excited. Cupcake Pebbles is better than these two recent products, but not by much. It tastes too me like a mediocre version of Frosted Rice Krispies. It's almost too sweet, and the pebbles seemed overly dry. It doesn't taste anything like Marshmallow Mania Pebbles :( It is better than Post's recent attempts at a new Pebbles Cereal though so I do recommend trying it at least once to form your own opinion on it.

Comment submitted: 2/12/2010 (#1414)