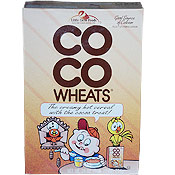 From: Little Crow Foods
Introduced in 1930
Promoted on the box as "The creamy hot cereal with the cocoa treat!", CoCo Wheats instant, chocolate-flavored cereal has been around since 1930. The cereal takes about 90 seconds to make in the microwave and not much longer on the stovetop.
According to the manufacturer's website, " Kids love the warm cocoa taste and moms love the fortified nutrition. CoCo Wheats is now enriched with calcium, something both kids and adults need for a healthy body."
CoCo Wheats is made with wheat farina and what the company calls "pure breakfast cocoa". It was available in 14-ounce and 28-ounce sizes as of 2007. Known premiums that came with this cereal include stick-on tattoos featuring 1930's Navy comic hero Don Winslow and a Wild West Singing Lariat. The instructions printed on the lariat spool stated, "Unwrap string.... whirl around head in a circle. Corkscrew, spiral, butterfly and many more tricks may be made."
Lyrics to the CoCo Wheats jingle:
CoCo Wheats, CoCo Wheats can't be beat
They're the creamy hot cereal with a cocoa treat
to be big and strong, have lots of fun!
eat Co-Co Whe-eats everyone!
Click here
to see all cereals from Little Crow Foods.
This cereal belongs to the following Mr Breakfast Cereal Families:

---
Featuring: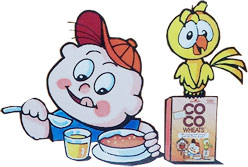 CoCo Wheats Kid

With no official name on record, this cartoon boy represented Coco Wheats on the box, as well as in ads. He was often accompanied by a yellow bird who, in commercials, would commonly mispronounce "CoCo" as "Koo Koo".

In the 70's, human children started to appear on the cereal box, but the CoCo Wheats Kid is back on the box in it's current incarnation.
---
CoCo Wheats Cereal Theater

Now Showing: 1958 CoCo Wheats Commercial
---
Additional Images
---
Comments About This Cereal
What do you think of CoCo Wheats?

Overall Average Rating = 5 (out of 5)

View all 42 comments for this cereal.


By Hungry 4 Coco W


| | |
| --- | --- |
| Cereal Rating (out of 5): | |

Comment under review by Mr Breakfast. Should appear within 24 hours.

Comment submitted: 3/28/2017 (#21553)



By crafty gal


| | |
| --- | --- |
| Cereal Rating (out of 5): | |

I have been eating this since I was a kid. I buy it at Krogers in Michigan. I pay $3.99 a box. I add a little caramel sauce to make it even better!

Comment submitted: 5/12/2016 (#20293)



By BLT

You can g it on MyBrands.com for $5.29 per box, half the price as Amazon.

Comment submitted: 1/3/2016 (#19806)



By Jenny


| | |
| --- | --- |
| Cereal Rating (out of 5): | |

I love it!

Comment submitted: 11/27/2015 (#19691)





By Swifty (Team Breakfast Member)


| | |
| --- | --- |
| Cereal Rating (out of 5): | |

I have eaten Coco Wheats when I was a kid and every chance I get I will look for it. I live in Winchester, Kentucky now and cannot find it. It's like I am craving for it. JUST LOVE MY COCO WHEATS. Awesome hot cereal.

Comment submitted: 2/9/2015 (#18515)



By Bit Bland


| | |
| --- | --- |
| Cereal Rating (out of 5): | |

I had it in the early-mid 60's and remember it as being on the bland side... needing a touch of Nesquik, Bosco or sugar. (I don't have a sweet tooth either)

Comment submitted: 1/30/2015 (#18455)



By Price2High

I found Coco Wheats on eBay and Amazon but it's expensive. They must be making them out of gold these days.

Comment submitted: 1/21/2015 (#18408)



By breakfastgood


| | |
| --- | --- |
| Cereal Rating (out of 5): | |

You can still get it online through the new producer, MOMBrands.com, but the 28oz box is $5.30 per box, plus shipping. Just a bit high, even by today's standards. Walmart used to have them through their online grocery, but no longer.

Comment submitted: 1/15/2015 (#18373)



By LuvCocoWheats

We can't find Coco Wheats in our local stores. Did they quit making them? We love this product. Please help us locate. Our local walmarts and Martins Food stores do not have this product. Please comment if you can help me.

Comment submitted: 11/15/2014 (#18026)



By LadyLeisure11


| | |
| --- | --- |
| Cereal Rating (out of 5): | |

I moved to Italy for work and need Coco Wheats shipped to us! Family has been enjoying them for 40 years.

Comment submitted: 11/12/2014 (#18012)



View all 42 comments for this cereal.