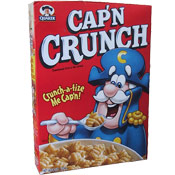 From: Quaker
Introduced in 1963
Cap'n Crunch's full name is Horatio Q. Crunch. The character was created before the cereal (circa 1963) in response to a survey that indicated that children disliked soggy cereal.


In 1985, Cap'n Crunch disappeared from boxes of Cap'n Crunch cereal leaving a question mark and an empty silhouette in his place. The "Where's The Cap'n?" campaign encourage kids to decipher his whereabouts through clues on the back of the box. In December of 1985, it was revealed the the Cap'n had been hanging out in the Milky Way. Quaker repeated the campaign in 2000 which resulted in a temporary new cereal, Mystery Crunch.
Cap'n Crunch was created in response to early 1960's market research that revealed kids under 10 preferred crunchy foods to soggy foods.
Attempting to create a cereal that would satisfy crunch lovers, Quaker created a corn and oat cereal with a pillow-shape and a butterscotch-tinged sugar coating. The cereal didn't have a name, but it had what the company was looking for... crunch.
To name the cereal, Quaker turned Compton Advertising, a firm that was considered hot at the time, in no small part due to innovative campaigns they'd created for Tide detergent. The company came up with the idea to give the cereal and its mascot the same name... something that would push "crunch"... and Cap'n Crunch was born.
To put a face with the idea, Quaker hired Jay Ward Production, an animation company most famous for creating the characters Rocky and Bullwinkle. To put a voice with their new Cap'n Crunch character, Jay Ward hired Daws Butler, a voice actor who'd also provided the voice for Yogi Bear and Huckleberry Hound.
In 1963, the first Cap'n Crunch commercial aired nationally. The cereal was an instant hit. Within two years of it's introduction, it'd become the 9th best-selling cereal in America.
Almost 50 year later, the blue-suited captain with a "C" on his hat still appears on boxes of Cap'n Crunch cereal. At least 25 spin-off cereals have been created between 1963 and 2008 - some more successful than other, but everyone featured Cap'n Crunch as a character on the box (except for Mystery Crunch and few boxes during campaigns where kid's were supposed to guess why the Cap'n wasn't on the box).
Click here
to see all cereals from Quaker.
This cereal belongs to the following Mr Breakfast Cereal Families:
The Cap'n Crunch & Friends Cereal Family
Cap'n Crunch Cereal Theater
Additional Images
These are the most recent images. Click here to see all pictures for Cap'n Crunch.
There's More Pictures! See all images for Cap'n Crunch cereal
Upload an image for this cereal

Overall Average Rating = 5 (out of 5)

View all 38 comments for this cereal.


By Mr. Happypants


| | |
| --- | --- |
| Cereal Rating (out of 5): | |

I actually love mixing my Cap'n Crunch in with ice cream!

Comment submitted: 5/12/2013 (#12009)





By Alexapoda (Team Breakfast Member)


| | |
| --- | --- |
| Cereal Rating (out of 5): | |

Most sweet cereals are tolerable, but oh GAWD is this one sweet. I can barely eat it. The first bite or so is okay, but after that... The combination of a mouth rubbed raw and the sweetness leaves a bad taste in my mouth for the rest of the day.

Comment submitted: 2/3/2013 (#10626)



By Ethan

Love Cap'n Crunch cereal but who took the peanut butter out of the Peanut Butter Crunch variety. I've been eating these cereal for years. I fell in love with them because of the favor of peanut butter. I still love all the other favors. I personally wish they were still made the old fashion. Anyway keep up the good job.

Comment submitted: 2/1/2013 (#10608)



By dyson


| | |
| --- | --- |
| Cereal Rating (out of 5): | |

I've suffered many mouth lacerations as a child and adult as a result of this cereal - but I keep eating it!

Comment submitted: 12/2/2012 (#10075)



By Postman


| | |
| --- | --- |
| Cereal Rating (out of 5): | |

I agree. I think the pieces are smaller.

Comment submitted: 9/7/2012 (#9060)



By smaller?

Have they changed the size of the cereal? The pieces appear to be much smaller then 30 years ago.

Comment submitted: 9/1/2012 (#8985)



By Ernie


| | |
| --- | --- |
| Cereal Rating (out of 5): | |

I've loved the sweet taste of Cap'n Crunch for years, and still buy it whenever it's on sale.

Comment submitted: 8/6/2012 (#8756)



By Jim 56

Is the story about Captain Crunch whistles having the the perfect tone to tie into AT&T's long distance service for free when you blew the whistle next to the phone's mouth piece true? If it is true, was there a recall on the whistles?

Comment submitted: 6/22/2012 (#8149)



By Taco T.


| | |
| --- | --- |
| Cereal Rating (out of 5): | |

This is a great, classic cereal! All hail the Cap'n! One of my very favorites!

Comment submitted: 5/9/2012 (#7610)



By Drury


| | |
| --- | --- |
| Cereal Rating (out of 5): | |

A classic. It hasn't changed much since I was a kid... and it doesn't need to!

Comment submitted: 11/14/2011 (#5758)



View all 38 comments for this cereal.