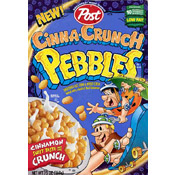 From: Post
Introduced in 1998
According to the box, this limited-edition cereal had the "Best Cinnamon Sweet Taste In Bedrock." It was described as a "sweetened oat, corn and wheat cereal baked with a touch of real cinnamon."
A TV ad for the cereal showed that the cereal was created when a meteor crashed into the Cinnamon Bakery sending small nuggets of cinnamon goodness all over the town of Bedrock. Dialogue from the ad: "Mmmm. Cinnamon Sweet! Big crunchy pieces too!"
Company Description:
Founded by C.W. Post, the company began in 1895 in Battle Creek, Michigan under the name Postum Cereals. Their first product was a coffee substitute called Postum. The first breakfast cereal to come from the company was Grape-Nuts in 1897...
Read on and see all cereals from Post
This cereal belongs to the following Mr Breakfast Cereal Families:
The The Flintstones Cereal Family
Cinna-Crunch Pebbles Cereal Theater


Now Showing:
Cinna Crunch Pebbles Commercial

More Videos For Cinna-Crunch Pebbles





There's more videos!

Click Here

To Visit The Cinna-Crunch Pebbles DELUXE Theater
Additional Images
Title:
Cinna-Crunch Pebbles Trial-Size Box
Submitter: Mr Breakfast
Uploaded: 4/27/2010
Additional details
Title:
1998 Cinna-Crunch Pebbles Box
Submitter: fredito
Uploaded: 9/15/2009
Additional details
Upload an image for this cereal
Comments About This Cereal
What do you think of Cinna-Crunch Pebbles?

Overall Average Rating = 5 (out of 5)

By cinnacrunchhead


| | |
| --- | --- |
| Cereal Rating (out of 5): | |

I was totally ADDICTED to this cereal! I bought 4 boxes at a time and ate it 2 or 3 times a day! They have to bring it back!

Comment submitted: 1/20/2013 (#10472)



By Chewie


| | |
| --- | --- |
| Cereal Rating (out of 5): | |

Best cereal ever. I only ever had 2 boxes of it. Darn Post and their crazy decision. Why discontinue something so great?

Comment submitted: 11/3/2011 (#5633)





By I Love Lucy (Team Breakfast Member)


| | |
| --- | --- |
| Cereal Rating (out of 5): | |

Love Love Love!!! They get rid of this and sell Cupcake Pebbles... are they nuts?

Comment submitted: 6/8/2011 (#5048)



By doodle


| | |
| --- | --- |
| Cereal Rating (out of 5): | |

Best of all the Pebbles cereal. I miss it. Bring it back!

Comment submitted: 4/16/2011 (#4669)



By Silvercube


| | |
| --- | --- |
| Cereal Rating (out of 5): | |

I miss this cereal so much!

Comment submitted: 1/21/2011 (#3663)



By Baibee_t


| | |
| --- | --- |
| Cereal Rating (out of 5): | |

Please bring back... I love this cereal!

Comment submitted: 1/6/2011 (#3536)



By C. Saw


| | |
| --- | --- |
| Cereal Rating (out of 5): | |

Please bring it back for another limited time! I'd buy it again.

Comment submitted: 7/19/2010 (#2469)





By idabneyboy23 (Team Breakfast Member)


| | |
| --- | --- |
| Cereal Rating (out of 5): | |

Why is it that the best tasting cereals are only for a limited time? These were the very best and they should start back selling them.

Comment submitted: 5/17/2010 (#2126)



By Kat


| | |
| --- | --- |
| Cereal Rating (out of 5): | |

I would kill to have another bowl of these. They were so good! :c I miss them. I demand to have them back. [Lol five year olds and their tantrums.]

Comment submitted: 3/10/2010 (#1587)



By Floobersman


| | |
| --- | --- |
| Cereal Rating (out of 5): | |

I remember as a kid that this was soooooooo good!!!!!!

Comment submitted: 12/15/2009 (#1057)