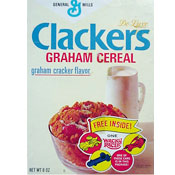 From: General Mills
Introduced in 1968
This cereal had notoriously large pieces shaped like small gears. The large size was indicated by a small subheading of "De Luxe" printed almost subliminally above the word "Clackers".
The flavor was reminiscent of graham crackers. Many people remember the pieces as being too large and crunchy, and almost challenging to chew.
It's often noted that the television commercials for Clackers were far more memorable than the cereal itself. In the ads, seemingly ordinary and occasionally extraordinary events were suddenly interrupted by a box of Clackers being shoved into the scene.
Some of the scenarios:
- An old woman peering into a crystal ball is struck with a box of Clackers
- A baseball picture winds up and reveals a box of Clackers instead of a ball
- A pizza maker tosses dough into the air and a box of Clackers returns
- A vampire tells a girl, "All I vant is your Clackers" and a box suddenly appears
- An alien says "Take me to your..." and is interrupted by a voices saying "Clackers"
Known premiums:
- Snap-together Wacky Racer Cars
- Cut-out Glider
- Clacker Quaker blow whistle
Click here
to see all cereals from General Mills.
---
Additional Images
---
Comments About This Cereal
What do you think of Clackers Graham?

Overall Average Rating = 5 (out of 5)

View all 21 comments for this cereal.


By Douglas


| | |
| --- | --- |
| Cereal Rating (out of 5): | |

Clackers was the best Graham Cereal period. I've been hoping that General Mills would bring it back for the past 40 years but still waiting. They stopped making Clackers when they started making Golden Grahams. Golden Grahams you must eat as fast as you can or they will get soggy in less than a minute. Not the case with Clackers. Clackers were heartier with more Graham taste with less sugar taste (note on the front of the cereal box showed added sugar put on top of cereal as they were not sweet tasting. Golden Grahams are way too sweet. If Clackers ever come back, I'll buy 2 cases.

Comment submitted: 8/5/2015 (#19290)



By Graham2


| | |
| --- | --- |
| Cereal Rating (out of 5): | |

This was by far my favorite cereal. I no longer eat breakfast cereal, but would buy Clackers if I knew where to get them. I think my parents hid my Clacker Quacker.

Comment submitted: 12/8/2014 (#18160)



By claudette


| | |
| --- | --- |
| Cereal Rating (out of 5): | |

Please bring this cereal back! I miss Clackers!

Comment submitted: 3/29/2014 (#16533)





By MandyH (Team Breakfast Member)


| | |
| --- | --- |
| Cereal Rating (out of 5): | |

More than any other sweet breakfast cereal, they stayed crunchy in milk.

Comment submitted: 6/27/2013 (#12574)



By Cereal Eater


| | |
| --- | --- |
| Cereal Rating (out of 5): | |

Yep! I also remember Clackers as a kid and thought of it several times over the years. It had a great texture, great taste, and better than anything close to graham today!

Comment submitted: 6/14/2012 (#8018)



By Baby Boomer


| | |
| --- | --- |
| Cereal Rating (out of 5): | |

Had great fun calling people on the phone, and, when they answered, blowing the Clacker Quacker at them, then hanging up!

Comment submitted: 4/12/2012 (#7134)





By Clacker (Team Breakfast Member)


| | |
| --- | --- |
| Cereal Rating (out of 5): | |

The best ever. Great balance of sweetness and heartiness. And crispness that stood up to milk. Loved it!

Comment submitted: 4/7/2012 (#7084)



By cindy


| | |
| --- | --- |
| Cereal Rating (out of 5): | |

I really enjoyed this cereal - flavor and texture. I was either 12 or 13 when I ate it and it had a toy whistle inside that sounded like the quacking of a duck. I was very disappointed when I no longer saw it anymore.

Comment submitted: 2/8/2012 (#6456)



By Lee


| | |
| --- | --- |
| Cereal Rating (out of 5): | |

I remember having Clackers from when I was a kid. It has been on my mind for about a month now, I've seen the box, read the comments and am glad that others share my love for this delicious classic cereal.

Comment submitted: 5/10/2011 (#4815)



By Clackers


| | |
| --- | --- |
| Cereal Rating (out of 5): | |

I liked the cereal, but I really got a kick out of the commercials. I'm 50 years old now, and I was around 10 or so when Clackers was on the market. I used to tease my dog by playing ball with her and then I'd hide the ball under my shirt or something and then pull it out and say "CLACKERS!" like in the TV commercials. LOL I've seen a couple of the old Clackers ads on youtube, but I'd love to see the rest of them if they're online somewhere else.

Comment submitted: 1/3/2011 (#3517)



View all 21 comments for this cereal.