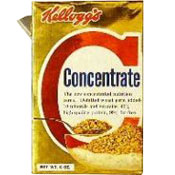 From: Kellogg's
Introduced in 1959
Kellogg's Concentrate cereal was introduced four years after their Special K cereal hit shelves. Special K was the first truly successful cereal to provide a high percentage of key nutrients. Concentrate was intended to take nutrient-enrichment one step further and capitalize on the success of Special K.
Concentrate was promoted as "the greatest concentration of nutrients ever offered in a single all-purpose food". It was nicknamed "the ready-to-serve nutrition booster".
The cereal was comprised of very, very small flakes which resembled fish food pellets. The cereal came in a small gold foil box with a pour spout on the side.
One serving of the cereal consisted of only a couple Tablespoons and it tended to expand when milk was added. In addition to acting as a breakfast on its own, Kellogg's recommended that Concentrate be sprinkled over other cereals, casseroles, salads, soups and even desserts.
Kellogg's claimed that "one ounce (of Concentrate) gives you the nutritive values indicated, in all of these fine foods:"
Protein - more than an egg and two strips of bacon
Vitamin B1 - as much as three ounces of pork
Vitamin B12 - as much as one ounce of meat or fish
Vitamin B6 - more than five carrots
Niacin - more than three ounces of beefsteak
Folacin - as much as three ounces of broccoli
Iron - as much as two ounces of beef liver
Vitamin C - about as much as a four-ounce glass of tomato juice
Vitamin D - as much as a quart of vitamin D milk
Riboflavin - more than 4 ounces of cheese
The cereal lasted into the 70's before it disappeared from grocery stores.
Click here
to see all cereals from Kellogg's.
---
Additional Images
---
Comments About This Cereal
What do you think of Concentrate?

Overall Average Rating = 5 (out of 5)

View all 411 comments for this cereal.


By Shadowbrook


| | |
| --- | --- |
| Cereal Rating (out of 5): | |

Comment under review by Mr Breakfast. Should appear within 24 hours.

Comment submitted: 7/5/2015 (#19196)



By Julie-8


| | |
| --- | --- |
| Cereal Rating (out of 5): | |

I HAVE BEEN WAITING FOR THIS TO COME BACK! What is taking so long? This would fly off the shelves and be a huge improvement over the choices at the grocery store right now. BRING IT BACK!

Comment submitted: 6/20/2015 (#19144)



By Robin Dale


| | |
| --- | --- |
| Cereal Rating (out of 5): | |

My comment is similar to many of the others - I miss Concentrate cereal both for the taste and sentimentality of eating it for breakfast at my grandparent's house! Grandma served the cereal in a very small bowl with half and half. I can still recall the care I took when allowed the privilege of pouring Concentrate from the little opening. Delicious and satisfying - please offer a special edition batch for baby boomers!

Comment submitted: 6/15/2015 (#19130)



By ConcentrateFan


| | |
| --- | --- |
| Cereal Rating (out of 5): | |

When I had a sleepover at my Grandma's house as a child, she would serve this cereal for breakfast. It was absolutely delicious! She poured cream over it instead of milk, which only enhanced the deliciousness. Please bring it back and make it gluten free.

Comment submitted: 6/15/2015 (#19124)



By Rick57


| | |
| --- | --- |
| Cereal Rating (out of 5): | |

Concentrate is the greatest cereal of all time! When I was a kid I couldn't wait until I was an adult so that I could buy this cereal every week. Then what does Kellogg's do? They discontinue it. Such the bad move on their part. There are so many people like myself that would buy this cereal in mass quantities! Kellogg's is missing the boat big time here!

Comment submitted: 5/29/2015 (#19078)



By cjeanm


| | |
| --- | --- |
| Cereal Rating (out of 5): | |

Concentrate was my ALL TIME favorite as a child! It was a treat that I would get only at my grandma's house as it was a little bit expensive to keep in a house with 3 children! But Grandma always had it in her cupboard! Please bring it back... it will be in my cupboard if you do!!

Comment submitted: 5/29/2015 (#19074)



By Robin


| | |
| --- | --- |
| Cereal Rating (out of 5): | |

I loved this cereal so much. I hope it comes back too.

Comment submitted: 5/29/2015 (#19073)



By Picky


| | |
| --- | --- |
| Cereal Rating (out of 5): | |

Grandma used to send this to us in a care package every so often. If you didn't eat it fast it turned to a nasty mush! I don't think anyone liked it. Sat in the cupboard a long, long time. Grandma liked to eat it with grape juice. Gag!

Comment submitted: 5/27/2015 (#19067)





By Rhianna (Team Breakfast Member)


| | |
| --- | --- |
| Cereal Rating (out of 5): | |

You'd think I'd remember a favorite dessert or candy from childhood, but no, I remember Concentrate. If there were one thing that I could have again, it would be this cereal.

I really do NOT understand why Kellogg's ever discontinued it, let alone why they've not brought it back into production; it was always SO MUCH BETTER than Special K. I really do wonder why you can find nostalgic candies, like horehound, but not nostalgic cereals, like Concentrate.

Someone should start a letter writing campaign to lobby Kellogg's to put Concentrate back on the shelves!

Comment submitted: 5/14/2015 (#19007)





By AFCimini (Team Breakfast Member)


| | |
| --- | --- |
| Cereal Rating (out of 5): | |

Before this cereal disappeared, I was pregnant. Would eat it all up. I had no problems eating a half a box a day. I gave birth to a very healthy girl weighing 9 lbs and 22 inches long. Her Apgar score was a solid 10 out of 10. Please bring this cereal back as a trial to see how it will sell. I bet this cereal will sell to the adults from way back when and I believe it will also please the children of today.

Comment submitted: 5/7/2015 (#18982)



View all 411 comments for this cereal.