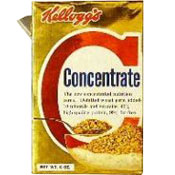 From: Kellogg's
Introduced in 1959
Kellogg's Concentrate cereal was introduced four years after their Special K cereal hit shelves. Special K was the first truly successful cereal to provide a high percentage of key nutrients. Concentrate was intended to take nutrient-enrichment one step further and capitalize on the success of Special K.
Concentrate was promoted as "the greatest concentration of nutrients ever offered in a single all-purpose food". It was nicknamed "the ready-to-serve nutrition booster".
The cereal was comprised of very, very small flakes which resembled fish food pellets. The cereal came in a small gold foil box with a pour spout on the side.
One serving of the cereal consisted of only a couple Tablespoons and it tended to expand when milk was added. In addition to acting as a breakfast on its own, Kellogg's recommended that Concentrate be sprinkled over other cereals, casseroles, salads, soups and even desserts.
Kellogg's claimed that "one ounce (of Concentrate) gives you the nutritive values indicated, in all of these fine foods:"
Protein - more than an egg and two strips of bacon
Vitamin B1 - as much as three ounces of pork
Vitamin B12 - as much as one ounce of meat or fish
Vitamin B6 - more than five carrots
Niacin - more than three ounces of beefsteak
Folacin - as much as three ounces of broccoli
Iron - as much as two ounces of beef liver
Vitamin C - about as much as a four-ounce glass of tomato juice
Vitamin D - as much as a quart of vitamin D milk
Riboflavin - more than 4 ounces of cheese
The cereal lasted into the 70's before it disappeared from grocery stores.
Click here
to see all cereals from Kellogg's.
---
Additional Images
---
Comments About This Cereal
What do you think of Concentrate?

Overall Average Rating = 5 (out of 5)

View all 484 comments for this cereal.


By Itchy


| | |
| --- | --- |
| Cereal Rating (out of 5): | |

I used to eat the whole box, when It was available.

Comment submitted: 5/19/2017 (#21774)



By jehnny


| | |
| --- | --- |
| Cereal Rating (out of 5): | |

I can only echo my fellow Concentrate devotees. It was delicious, nutritious and I could eat it by the box full!

Comment submitted: 5/18/2017 (#21772)



By blueyekat


| | |
| --- | --- |
| Cereal Rating (out of 5): | |

Concentrate cereal was the BEST! I too wish it was back on the market. We had to buy several boxes at a time during our shopping trips. There is nothing even close to this available. It added a little treat/bulk to other foods, but eating it as cereal in the morning got my day going as a kid and an awesome night time snack. Such great memories of a great product.

Comment submitted: 5/11/2017 (#21750)



By Joe Fatala


| | |
| --- | --- |
| Cereal Rating (out of 5): | |

My siblings and I devoured this cereal everyday until it was pulled in the 70's. My mom gave it to us as a snack as well as breakfast! Healthy choices!

Comment submitted: 4/22/2017 (#21660)



By NightWriter


| | |
| --- | --- |
| Cereal Rating (out of 5): | |

Every once in awhile, I do an internet search, hoping someone would post the 'recipe' for Concentrate, like people have done for Orange Julius, etc. The big C was the cereal that got me through my undergrad years! I'd never had it until I went away to college in '66. The taste was wonderful and I didn't have to eat anything else until lunch at 1pm!

Comment submitted: 3/30/2017 (#21558)



By mrcomer


| | |
| --- | --- |
| Cereal Rating (out of 5): | |

As a child, I would get a box of this for Christmas. It didn't take long to finish it off. Wish they would bring it back. I'd would probably buy by the case. Awesome!

Comment submitted: 3/17/2017 (#21510)



By Michelle


| | |
| --- | --- |
| Cereal Rating (out of 5): | |

Bring it BACK!!

Comment submitted: 3/11/2017 (#21477)



By Lyd


| | |
| --- | --- |
| Cereal Rating (out of 5): | |

As a youngster, my Pediatrician instructed my parents to feed this to me everyday after I was diagnosed with Juvenile Diabetes. My four (4) siblings and I were addicted to it! I was so sorry when they took it off the market. With all of the health conscious plans available now, I know it would be well received.

Comment submitted: 3/7/2017 (#21452)



By Stephie


| | |
| --- | --- |
| Cereal Rating (out of 5): | |

It was such a treat to go to my Grandma's and eat Special K sprinkled with Concentrate cereal. Sometimes she'd let me just have a bowl of Concentrate cereal. It is really too bad they won't start making it again.

Comment submitted: 3/2/2017 (#21436)



By Geri


| | |
| --- | --- |
| Cereal Rating (out of 5): | |

Best and most delicious cereal ever made by far! Miss it sooooo much!

Comment submitted: 2/26/2017 (#21419)



View all 484 comments for this cereal.