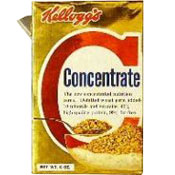 From: Kellogg's
Introduced in 1959
Kellogg's Concentrate cereal was introduced four years after their Special K cereal hit shelves. Special K was the first truly successful cereal to provide a high percentage of key nutrients. Concentrate was intended to take nutrient-enrichment one step further and capitalize on the success of Special K.
Concentrate was promoted as "the greatest concentration of nutrients ever offered in a single all-purpose food". It was nicknamed "the ready-to-serve nutrition booster".
The cereal was comprised of very, very small flakes which resembled fish food pellets. The cereal came in a small gold foil box with a pour spout on the side.
One serving of the cereal consisted of only a couple Tablespoons and it tended to expand when milk was added. In addition to acting as a breakfast on its own, Kellogg's recommended that Concentrate be sprinkled over other cereals, casseroles, salads, soups and even desserts.
Kellogg's claimed that "one ounce (of Concentrate) gives you the nutritive values indicated, in all of these fine foods:"
Protein - more than an egg and two strips of bacon
Vitamin B1 - as much as three ounces of pork
Vitamin B12 - as much as one ounce of meat or fish
Vitamin B6 - more than five carrots
Niacin - more than three ounces of beefsteak
Folacin - as much as three ounces of broccoli
Iron - as much as two ounces of beef liver
Vitamin C - about as much as a four-ounce glass of tomato juice
Vitamin D - as much as a quart of vitamin D milk
Riboflavin - more than 4 ounces of cheese
The cereal lasted into the 70's before it disappeared from grocery stores.
Click here
to see all cereals from Kellogg's.
---
Additional Images
---
Comments About This Cereal
What do you think of Concentrate?

Overall Average Rating = 5 (out of 5)

View all 463 comments for this cereal.


By Skyseasun


| | |
| --- | --- |
| Cereal Rating (out of 5): | |

My favorite cereal... EVER. I was very disappointed when it vanished. My grandma introduced this cereal to me. It wouldn't hurt for Kellogg's to do a limited run with a modern touch to the box... and make it BIGGER! Please bring it back, Thanks!

Comment submitted: 9/2/2016 (#20783)



By L.B.


| | |
| --- | --- |
| Cereal Rating (out of 5): | |

Awesome cereal. I called Kellogg's once about it - they had no idea what I was talking about. So glad to see it here. There has been nothing like it since. My mother loved it - a 'healthy' eater but I liked it too. But once milk was poured... within a minute or so, paste. I remember my mother treated it as special because it was expensive. Back then cereal was considered cheap so maybe that's why it didn't sell well enough. Sighhhhh... awesome cereal... think that little gold foil box expensive cereal would go over GREAT now - instant cult favorite. World has changed. Heck - there's Starbuck's.

Comment submitted: 8/25/2016 (#20751)



By Elaine


| | |
| --- | --- |
| Cereal Rating (out of 5): | |

This was the best cereal Kellogg's ever made. We use to buy it by the case from Smart & Final. Would give anything if they would consider bringing it back. I would again buy it by the case.

Comment submitted: 8/25/2016 (#20747)



By Duffy


| | |
| --- | --- |
| Cereal Rating (out of 5): | |

I can remember this cereal from as far back as when I was FOUR... all time favorite. Not sure the actual nutrition matched the claims, but either way, I would love to see this come back.

Comment submitted: 8/24/2016 (#20739)



By Pippin


| | |
| --- | --- |
| Cereal Rating (out of 5): | |

Apparently, we all loved this cereal or we would not be taking the time to look for it still to this date. It was my all time favorite. I would reach for this before any other sugary choice. I started eating it around 11 years old and only stopped when mom couldn't find it any more. That has to tell Kellogg's something!

Comment submitted: 8/19/2016 (#20722)





By DabMan (Team Breakfast Member)


| | |
| --- | --- |
| Cereal Rating (out of 5): | |

Best Breakfast cereal EVER! Pour in a little milk, just enough to be absorbed in the cereal and BINGO - Perfect start to any day. Bring this BACK - America needs it.

Comment submitted: 7/7/2016 (#20493)



By m&m


| | |
| --- | --- |
| Cereal Rating (out of 5): | |

Concentrate Cereal was and still is my favorite cereal! I only wish we could still buy it.

Comment submitted: 7/6/2016 (#20491)



By KUUN-AZ


| | |
| --- | --- |
| Cereal Rating (out of 5): | |

I needed my CONCENTRATE fix each morning during high school, so I could CONCENTRATE on 1st period English class. BRING IT BACK. As I approach 64, it is real hard to CONCENTRATE.

Comment submitted: 7/3/2016 (#20485)





By Kundry (Team Breakfast Member)


| | |
| --- | --- |
| Cereal Rating (out of 5): | |

I have fond memories of this cereal as a kid growing up in the 60s. I wasn't aware that the serving size was supposed to be so small. Oh well, I guess I was just an overfed American as many of us were at the time. We were competing with the Soviets after all and the fate of the free world depended on how well we did on President Kennedy's physical fitness test! Please bring this cereal back so we can win the global war on terror.

Comment submitted: 6/30/2016 (#20470)



By DebraLynn


| | |
| --- | --- |
| Cereal Rating (out of 5): | |

I LOVED Concentrate cereal! I grew up on it. Now nearing 60 years old, having a bowl of Concentrate is one of my favorite childhood memories. Please, please, please bring it back!

Comment submitted: 6/24/2016 (#20449)



View all 463 comments for this cereal.