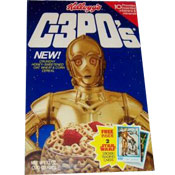 From: Kellogg's
Introduced in 1984
A new force for at breakfast.
The honey-sweetened cereal pieces were shaped liked small figure-eights and were said to taste somewhat similar to Alpha-Bits cereal - but with more crunch.
This is a description of the cereal from the side of the box:
Now comes a spectacular cereal from the outermost limits of the galaxy. It's new C-3PO's. Double Crunch. This unique, double-O shape gives you 2 crunches in every bite - a unique experience in all the galaxy.

Spectacular Taste. C-3PO's has an incredible taste. Plus all the excitement and fun of STAR WARS. Golden Goodness. C-3PO's is a golden combination of 3 grains: oats, wheat and corn. And it provides 10 essential vitamins and minerals.
Kellogg's introduced C-3PO's one year after the 3rd film in (what was know then as) the Star Wars trilogy appeared in theaters. Suspecting that
Return Of The Jedi
was the last they would see of their Star Wars friends for a long, long time, fans of the film were delighted to see a commercial for C-3PO's in 1984.
In the ad,
Star Wars
actor Anthony Daniels reprised his role as the famous golden droid.
Star Wars
-esque graphics and special effects filled the small screen - complete with a jet-propelled cereal box.
Known premiums in C-3PO's:
Plastic Rebel Rockets,
Star Wars
Sticker / Trading Cards, Cut-out
Star Wars
Masks and a send-away offer for Kenner
Star Wars
action figures.
Kellogg's also produced small, individual-serving sized boxes of C-3PO's that were available as part of a multi-pack of cereals. These small boxes are very hard to find and considered a valuable rarity among cereal box collectors.
Also see
Star Wars Episode II Cereal
(2002) and
Star Wars Episode III Cereal
(2005).
Click here
to see all cereals from Kellogg's.
This cereal belongs to the following Mr Breakfast Cereal Families:
The Movie Cereals Cereal Family
C-3PO's Cereal Theater
Additional Images
Upload an image for this cereal
Comments About This Cereal
What do you think of C-3PO's?

Overall Average Rating = 4 (out of 5)

View all 14 comments for this cereal.


By Michy


| | |
| --- | --- |
| Cereal Rating (out of 5): | |

I loved that cereal! Brings back so many great memories. I really loved that cereal when I was a kid. Too bad they took it off so soon.

Comment submitted: 3/2/2014 (#16192)



By Mike


| | |
| --- | --- |
| Cereal Rating (out of 5): | |

I hated this cereal. I got my mom to buy me a box because I loved everything Star Wars, but I couldn't eat it. It sat in the cupboard for months but finally just had to be thrown out. I remember feeling so guilty that it was wasted, but it just could not be eaten. I'm surprised by all the positive reviews, but I don't remember it lasting very long so I don't think many people liked it.

Comment submitted: 2/4/2014 (#15933)



By Al


| | |
| --- | --- |
| Cereal Rating (out of 5): | |

This is, was, and always will be the best cereal I've ever had. I'd do anything for just one more box. Sometimes I'll take a bite or something that will kind of remind me of C3POs (but of course isn't as good or the same) and it takes me back to my childhood. Eating huge bowls while trying to wear one of the masks from the back of the box. They should bring them back. Even if under a different name.

Comment submitted: 1/23/2014 (#15805)



By Don-3PO

Best cereal I've ever had.

Comment submitted: 10/22/2013 (#15187)





By Marjorie (Team Breakfast Member)


| | |
| --- | --- |
| Cereal Rating (out of 5): | |

I hope this comes out again when the new Star Wars films are made. I hope they keep C-3PO looking mostly the same.

Comment submitted: 10/11/2013 (#14795)



By comirelo


| | |
| --- | --- |
| Cereal Rating (out of 5): | |

My father worked for Kellogg's at te time. I have one of those life sized cutouts at home. I still have 2 baseball caps from Kellogg's that were handed out to staff.

Comment submitted: 3/11/2013 (#11190)



By COOP


| | |
| --- | --- |
| Cereal Rating (out of 5): | |

C-3PO's was one of the best cereal I've ever had. I would be amazing if it ever came back again.

Comment submitted: 2/14/2013 (#10790)



By Jonathan


| | |
| --- | --- |
| Cereal Rating (out of 5): | |

I want it. I know it's long since discontinued, but I want some. I have an unopened box of the Star Wars cereal from Attack of the Clones. It'd be great to have a collection.

Comment submitted: 12/1/2012 (#10067)



By R2-D2


| | |
| --- | --- |
| Cereal Rating (out of 5): | |

After they discontinued C-3POs, they tried selling them again under a different name shortly afterward. IIRC, it was a rather dull name, this time not advertised as a kids cereal. Anyone remember the name?

Comment submitted: 5/11/2012 (#7628)



By abstract


| | |
| --- | --- |
| Cereal Rating (out of 5): | |

Wow. I wish they would bring the cereal back.

Comment submitted: 5/3/2012 (#7547)



View all 14 comments for this cereal.