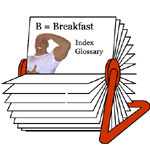 Turkey
Turkeys are large poultry birds in the gamebird family with fan-shaped tails and wattled necks. Domesticated turkeys are descended from North American Wild Turkeys. They are traditionally eaten at Thanksgiving in the United States and Canada. Turkeys became a more regular part of our diets in the 1940's when their price decreased thanks to a dramatic increase in turkey farming.
Seeing a turkey in a dream indicates that you have been foolish. Seeing a flying turkey in a dream, foretells of a rapid rise from obscurity to a position of prominence.
Articles that reference "Turkey":
Recipes with "Turkey" in the title:
Recipes with "Turkey" in the ingredients:
The editorial content above may not be reproduced without the written permission of Mr Breakfast.com. Please contact us for reprint requests.