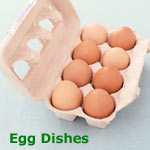 Tote Along Fritatta
1 large french roll (stale is okay) - diced
2 pre-cooked sausage patties - diced
2 pre-cooked slices of turkey or pork bacon - cut
1 large wedge of onion - diced
1/2 cup finely shredded cheddar cheese
1/2 cup cottage cheese
1 - 2 cups milk
3 eggs
1/2 teaspoon salt
1/2 teaspoon dry mustard
1 handful of baby spinach leaves
Slice the french roll, preferably stale(or you may substitute 2 or 3 slices of stale bread or a small baguette) into thin slices, across the short end. Lay the slices of bread all along the bottom of a lightly greased casserole or baking dish.
A long and large dish will make a thin fritata (my preference). A short or round dish will make a thicker fritata. Make certain you have at least one layer of sliced bread to cover the bottom of the dish of your choice.
I used a 9x12 pan so that I'd have a thin frittata to use as sandwich fillings, described below.
In a bullet blender or by hand, whip together the milk, eggs, cottage cheese, salt, and mustard until blended and frothy. Cottage cheese curds remaining in the mix are just fine. Set this custard aside.
Dice the sausage patties into the skillet, and saute until heated through and somewhat crispy, with some of the fat rendered. Remove the sausage from the skillet and scatter over the bread slices in your pan.
Snip the cooked bacon over the sausage and bread slices.
Dice the onion into the skillet with drippings, and quickly heat the onion until soft and just beginning to brown. Scatter over the sausage, bacon and bread. You may wish to add mushrooms to the dish at this point, if you like, or any cooked vegetable, really.
Over your dish with bread and cooked meats, sprinkle the shredded cheddar cheese, making a rather thin but evenly distributed layer.
Over this, you'll now pour the contents of your blender cup, which has the eggy-milk custard, being certain to evenly pour the mixture around the edges, working your way to the center of the pan. Add a bit more milk and cottage cheese if you feel you need more liquid. You do not need to "bury" the contents completely in egg custard, but, it should be uniformly moist. Evenly distribute any cottage cheese curds remaining in the custard.
Tear the spinach leaves into bits and gently scatter over the dish, and using a fork or your fingers, press the leaves gently into the eggy custard.
Bake at 350 degrees for approximately 25 minutes, until the edges are set and beginning to brown, the dish has puffed up with a somewhat dry appearance and no longer has a wet or glossy top. Remove from the oven. The fritata will continue to cook slightly as it cools.
When cool, the puffy fritatta will fall again until it is rather thin, but soft and tender.
Slice into rectangles, squares, or, cut into circles (see my comments, below). You may eat some warm (delicious), but, I layer the slices between waxed paper, and, place into a covered and sealed plastic food saver, in the fridge.
Each morning, depending upon the type of breakfast you'd like, heat the fritata slice for 15 seconds in the microwave, and layer in buttered toast, on a bagel, or in a tortilla as a tote-away breakfast. Take away on the train, bus, or to your desk, for a quick protein breakfast.
Special Note From Recipe Submitter:

I created this take along fritata as a way to have a quick and easy breakfast, each morning, which only required a few seconds in a microwave, but was relatively healthy and reheated well. I don't typically like reheated eggs, but the ingredients in this recipe help the eggs hold up well.

This recipe makes enough fritata slices to last one work week for me. Depending on how I cut the slices, I can do the following:

1) With a round biscuit cutter, I can make and store the rounds and after heating, place them between a toasted bagel for a bagel sandwich.

2) With rectangles cut with a knife, I can place between two slices of toast as an toasty egg sandwich.

3) With long strips cut with a knife, I can place the long strips in a heated tortilla, fold, and heat, and it becomes a breakfast burrito which, for a nice change, does NOT result in scrambled egg dropping into your lap if you're eating on the train or at your desk.

You can customize this by adding pepper jack cheese and green chili for a southwestern flavor (excellent in a tortilla), or by adding veggies of your choice, and perhaps hot sauce in the eggy custard.
Mr Breakfast would like to thank
kjf916
for this recipe.
Comments About This Recipe
What do you think of Tote Along Fritatta?
Overall Average Rating =

(out of 5)

From Donna OH
These directions are too long, but the Fritatta was good. I used 1 and 1/3 cup milk and 4 eggs to make it. Also used 3/4 cup frozen spinach that I thawed in place of the fresh spinach.

Comment submitted: 6/24/2013 (#16071)




---
Connect With Mr Breakfast: