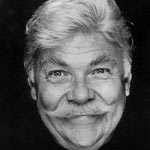 Taylor, Rip
B. 1934
Known primarily for wearing wacky wigs and throwing confetti, Rip Taylor is one of television's most recognizable celebrities. A guest star with over 2,000 television appearances under his belt, Rip brought his wild energy to The Gong Show, Password, The Merv Griffin Show, The Mike Douglas Show,, The Tonight Show, Late Night with David Letterman and to the coveted center square on Hollywood Squares.
From 1978 to 1980, Taylor acted as the host of The $1.98 Beauty Show, a campy televised talent contest.
Rip Taylor is still an active presence in Las Vegas, on Broadway and in motion pictures.
Article:
Breakfasts With Rip Taylor
The editorial content above may not be reproduced without the written permission of Mr Breakfast.com. Please contact us for reprint requests.