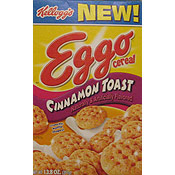 New Product Review:
Eggo Cereal - Cinnamon Toast
From Kellogg's
Reviewed by Mr Breakfast on 9/23/2006
A Haiku:
Shape and crunch in tact
Flavors fail to wake my mouth
I sadly let go


I loved
Maple Syrup Eggo Cereal
so much I wrote a 6 stanza poem about it. Unfortunately, the latest Eggo cereal offering only garners a 3 line Haiku. The new cereal has the same great texture as the original. I especially like the interplay with milk as the center of the cereal pieces soften and the outer edges retain a respectable crunch. Unfortunately, the cinnamon toast flavor doesn't fare as well as the maple version. The flavor feels more dusted on than baked in.
Don't get me wrong. It's a decent cereal. I'll finish the box.
But the first time out, the Eggo people effectively took their waffle fame and expertise and turned it into a cereal. This time out, they took a cereal and just whacked some new flavors into it.
It's missing the love.
The price we paid: $2.50
Comments About This Product Review
What do you think of Eggo Cereal - Cinnamon Toast?
By dessa


| | |
| --- | --- |
| Product Rating (out of 5): | |

I love it !!!!

Comment submitted: 7/20/2010 (#2429)



By Kurt8888


| | |
| --- | --- |
| Product Rating (out of 5): | |

They are off the chain... reminds me of Waffle Crisp but they took those off the market.

Note From Mr Breakfast: Hi Kurt - You can still get Waffle Crisp. Here's a link.

Comment submitted: 10/12/2009 (#1957)



By Stan_P

Cinnamon toast crunch used to be very good. I ate it every morning.

But recently it lost it's flavor and tastes like cardboard. I tried many brands and they are all the same.

What's up...? Spending too much on commercials and can't afford cinnamon and sugar?

Stan Plock
San Jose CA

Comment submitted: 3/10/2009 (#1520)



By FAT GUY 420


| | |
| --- | --- |
| Product Rating (out of 5): | |

I second that "best in the entire world".... Since French Toast Crunch.... It's definately the same recipe.

Comment submitted: 8/24/2008 (#1180)



By aadila


| | |
| --- | --- |
| Product Rating (out of 5): | |

Cinnamon Toast is simply the greatest tasting cereal in the ENTIRE world.

Comment submitted: 6/8/2008 (#1051)



By FishieGal


| | |
| --- | --- |
| Product Rating (out of 5): | |

This cereal is good enough to eat as a snack without milk!

Comment submitted: 8/5/2007 (#588)





By my kids (Team Breakfast Member)


| | |
| --- | --- |
| Product Rating (out of 5): | |

I love this cereal. It was out of this world. Comment from kashiba gibbs, I wish I can get a free box. Ha, ha, ha.

Comment submitted: 3/5/2007 (#320)



By Maymay ;)


| | |
| --- | --- |
| Product Rating (out of 5): | |

Yum! I love ego cereal! So tasty. Very sweet. Go and get a box!

Comment submitted: 11/29/2006 (#158)




---
Connect With Mr Breakfast:



Most Recent
Product Reviews: