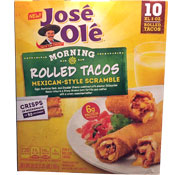 New Product Review:
Morning Rolled Tacos
From Jose Ole
Reviewed by Mr Breakfast on 1/27/2020
The variety of Jose Ole Morning Rolled Tacos I tried was called Mexican=Style Scramble. It's described on the box as "Eggs, Monterey Jack, and Cheddar Cheese combined with smokey Chilaquiles Sauce rolled in a Stone Ground Corn Tortilla and coated with a crispy seasoned batter."
The cooking instructions are simple: place 2 rolled tacos in a provided crisping sleeve and microwave for 90 seconds.
The tortilla component of this product is delicious with a bold, spicy seasoning. However, it never becomes crisp despite the crisping sleeve.
As for the filling, there's a few problems. There is not as much filling per rolled taco as the picture on the box would have you believe. Likewise, there are very few distinct chucks of egg. The cheese, egg and other ingredients are a less attractive, albeit pretty tasty, pulverized mash.

The biggest flaw in these Morning Rolled Tacos is that they don't taste like a breakfast product. They taste more like a bean burrito than anything you're familiar with as breakfast.
Overall, these rolled tacos are satisfying with a nice Mexican-style flavor, but they do not taste like breakfast.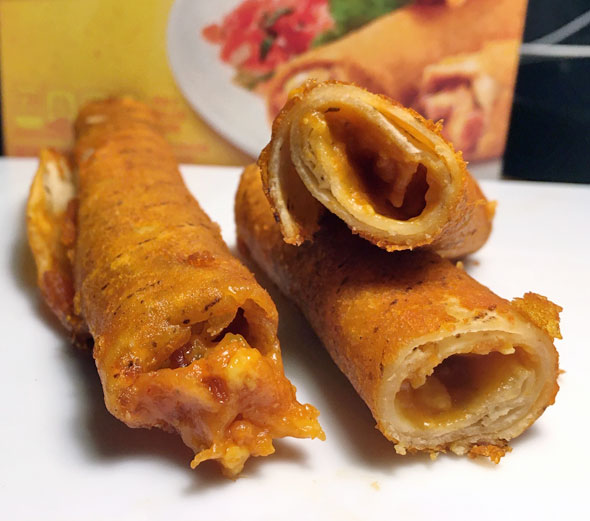 Nutritional Considerations: Each serving of 2 Morning Rolled Tacos has 230 calories, 10 grams total fat (2.5 grams saturated and 0 grams trans), 75 mg cholesterol, 590 mg sodium, 30 grams total carbs, 4 grams dietary fiber, 2 grams sugar and 6 grams protein.

The $3.99 price shown below is for a box of 10 Rolled Tacos or 5 servings.
The price we paid: $3.99
Comments About This Product Review
What do you think of Morning Rolled Tacos?
There are no comments yet for this product. Be the first! Was it awesome? Just okay? Was it bad? Let the world know!



---
Connect With Mr Breakfast: