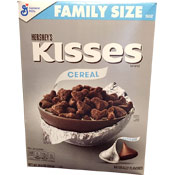 New Product Review:
Hershey's Kisses Cereal
From General Mills
Reviewed by Mr Breakfast on 1/23/2020
Here's a cereal that should bring to mind delicious Hershey's Kisses candies in shape and hopefully in flavor. I was not expecting the actual creamy, delightful chocolate that the candy provides, but I was expecting some kind of significant chocolate experience.
Eaten dry, this cereal is actually awful. It has a burnt flavor that is unappealing and masks any chocolate.
Fortunately, that burnt flavor disappears completely once you add milk. The milk immediately becomes chocolatey and this new cereal holds its own compared to other chocolate cereals on the market. The cereal pieces stay crunchy in milk for up to 8 minutes.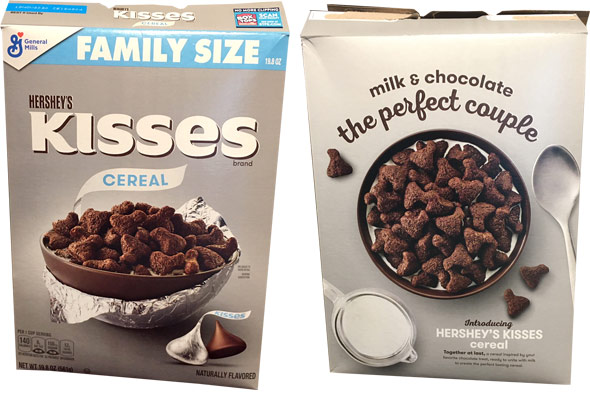 The chocolate flavor here is nothing new. It reminded me of Cocoa Puffs with a different shape and firmer texture.
While the cereal does a disservice to Hershey's Kisses candies, it's pretty good when it comes to chocolate cereals... just don't raise your expectations too high.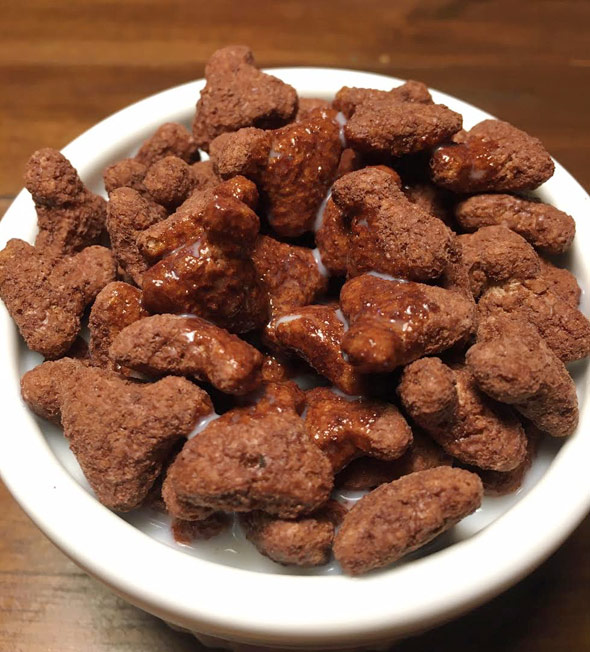 Nutritional Considerations:
Each 1 cup serving of Hershey's Kisses Cereal has 140 calories (180 with milk), 1.5 grams total fat (0 saturated and 0 trans), 0 mg cholesterol, 150 mg sodium, 31 grams total carbs, 2 grams dietary fiber, 12 grams sugar and 2 grams protein.
The price we paid: $3.99
Comments About This Product Review
What do you think of Hershey's Kisses Cereal?

By 025284@lths.org (Team Breakfast Member)


| | |
| --- | --- |
| Product Rating (out of 5): | |

It's the Hershey's Kisses everyone knows and love for breakfast and I love it!

Comment submitted: 4/19/2020 (#5848)



By Johnny T800


| | |
| --- | --- |
| Product Rating (out of 5): | |

I was very disappointed in this cereal. It wasn't terrible but Hershey's chocolate has a distinct chocolate flavor that this cereal lacks. After one bowl I gave the rest of the box to my son. After he had a bowl, he wanted his Honey Nut Cheerios back.

Comment submitted: 3/4/2020 (#5831)



By jls


| | |
| --- | --- |
| Product Rating (out of 5): | |

Hated it. Hope they get rid of it.

Comment submitted: 1/23/2020 (#5811)




---
Connect With Mr Breakfast: