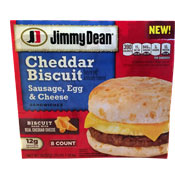 New Product Review:
Cheddar Biscuit (Sausage, Egg & Cheese)
From Jimmy Dean
Reviewed by Mr Breakfast on 1/21/2020
The beauty of this breakfast sandwich is that "the biscuit is made with real cheddar cheese." The additional cheese does make these sandwiches a little more interesting (and somewhat better) than the same sandwiches without noticeable cheese in the biscuit.
Each sandwich is about 3 inches in diameter and 2 inches thick. The cooking instructions are to microwave at 30% for 90 seconds and then to microwave on high for 55 seconds. After microwaving, the biscuit is very tender, which is terrific considering a number of similar products where the biscuit becomes tough and chewy after microwaving.
While delightfully cheesy, there is no cheese explosion. Quality sausage is the most notable flavor. The egg has a good consistency. Overall, the sandwich has a delightful smokey homestyle flavor. One sandwich is filling enough to get you through your morning.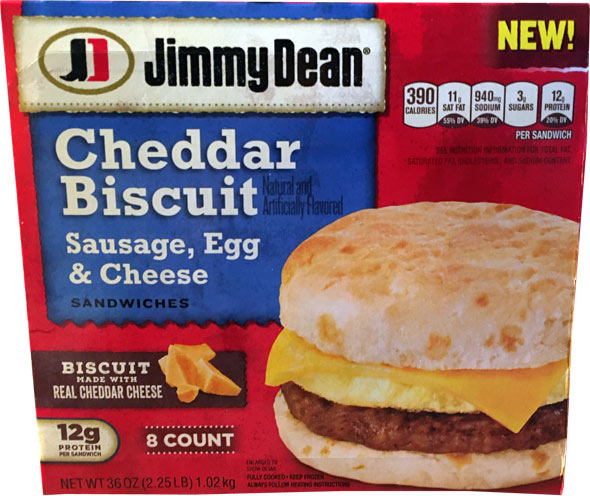 These Jimmy Dean sandwiches could be presented next to a near-fast food equivalents from McDonalds or Burger King and hold their own. They are tender, cheesy and very good.
An 8 pack of Jimmy Dean Cheddar Biscuits with Sausage, Egg & Cheese cost us $6.99.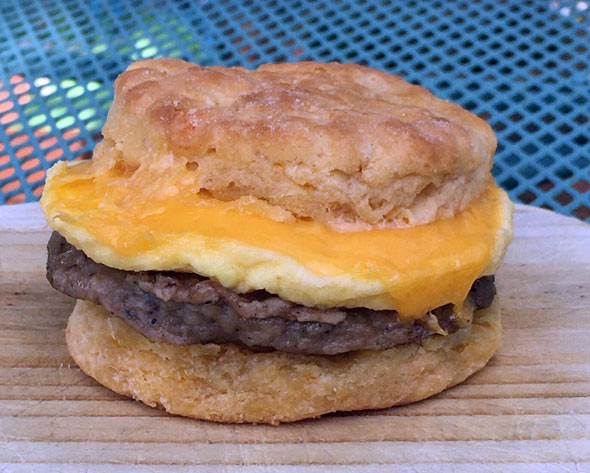 Nutritional Considerations:
Each Sausage, Egg & Cheese Cheddar Biscuit has 390 calories, 27 grams fat (11 saturated and 0 trans), 120 mg cholesterol, 940 mg sodium, 25 grams total carbs, 2 grams dietary fiber, 3 grams sugar and 12 grams protein.
The price we paid: $6.99
Comments About This Product Review
What do you think of Cheddar Biscuit (Sausage, Egg & Cheese)?
There are no comments yet for this product. Be the first! Was it awesome? Just okay? Was it bad? Let the world know!



---
Connect With Mr Breakfast: