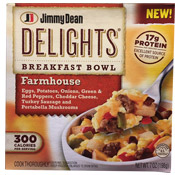 New Product Review:
Delights Breakfast Bowls
From Jimmy Dean
Reviewed by Mr Breakfast on 1/31/2020
I recently tried 2 new varieties of Jimmy Dean Delights Breakfast Bowls: Farmhouse and Broccoli, Cheese & Ham. The Farmhouse bowl has eggs, potatoes, onions, green & red peppers, Cheddar cheese, turkey sausage and Portabella mushrooms. The Broccoli bowl has scrambled egg whites, diced potatoes, broccoli, Cheddar cheese, ham & red onion.
The cooking instructions for both are easy: microwave 2 minutes, stir, microwave 1 more minute. Both varieties looked fairly appetizing coming out of the microwave... although not nearly as appetizing as they appear on the box.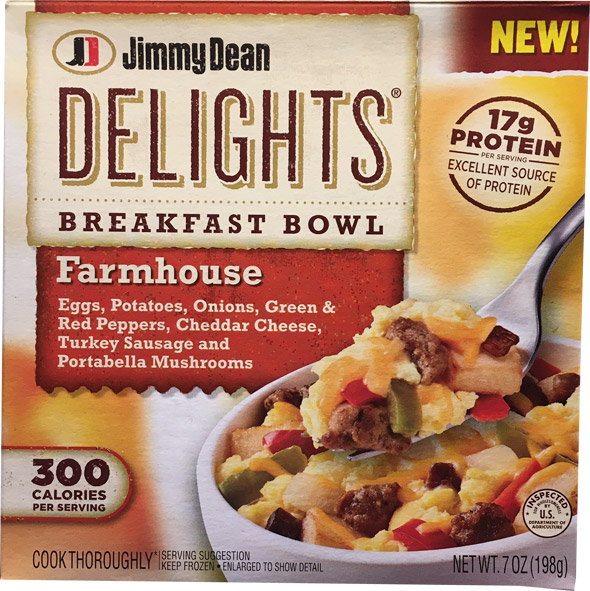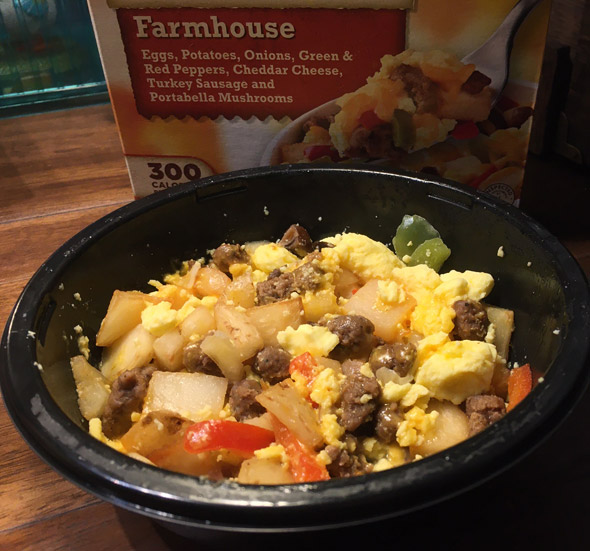 The Farmhouse bowl was just okay. There were nice sized pieces of egg, potato and sausage with noticeable peppers. The cheese only came through in occasional bites. The main flavors were egg and potato. Surprisingly for a Jimmy Dean product, the sausage was bland and made little impact on the overall flavor. The Portabella mushroom pieces were hardly noticeable. The egg pieces were the best part. The biggest negative was the small puddle of liquid (less than a teaspoon) left at the bottom of the bowl.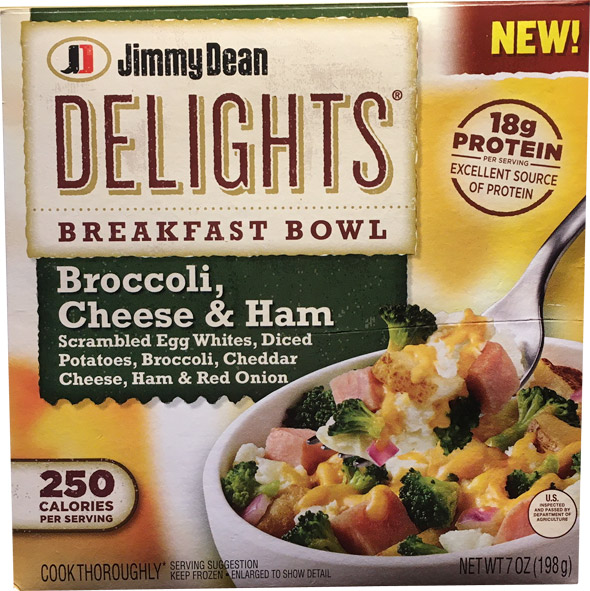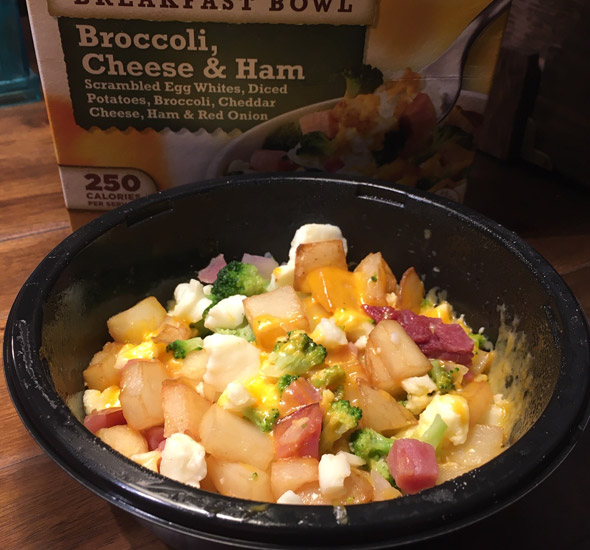 The Broccoli, Cheese & Ham bowl was my favorite of the two. It was delightfully cheesy with strands of cheese hanging from nearly every forkful. The potato chunks were tender and tasty. The large pieces of egg white were good, but not as good as the egg in the Farmhouse bowl. The broccoli tasted fresh. The ham provided terrific flavor, but was slightly chewy every so often. The main flavors were cheese and potato. The onion was barely noticeable. This bowl, too, suffered from an annoying little puddle of liquid at the bottom.
I was surprised that I like the Broccoli variety better. I tend to favor sausage over ham. But considering the sausage was flavorless and the ham was delicious, the Broccoli bowl beat out the Farmhouse bowl by a considerable margin. It also didn't hurt that it was indulgently cheesy.
Overall, these bowls were satisfying and filling. I give the Farmhouse Bowl a rating of 4.5 golden eggs out of 7. I give the Broccoli, Cheese and Ham Bowl a rating of 5 out of 7.
Nutritional Considerations:

Each Farmhouse Delights Breakfast Bowl has 300 calories, 18 grams total fat (8 grams saturated 0 grams trans), 195 mg cholesterol, 560 mg sodium, 17 grams totals carbs, 2 grams dietary fiber, 2 grams sugar and 17 grams protein.

Each Broccoli, Cheese & Ham Delights Breakfast Bowl has 250 calories, 12 grams total fat (7 grams saturated 0 grams trans), 40 mg cholesterol, 710 mg sodium, 17 grams totals carbs, 2 grams dietary fiber, 2 grams sugar and 18 grams protein.
The price we paid: $3.49
Comments About This Product Review
What do you think of Delights Breakfast Bowls?
There are no comments yet for this product. Be the first! Was it awesome? Just okay? Was it bad? Let the world know!



---
Connect With Mr Breakfast: