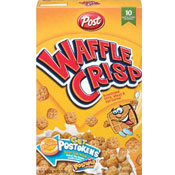 From: Post
Introduced in 1996
According to the Post Kids page of Kraftfoods.com, "Waffle Crisp is a sweetened oat, corn and wheat cereal that gives you the waffilcious taste of real home made waffles in a mini size. Waffle Crisp cereal provides ten essential vitamins and minerals in every serving!"
The crunchy cereal pieces are shaped like small somewhat-rounded square waffles. Certain variations of the cereal box have featured a waffle maker in the corner. Waffle Crisp has been described as as cereal with a "syrupy coating and cinnamon dust (that) forms little swirls in milk."
The first five ingredients listed for this cereal are sugar, corn flour, wheat flour, whole grain oat flour and partially hydrogenated soybean oil. This cereal was given a letter grade of "F" by WebMDUniversity and was blasted as being "Low in fiber, high in fat and sugar."
Early television ads for Waffle Crisp featured a group of octogenarian women referred to as "grannies". In the ads, it was said that the cereal (which "tastes like real homemade waffles") was "really made by grannies". In the most memorable story line from this campaign, it's shown that two young boys have amassed a stockpile of Waffle Crisp cereal. When the boys invite two young girls up to their tree house to experience the booty, madness ensues. The young girls remove costumes to reveal that they are, in fact, crazy old women who make Waffle Crisp. The implication that the boys had originally stolen the cereal from the senior citizens is undeniable.
The "grannies in disguise" mascots were later replaced by a new fictional representative known as Waffle Boy. Waffle boy was, and possible still is, a little square waffle with big bright eyes, red pants and running shoes. On cereal boxes he was depicted holding a spoon while jumping into a bowl of cereal.
Where's Waffle Boy?
There's evidence that Post cereal is distancing themselves from the waffle character. For some time, Post's website aimed at children - Postopia.com, featured two games called Waffle Boy's Mountain Adventure and Waffle Boy's Jungles Adventure. Recently, the the character of Waffle Boy was replaced by a Dinosaur named Bronk in both games. Bronk's association with any particular Post cereal is unclear. The instructions for the original game read, "Professor Burnt Toast has taken all of the delicious Waffle Crisp cereal and hidden it in his secret mountain laboratory. Waffle Boy has volunteered to recover the cereal."
Know Premiums:
Postokens - tokens used to "unlock rewards on Postopia.com"
Sadly, Post listed Waffle Crisp as being DISCONTINUED on its official website in 2018.
Click here
to see all cereals from Post.
---
Featuring: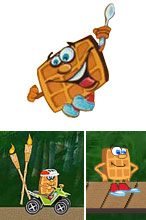 Waffle Boy

This smiling mascot was able to express the nature of Waffle Crisp cereal since he was himself a small waffle. While cereal boxes showed that the character could walk and jump, it took a visit to Postopia.com to discover Waffle Boy was also able to drive. Waffle Boy had a nemesis named Professor Burnt Toast. A maze-game on the back of one version of cereal box showed the back of the Professor Burnt Toast. From this depiction, we know that he was primarily brown and wore glasses and a possible cape.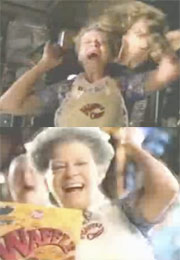 Grannies In Disguise

While these characters were morally justified in retrieving the Waffle Crisp cereal they'd made from the children who stole it, there was something menacing in the way they went about it.

The cackling laugh they made as these stripped out of their costumes as cute young girls was the material of nightmares. This, added to the fact they had a sort of senior citizen super strength, places them near the top of the list of the most scary, albeit inadvertently so, cereal mascots of all time.
---
Waffle Crisp Cereal Theater

Now Showing: 1996 Waffle Crisp Crazy Grannies Ad
---
Additional Images
---
Comments About This Cereal
What do you think of Waffle Crisp?

Overall Average Rating = 5 (out of 5)

View all 71 comments for this cereal.




By alysdexia (Team Breakfast Member)

No one a'going to say Waffle Boy rips off Sponge-bob?

Comment submitted: 1/19/2020 (#24819)





By Cruncheezy (Team Breakfast Member)


| | |
| --- | --- |
| Cereal Rating (out of 5): | |

I haven't had Waffle Crisp since the late 90s, but it was my go to and tasted absolutely amazing! It's sad that it disappeared from my area around 1999, haven't seen it since.

Comment submitted: 10/4/2019 (#24577)



By herbaderbin


| | |
| --- | --- |
| Cereal Rating (out of 5): | |

Please, is there anybody that can help me find a box of these?! There's got to be one box out there somewhere with a price tag! Email at herbaderbin(at)gmail!

Comment submitted: 9/9/2019 (#24478)



By cereal guy


| | |
| --- | --- |
| Cereal Rating (out of 5): | |

On may 17th, 2019 I got my last box of Waffle Crisp. It was good.

Comment submitted: 5/22/2019 (#24186)



By cereal guy


| | |
| --- | --- |
| Cereal Rating (out of 5): | |

I saw Waffle Crisp cereal @ Mitch's yesterday, in Plainview, NE. There only 2 boxes left.. got the final two boxes of Waffle Crisp cereal before its gone.

Comment submitted: 3/19/2019 (#24029)



By cereal guy


| | |
| --- | --- |
| Cereal Rating (out of 5): | |

There's still Waffle Crisp cereal at Mitch's food center in Plainview, Nebraska 68769. Buy them while you can before there gone!

Comment submitted: 11/29/2018 (#23733)



By cereal guy


| | |
| --- | --- |
| Cereal Rating (out of 5): | |

Rest in peace Waffle Crisp cereal (1996-2018). We all miss you.

Comment submitted: 10/25/2018 (#23647)



By Gorilla Monsoon

The 'made by grannies' campaign sounds EXTREMELY close to the 'knitted by nanas' campaign used by Post for their version of Shreddies.

Comment submitted: 5/8/2016 (#20271)





By mightystar (Team Breakfast Member)


| | |
| --- | --- |
| Cereal Rating (out of 5): | |

This cereal is really good. Too bad I can't find it at any supermarkets in Loudoun County. Thankfully, I can easily find these at Farm Fresh in Portsmouth, VA. Every time my family and I travel over to Portsmouth, I make sure to go over to Farm Fresh and get this cereal.

Comment submitted: 12/29/2015 (#19794)





By FatsILLmatic (Team Breakfast Member)


| | |
| --- | --- |
| Cereal Rating (out of 5): | |

They still sell Waffle Crisp at a Mars supermarket in Baltimore county. They also sell the Post Good Mornings Waffle Crunch at a near by super Wal-Mart. Had both in my house "At the same dang time!". Taste exactly the same even though packaging is different. Still Post, Still taste the same!

Comment submitted: 3/27/2014 (#16502)



View all 71 comments for this cereal.