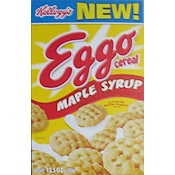 New Product Review:
Eggo Cereal
From Kellogg's
Reviewed by Mr Breakfast on 2/21/2006
Leggo my Eggo. Seriously, let go of it. It's a great new cereal and I want to keep it.
I opened the box
The smell... you can't beat it
Buttery maple
I wanted to eat it
On with milk
In through my teeth
A flavorful crunch
In every piece
Familiar yet new
I liked it a bunch
Similar in texture
To old Cap'n Crunch
Oh, tiny waffles
The milk you absorb
A crunch on the outside
Yet soft in your holes
Imagine a waffle -
Crispy and brown
Drizzled with syrup
And cut into rounds
A taste you will like
from a name that you know
Leggo any reservations
and try new egg o (cereal)
Wow. It's been while since a new cereal inspired me to poetry. I've tried a lot of new cereals in the last couple months and this is one of the best.
If you can come up with a verse that rhymes "oat flour" and "rich in fiber" with "corn pops", please email me and I'll add it. A few things I wanted to say weren't conducive to my prose. The theme of the verse would be that Eggo Cereal tastes somewhat like you'd expect "Maple Corn Pops" to taste. Despite the cereal's sweetness, it is fairly healthy - made with oat flour and rich in fiber. It's a simple cereal, yet the flavor has a subtle complexity. The taste unfolds as you eat it.
Bottom Line:
I'd buy this cereal again and I'm an awesome poet.
The price we paid: $2.99
Comments About This Product Review
What do you think of Eggo Cereal?
By Asha


| | |
| --- | --- |
| Product Rating (out of 5): | |

Please, please bring back the Eggo waffle maple syrup cereal. I am not a big cereal eater. But this cereal I could eat everyday. I have been looking for this cereal for years now.

Comment submitted: 1/22/2018 (#5566)



By twizzler


| | |
| --- | --- |
| Product Rating (out of 5): | |

This was one of my top favorite cereals. Probably even #1.

Comment submitted: 8/2/2012 (#3188)



By Chase


| | |
| --- | --- |
| Product Rating (out of 5): | |

Best cereal ever... why did it get discontinued? Unbelievable!

Comment submitted: 6/11/2012 (#3140)





By nicolbie (Team Breakfast Member)


| | |
| --- | --- |
| Product Rating (out of 5): | |

I love this cereal. I haven't had it in quite a while, but I think the syrup taste of an Eggo waffle is very prevalent here and will not be missed. They're great!

Comment submitted: 4/29/2012 (#3095)



By foggy2


| | |
| --- | --- |
| Product Rating (out of 5): | |

Best cereal ever... bar none. The maple flavor... authentic and addicting.

Comment submitted: 3/2/2012 (#3028)



By Hunter-m3


| | |
| --- | --- |
| Product Rating (out of 5): | |

This cereal is great.

Comment submitted: 10/17/2011 (#2920)



By Danno


| | |
| --- | --- |
| Product Rating (out of 5): | |

What are you guys smokin? This cereal is weak! Flavor is bland - like honeycomb with fake maple flavor. Can't compare to cap'n crunch original or cinnamon toast crunch french toast.

Comment submitted: 4/8/2011 (#2810)



By Richard R.


| | |
| --- | --- |
| Product Rating (out of 5): | |

I would much rather waffle crisp... it had a stronger maple flavor and stayed crunchy longer.

Comment submitted: 5/25/2010 (#2350)





By wafflecrisp4 (Team Breakfast Member)

I bought this cereal at Wal Mart. Never tried it. Going to have it tomorrow morning. See how good it is.

Comment submitted: 2/20/2010 (#2170)





By wafflecrisp4 (Team Breakfast Member)

Man this cereal took away one of my favorite cereals Waffle Crisp. Pretty sad that one of the best Post cereals ever made had to get replaced by a crappy eggo cereal. R.I.P Waffle Crisp where I live:(1996-2007) You will forever be remembered.

Comment submitted: 2/19/2010 (#2166)



By J-Session


| | |
| --- | --- |
| Product Rating (out of 5): | |

This cereal has made it high up on my top 10 list of best cereals. To be compared to being almost as good as Cinnamon Toast Crunch, means it's that great.

Comment submitted: 6/5/2009 (#1779)



By Violet


| | |
| --- | --- |
| Product Rating (out of 5): | |

My favorite cereal! Not sickening sweet, doesn't get super soggy, great flavor and crunch. Scared it's so good they'll end up discontinuing it!

Comment submitted: 3/24/2009 (#1550)



By Greggo


| | |
| --- | --- |
| Product Rating (out of 5): | |

Eggo Cereal is a total ripoff of Waffle Crisp and Waffle Crisp is much better. It's like eating Waffle Crisp with half the flavor missing.

Comment submitted: 12/3/2008 (#1320)



By Vegan Diva


| | |
| --- | --- |
| Product Rating (out of 5): | |

This is by far the most delicious new cereal I've tried in the last five years. The buttery maple flavor is robust and not cloying, and the little waffles have a nice crunch. I really hope Kellogg's keeps this one in the market for many years to come!

Comment submitted: 8/25/2008 (#1182)



By Benny G


| | |
| --- | --- |
| Product Rating (out of 5): | |

i friggin love these. i ate these non-stop all day till the mother trucker was gonne! my sis buys one every two weeks cause she works fore kellogs, and she brings home a lot of cereal, and thats the first one to go. YUM!

Comment submitted: 8/1/2008 (#1122)





By yumyum (Team Breakfast Member)

Omg! This cereal is amazing absolutley one of the best cereals ever! I think about eating this 24-7 weather out of the box or with milk. Its so good...I finished the whole box in 2 days..yes its true this is all I ate for 2 straight days..they're that good. So my mom hid them from me..but I know where they are..she has no clue that box is empty....but anyways the taste is awesome, that crunch is yummy, even the shape makes them taste better..this is so fun to eat! You haven't lived till u've tried this cereal! Buy it!

Comment submitted: 5/15/2008 (#1021)



By steven


| | |
| --- | --- |
| Product Rating (out of 5): | |

The cereal is amazing. I work in a supermarket and we stopped selling them. I guess cause they weren't a good seller. Shocking but I had to go to another supermarket and buy 4 boxes. Where did u get them for $2.99. I paid almost $5 a box. I wish Costco had them. BIG SIZE. I would pay anything for them.

Comment submitted: 2/29/2008 (#902)



By C. Real


| | |
| --- | --- |
| Product Rating (out of 5): | |

I love them.

Comment submitted: 1/27/2008 (#847)





By arcticamy (Team Breakfast Member)


| | |
| --- | --- |
| Product Rating (out of 5): | |

My favorite cereal in the whole world. It was one of my major pregnancy cravings too. MMMMM!!!!!

Comment submitted: 1/16/2008 (#832)



By yep


| | |
| --- | --- |
| Product Rating (out of 5): | |

I just made the best cereal ever using the Eggo waffle cereal as a base, adding sliced strawberries, real syrup, milk and a splash of almond soy milk. I swear to God it was the best bowl of cereal my mouth has had the pleasure of eating. It was so good that I had to wake my wife up (it's 6 am) to try a bite.

Comment submitted: 8/13/2007 (#600)



By Agree with MB


| | |
| --- | --- |
| Product Rating (out of 5): | |

This stuff is the BOOOMB!!!

Comment submitted: 6/7/2007 (#504)





By sugahgirl1 (Team Breakfast Member)


| | |
| --- | --- |
| Product Rating (out of 5): | |

I tried this cereal because of your great review, and I'm so glad I did! It's so maple syrupy, and it soaks up my milk perfectly. And for a sugary cereal it's not as unhealthy as some of the other ones on the market. Thanks for the recommendation!!

Comment submitted: 5/23/2007 (#479)





By rooda (Team Breakfast Member)


| | |
| --- | --- |
| Product Rating (out of 5): | |

I love your cereal me and my daughter eat it up. Do yall ever send out coupons or free samples. Thanks

Comment submitted: 5/12/2007 (#462)



By Lauren K


| | |
| --- | --- |
| Product Rating (out of 5): | |

It's a little too cinnamony, but I'm eating it right now, and other than the overload of cinnamon, it is HEAVENLY. 4 out of five.
I just stumbled on this site too, btw. I love breakfast cereal, so I''ll be coming here more often :)

Comment submitted: 4/11/2007 (#414)





By SHANEEKA (Team Breakfast Member)


| | |
| --- | --- |
| Product Rating (out of 5): | |

Egg-O cereal is very good.

Comment submitted: 3/27/2007 (#380)



By eggo

Sick poem Mr. Breakfast

Comment submitted: 3/7/2007 (#329)





By leogolis (Team Breakfast Member)


| | |
| --- | --- |
| Product Rating (out of 5): | |

Mmmmm, I just finished off a bowl myself. Nice stuff!

Comment submitted: 2/13/2007 (#283)



By RS


| | |
| --- | --- |
| Product Rating (out of 5): | |

I live in Montreal as well. This stuff is worth going to the border for (I do) its that good!

Comment submitted: 1/4/2007 (#213)



By ATL EGGO Enthus


| | |
| --- | --- |
| Product Rating (out of 5): | |

It is awesome cereal. They have finally nailed the perfect shape for proper rate of milk absorption in a cereal. I now am addicted to it. It also reminds me of maple cream cookies, which I used to get when I lived up North and cant, get down here in the South.

Great taste (it builds in flavor, first bite didnít reveal much). Never gets too soggy. Hold s milk nicely (like cinnamon toast crunch). Doesnít cut roof of your mouth like most other Kellogg cereals ala fruit loops.

Keep it on the shelves!

Comment submitted: 9/26/2006 (#37)



By Caroline

I read you're great, and funny, review of the new eggo cereal. I can't wait to try it myself as I absolutely love waffle crisps and the original eggo waffles. I live in Montreal so Maple is in my blood so to speak :) however, this cereal isn't sold in Canada so even though the border is only about 20 minutes away I'll wait until spring when we go shopping for clothes there to buy some of it (along with the new Chocolatey Peanut Butter Cap'n Crunch which it would be great if you could ever review)

Anyway about your last verse, I might have something although it probably sucks. I'm into journalism, not poetry, but here's my shot at it anyway

Corn Pops Kiss
Oat flour
And rich in fiber,
Reminisce in springtime's bliss

Comment submitted: 2/23/2006 (#22)




---
Connect With Mr Breakfast:



Most Recent
Product Reviews: