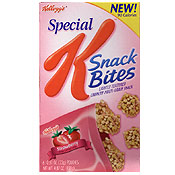 New Product Review:
Strawberry Special K Snack Bites
From Kellogg's
Reviewed by Mr Breakfast on 1/27/2006
Note: If you've already read the Vanilla Special K Snack Bites review, you may want to skip to the bottom.
I love what Kellogg's is doing with their Special K line.
If you know me, you know that I often comment on how a particular cereal functions as a snack. What a healthier nation we would be if we be if we snacked on little baggies of granola instead of ever-enlarging bags of potato and corn chips. And
how much more beautiful we would be
, if we ate low-fat cereal bars instead of Butterfingers and Twinkies.
Is it possible someone at Kellogg's is listening to a particular husky, bald breakfast expert? It could be. However, I think what's really happening is that the Kellogg's execs are very high on a campaign they have called "
The Special K Challenge
". Imagine a poor man's South Beach Diet, a convenient plan where a company tells you what to eat and then ropes you in to becoming reliant on their products.
The Special K Challenge touts that you can loose 6 pounds in 2 weeks if you eat Special K cereal for 2 out of 3 meals per day. As long as you eat a proper third meal, with lean protein and vegetables, I think it's a good plan. You're also allowed an occasional snack and that's where the new Special K Snack Bites and Special K Cereal Bars come in.
This is all well and fine. We can all see through the profit-making advantages of hooking customers on a product based diet. And for some people it works... just check their site for testimonials (of course). But it's my sincere hope that Kellogg's can see the bigger picture.
When I check out of my local Ralph's grocery store there's a plethora of candy bars to my right. On the left are bags of Fritos or whatever the featured chip of the checkout isle might be. Sometimes I feel "snacky". That might not be a real word, but it certainly is a real feeling. It's rarer now that I'm older and wiser, but in these times of being snacky, my choices are limited. I know that if there were healthier options vying for my attention, I would probably think twice about that Snickers bar.
Therefore, it's my sincere hope that Kellogg's can look outside the box (clever) - outside of the confines of the Special K challenge - and see that they could make a healthy mark on our national diet, if they could position theses products as checkout isle/counter snacks. Everything is in place. The products are tasty and satisfying. It's just a matter of someone having the guts to take on candy bars and chips.
Dear Kellogg's,

Please take the Mr Breakfast Challenge: position these snacks in places where people are most likely to buy snacks. I give you 9 months... or else I'll bad mouth you on MrBreakfast.com, the worlds #1 breakfast website.

Hopefully yours,
Mr Breakfast
If you know me, you also know that I can rant on endlessly before getting to the meat and bones of product review...
In a nutshell,
Strawberry Special K Snack Bites are great
. I found that they satisfied both my sweet-tooth cravings AND my chip cravings. The taste is what you might expect cereal and strawberry and it works. Compared to their Vanilla Snack Bites, I preferred the vanilla variety, but that was mostly a matter of personal taste. The best surprise was the texture. The individual Snack Bites are a cross between a cereal flake and a chip. In fact, the texture reminded me a little of Frito-Lay's Sun Chips.
I'm giving both varieties of these Snack Chips
my highest rating
. It's a great idea whose time is now.
Hopefully yours,
Mr Breakfast
$2.50 reflects the price of a box containing six 0.81 ounce snack pouches.
The price we paid: $2.50
Comments About This Product Review
What do you think of Strawberry Special K Snack Bites?
By kimeeb


| | |
| --- | --- |
| Product Rating (out of 5): | |

I used to buy these at my local Walmart (Hampton, Newport News VA), and I would buy like 4 boxes at a time because they are THAT GOOD! I was so sad, when they no longer carried them, but then the heavens smiled on me one day while in Big Lots. OMG I thought I would go crazy! I bought ALL the boxes that were on the shelves, THEN I called my best friend & told her RUN to the Big Lots in her area & get ALL the boxes on that store's shelves. It was a GREAT DAY! I would crunch a bag up & put it in my yogurt - SOOOO good! I'm sad to say, that they are no longer being carried in the stores & I even went online to Amazon, to see if they had them. This is one snack they need to bring back like YESTERDAY!!!

Comment submitted: 11/20/2012 (#3533)



By Snack Bite Love


| | |
| --- | --- |
| Product Rating (out of 5): | |

I live in Chesapeake, Virginia and I searched all stores in my area (FOOD LION, WALMART, TARGET, FARM FRESH, BLOOMS, KROGER, HARRIS TEETER) for this product. Originally i would get them from Walmart then they disappeared. PLEASE, if anyone can tell me where i can find this product it would be greatly appreciated. I use to eat a pack with my yogurt every morning. They were selling well in VA because they were always out when i would go to purchase them. Help!!! Anyone!!

Comment submitted: 2/15/2010 (#2159)



By Jennifer G


| | |
| --- | --- |
| Product Rating (out of 5): | |

Where can you find the snack bites? I have been looking everywhere and I really do not appreciate the fact that you have discontinued the only Special K product that is worth buying. Can you bring these snacks back or do I have to turn to less appetizing alternatives from other companies? I think it is a mistake for your company to get rid of these. Another bad decision by a company who does listen to the public.

Comment submitted: 1/16/2010 (#2089)





By mklane (Team Breakfast Member)


| | |
| --- | --- |
| Product Rating (out of 5): | |

I am very upset because I love this product but it has disappeared from our store shelves. I can not locate it anymore. Any suggestions?

Comment submitted: 7/7/2009 (#1826)



By slim sweety


| | |
| --- | --- |
| Product Rating (out of 5): | |

Why are you discontinuing such a great product? This really sucks.

Comment submitted: 4/8/2009 (#1583)



By frisky

Love the snack bites but can't find any place to buy them. Can you please tell me where to purchase them or if they have been discontinued? I live in Highland, Indiana - zip code 46322

Comment submitted: 3/18/2009 (#1540)



By Mikkicd


| | |
| --- | --- |
| Product Rating (out of 5): | |

I belong to Weight Watchers and Special K Snack Bites are only 2 points and a great healthy snack choice. I have had Chocolate and Strawberry so far, I didn't know they came in vanilla also. They are absolutely delicious!

Comment submitted: 11/18/2008 (#1302)



By 1st-timer


| | |
| --- | --- |
| Product Rating (out of 5): | |

I just had my first bag of the snack bite, they were giving them away at our health fair at work. Can I just say that I love them and can't wait to hit the stores and buy more!

Comment submitted: 9/4/2008 (#1207)





By Gretchen100 (Team Breakfast Member)


| | |
| --- | --- |
| Product Rating (out of 5): | |

I shop at Stop & Shop their code # 543, Babylon, NY. We love the Snack Bites, but have not been able to get them for several weeks. Thought they had been discontinued because no other flavors had been added & the bar type has added.

Comment submitted: 6/24/2008 (#1069)



By Mrs. Chili


| | |
| --- | --- |
| Product Rating (out of 5): | |

I couldn't agree more. I DO eat these in place of chips as snacks (though not in place of chips next to a sandwich... yuck). I think that your idea is a good one - I'd buy an individual bag of these as a point-of-sale display. It'll be interesting to see if Kellogg's understands this, too...

Comment submitted: 5/21/2008 (#1029)



By sooo gooood


| | |
| --- | --- |
| Product Rating (out of 5): | |

I love the Strawberry Special K Snack Bites they are really delicious. Strawberry is my favourite fruit. And i am happy that their is a cereal made up of strawberries.

Comment submitted: 2/1/2008 (#857)



By suz

I love special k bites but cannot find it any super market in Manhattan. I asked for it but to no avail. Where can I order it from?

Comment submitted: 1/20/2008 (#840)



By Cereal Lover


| | |
| --- | --- |
| Product Rating (out of 5): | |

Dear Mr. Breakfast, I completely agree with your growing concerns on snacking options available at the grocer's cash register aisle and even at gas stations, etc. However - you may want to rant to the actual store managers as opposed to the makers of the products - individually packaged products are available - it is your local retailer that has not jumped on board displaying them.
On to the Special K Snack Bites - I think the Vanilla are unbelievable, and are a perfect little 3pm snack with my cup of tea!

Comment submitted: 7/11/2007 (#542)



By poochie

I really like the strawberry snack bites but am having trouble finding them. Could you please let me know where they are available. I live in Houma, La.

Comment submitted: 3/20/2007 (#364)



By t


| | |
| --- | --- |
| Product Rating (out of 5): | |

Strawberry Special K Snack Bites are delicious! What I like most about it is the fact that it's sweet, but not overly sweet. It's perfect for those who don't care much for sweet foods. I sure feel a whole lot better after eating this than I would after eating a handful of potato chips. In some places, a box of these could cost more than $3, which I feel is a little much. However, they're still good enough to buy.

Comment submitted: 11/25/2006 (#147)




---
Connect With Mr Breakfast:



Most Recent
Product Reviews:

May the force of breakfast be with you.
Click here
.