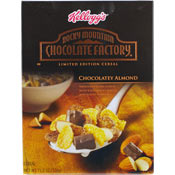 New Product Review:
Rocky Mountain Chocolate Factory Cereal
From Kellogg's
Reviewed by Mr Breakfast on 5/30/2013
I was pretty excited when I first spotted this cereal on the shelves of a Target store in Burbank, CA. It stood out from all of the other cereals with its slick dark box and an image of cereal that seemed to contain significant pieces of real chocolate. It looked like a chocolate lover's dream.
Reality doesn't quite live up to the idealistic picture on the box, but it is a decent cereal.
The star of this cereal isn't the chocolate-like pieces, but rather the smattering of cocoa-infused corn flakes which provide the majority of flavor. Those flakes are crisper than the regular corn flakes in the mix.
The "chocolatey" pieces provide more in the way of texture than they do flavor. As with similar "chocolatey" pieces in Kellogg's
Special K Chocolatety Delight cereal
, some people might find these piece slightly off-putting. Eaten alone, they're slightly waxy and have very little chocolate flavor. I guarantee if they made a chocolate bar out of this stuff, you would not like it. However when those small pieces are eaten within the context of the almonds and the two types of flakes, your mouth gets fooled that the "chocolatey" pieces are providing chocolate flavor.
It should be noted that the amount of almonds in the cereal is quite impressive.
For the most part, I enjoyed Rocky Mountain Chocolate Factory Chocolatey Almond Cereal. There's a lot going on in the way of flavors and textures. It satisfied my craving for chocolate even if it went about it in a weird way.
I yearn for the day when Kellogg's uses the word "chocolate" and not "chocolatey" to describe chocolate-like pieces in their cereals. After eating a bowl of this product, my basic reaction was "pretty good, but I wonder what it would be like with real chocolate."
Since this is a limited edition cereal, I recommend you try a box for the novelty of it. I think you'll enjoy it, but I doubt you'll be tempted to buy another box.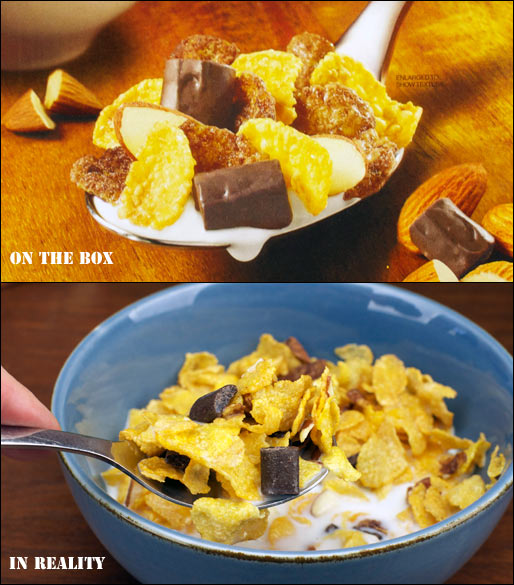 Nutritional Considerations:
Each 1 cup serving of Kellogg's Rocky Mountain Chocolate Factory Chocolatey Almond Cereal has 210 calories, 4 grams total fat (2 grams saturated and 0 grams trans), 0mg cholesterol, 200mg sodium, 42 grams total carbs, 1 gram dietary fiber, 18 grams sugar and 3 grams protein.
The price we paid: $3.49
Comments About This Product Review
What do you think of Rocky Mountain Chocolate Factory Cereal?
By Mike333


| | |
| --- | --- |
| Product Rating (out of 5): | |

Hey Kellogg's - Start making this cereal again!

Comment submitted: 6/3/2018 (#5625)



By j.l.s.


| | |
| --- | --- |
| Product Rating (out of 5): | |

I'm so sad that this cereal is gone.

Comment submitted: 5/14/2017 (#5491)



By Gone2Soon


| | |
| --- | --- |
| Product Rating (out of 5): | |

Too bad it is discontinued. Only cereal that worked for me... I am tired of the high sugar content in other cereals!

Comment submitted: 8/29/2016 (#5427)



By Pauline


| | |
| --- | --- |
| Product Rating (out of 5): | |

I hate cereal, and this is really good. It allows adults to have a great cereal for breakfast that is not subjected for kids. I loved it so much that I would buy several boxes the morning the truck delivered it to our local stores, because they could not keep it on the shelves. Towards the end, I was driving to surrounding counties to buy this cereal. Feeling very disgusted because I am back to having mornings with no good cereals. Back to toast. - Pauline

Comment submitted: 6/1/2016 (#5392)



By nina040711


| | |
| --- | --- |
| Product Rating (out of 5): | |

I loved this cereal because its made for the adult not for a child.... having kids just makes me eat what they get but this one is the one that made me fall in love with cereal again... sad thing is I can't find it anymore.

Comment submitted: 5/15/2015 (#5259)



By Sully


| | |
| --- | --- |
| Product Rating (out of 5): | |

I found this cereal while working in Louisville. From the first bowl, I thought this was my favorite cereal ever. I hope they start selling it back home!

Comment submitted: 5/5/2015 (#5255)



By Happy Mama


| | |
| --- | --- |
| Product Rating (out of 5): | |

Love this cereal... a chocolate cereal for grown ups!

Comment submitted: 2/3/2015 (#5199)



By Makay


| | |
| --- | --- |
| Product Rating (out of 5): | |

In my opinion, this is the BEST cereal ever.

Comment submitted: 1/22/2015 (#5188)



By Ang


| | |
| --- | --- |
| Product Rating (out of 5): | |

Is the chocolate really from the Rocky Mountain Chocolate Factory? It does not say on the box that it is.

Comment submitted: 12/16/2014 (#5162)



By granny7


| | |
| --- | --- |
| Product Rating (out of 5): | |

Great. The only cereal my grandson will eat!!

Comment submitted: 9/18/2014 (#5100)



By yar


| | |
| --- | --- |
| Product Rating (out of 5): | |

Wonderful taste. I hope Kellogg's keeps producing this product.

Comment submitted: 8/23/2014 (#5092)



By chemoangel


| | |
| --- | --- |
| Product Rating (out of 5): | |

Not worth it. Chocolate pieces taste like Ex-Lax. If they're going to make a cereal, at least make it taste worthy of the calories.

Comment submitted: 7/23/2014 (#5077)



By Loney


| | |
| --- | --- |
| Product Rating (out of 5): | |

Very good. I love it!!

Comment submitted: 5/30/2014 (#5055)



By DancingBear


| | |
| --- | --- |
| Product Rating (out of 5): | |

As a real chocolate cereal fan, pass on this one. Poor mouth feel and the cheapest chocolate flavored coating left me disappointed as the package promised so much. Kellogg's makes some pretty decent chocolate cereals, this isn't one of them.

Comment submitted: 5/23/2014 (#5053)





By lgsbyu (Team Breakfast Member)


| | |
| --- | --- |
| Product Rating (out of 5): | |

My name is Linda. I am 66 years old too and I love this cereal. I want to buy the bigger box. I love the fake chocolate too. It is all so good. I hope they keep making it. I better stock up just in case.

Comment submitted: 5/16/2014 (#5047)



By Sewsweet


| | |
| --- | --- |
| Product Rating (out of 5): | |

I'm going to buy more boxes before they stop making it. I loved it.

Comment submitted: 1/29/2014 (#4850)





By Larry1355 (Team Breakfast Member)


| | |
| --- | --- |
| Product Rating (out of 5): | |

Speaking for all the Chocoholics out here... this is soooooo good!

Comment submitted: 1/4/2014 (#4829)



By Nattie


| | |
| --- | --- |
| Product Rating (out of 5): | |

I don't usually get excited about cereal, but this one is AMAZING! In fact, I loved it so much (both dry and with milk) that I went back to the store today and bought three more boxes. The chocolate pieces are a little weird, as noted in the review, but the whole mixture just works. Love it.

Comment submitted: 1/1/2014 (#4826)



By Yum123


| | |
| --- | --- |
| Product Rating (out of 5): | |

Great taste!

Comment submitted: 10/23/2013 (#4735)





By health nut (Team Breakfast Member)


| | |
| --- | --- |
| Product Rating (out of 5): | |

I love this cereal! It's different, but not too sweet. Really hit the sweet spot.

Comment submitted: 10/9/2013 (#4545)



By five


| | |
| --- | --- |
| Product Rating (out of 5): | |

I love this cereal. I hope they don't change the recipe. It's perfect.

Comment submitted: 9/13/2013 (#4303)



By LINDA


| | |
| --- | --- |
| Product Rating (out of 5): | |

My favorite cereal to date and I'm 66 years of age!

Comment submitted: 8/6/2013 (#4059)



By miss bean


| | |
| --- | --- |
| Product Rating (out of 5): | |

Very good. I like the flavor. 2 thumbs up!

Comment submitted: 5/31/2013 (#3885)




---
Connect With Mr Breakfast:



Most Recent
Product Reviews: