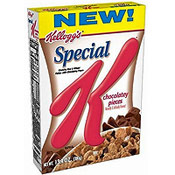 New Product Review:
Special K Chocolatey Delight
From Kellogg's
Reviewed by Mr Breakfast on 3/6/2007
If you're on a Special K Diet hoping for diversity, you'll probably be pleased, or at least amused. If you're a chocolate lover looking to satisfy a craving, you'll probably be disappointed.
Don't expect little pieces of Hershey's-style milk chocolate in your bowl - no matter what the box suggests. This "chocolatey" flavor
tastes more like bittersweet baker's chocolate
... like a healthier unsweetened chocolate... almost like carob.
The texture of the "chocolatey" pieces is sort of fun. It feels like a crumbled chocolate bar, even if it doesn't taste like it. It's a real shame that the pieces don't quite work. There are a lot of them - nearly one per spoonful.
The crunchy flakes are fairly good... lightly sweet with a hearty texture. Unfortunately, even when eaten dry, they've absorbed enough of the unusual "chocolatey" flavor to make them taste just a little off.
This isn't a horrible cereal, but it is the worst of the Special K line. I'll finish the box, but
I won't buy it again
.
The price we paid: $3.49
Comments About This Product Review
What do you think of Special K Chocolatey Delight?
By Jim


| | |
| --- | --- |
| Product Rating (out of 5): | |

I like this cereal OK. I picked it up when searching for Kellogg's Rocky Mountain Chocolate Factory cereal which was awesome and apparently not made anymore. It's really pretty tasty but not near what the Rocky Mountain Chocolate Factory cereal was. My wife likes it a bit more than I do. My daughter likes to eat all of the flakes first and save the bits of chocolate until the end.

Comment submitted: 4/19/2018 (#5599)



By Gin


| | |
| --- | --- |
| Product Rating (out of 5): | |

I'm addicted to Chocolatey Delight. It is so good. You can add more chocolate to make it even better, but I'm a chocoholic! I'm 82 years young and feel like a kid when I'm eating it.

Comment submitted: 4/10/2018 (#5596)



By Deb


| | |
| --- | --- |
| Product Rating (out of 5): | |

Special K Chocolatey Delight is by far the best cereal. It might not be the best for you, but it's better than Cocoa Puffs. I eat what I like and I like this!

Comment submitted: 6/2/2016 (#5393)



By Ninive


| | |
| --- | --- |
| Product Rating (out of 5): | |

I enjoy Special K Chocolatey delight! It is my favorite cereal. The chocolate pieces have a hint of sweetness and the crispy flakes make it a tasty cereal. Any choice of milk will blend nicely with this cereal.

Comment submitted: 4/20/2015 (#5245)



By Nikki_marie


| | |
| --- | --- |
| Product Rating (out of 5): | |

This cereal sucks. The 'milk' chocolate pieces are cheap oily chocolate pieces... Like cheap Easter chocolate. They feel oily on the tongue and don't compare to real milk chocolate at all.

Comment submitted: 6/30/2013 (#3972)



By LisaRiot


| | |
| --- | --- |
| Product Rating (out of 5): | |

Love it!

Comment submitted: 1/28/2013 (#3575)



By Nelliebell


| | |
| --- | --- |
| Product Rating (out of 5): | |

I tried the chocolaty strawberry limited edition version, and the flakes and strawberries are good, but I agree with most of the people here on this comment blog that the chocolate pieces are waxy and hard to chew up. I can tolerate this but the so called chocolaty pieces are not a good addition.

Comment submitted: 1/11/2013 (#3565)



By ght


| | |
| --- | --- |
| Product Rating (out of 5): | |

You guys are so picky. I love this stuff! It's great.

Comment submitted: 7/8/2012 (#3176)



By jcgarza


| | |
| --- | --- |
| Product Rating (out of 5): | |

I lived in Spain for two years and they sell a Special K with actual chocolate shards in it (2 varieties, actually; milk and dark chocolate) that I was completely hooked on. When I came back to the US I was excited to find the Special K chocolatey delight, but failed to realize (until after I tasted it) that "chocolatey" is not the same as "chocolate"! The little chocolate tablets are, as several people point out, waxy, and leave a weird film on your palate. Very sad indeed that Americans allow these artificial "foods" to be approved for mass consumption.

Comment submitted: 6/14/2012 (#3147)





By nicolbie (Team Breakfast Member)


| | |
| --- | --- |
| Product Rating (out of 5): | |

I thought the chocolate was a nice addition to an extremely plain cereal, but at the same time, it defeats the purpose of trying to eat healthy. And the chocolate is on the waxy side.

Comment submitted: 4/29/2012 (#3097)



By Chuck


| | |
| --- | --- |
| Product Rating (out of 5): | |

Tried it for the first time today, and will not eat it again. I liked the taste, but I kept getting the impression that I was chewing on grains of sand. I would not recommend it.

Comment submitted: 4/22/2012 (#3082)



By michele


| | |
| --- | --- |
| Product Rating (out of 5): | |

I love it! The best cereal I have ever eaten. I love eating them with cold milk. I wish they would put in more 'chocolate' chunks.

Comment submitted: 4/3/2012 (#3071)



By Sarah01122


| | |
| --- | --- |
| Product Rating (out of 5): | |

I ate the flakes first and then the chocolate that was left in the bottom of the bowl. The chocolate left a greasy coating on the roof of my mouth. It wasn't horrible but the red berries flavor is much better...

Comment submitted: 10/31/2011 (#2931)



By nicole


| | |
| --- | --- |
| Product Rating (out of 5): | |

I absolutely love it. It sounds like sometimes there are bad batches though, because some users said even when they usually loved it, every once in a while a box tasted chemical-ey. Not sure why that would be, but I just wanted to throw out a good word! It's worth a shot, and could be the best decision you make this week! I know it was mine...:)

Comment submitted: 9/22/2011 (#2894)



By Lou Cherry


| | |
| --- | --- |
| Product Rating (out of 5): | |

Worst Cereal Ever! I love chocolate, so I bought a box of this cereal and I could not finish the box, the "treat" tastes like wax, seriously? Wax. I wouldn't buy it again, I absolutely not recommend this cereal if you are looking for something taste and healthy, stick to the Berry Version, it totally worth it!

Comment submitted: 4/18/2011 (#2821)



By Otter


| | |
| --- | --- |
| Product Rating (out of 5): | |

Wait, so it's apparently better if it's eaten dry? Those "chocolate" bits, as has been mentioned dozens of times already, are disgusting. Waxy and flavorless and awful enough that I ate one bowl and still have the box gathering dust in my cupboard (I really should just throw it out at this point). I think I'll stick to the candy-less varieties of cereal and keep a bar of real chocolate around if I need a fix.

Comment submitted: 4/12/2011 (#2815)





By Becka520 (Team Breakfast Member)


| | |
| --- | --- |
| Product Rating (out of 5): | |

This cereal is yummy! No, its not the unhealthy super sugar loaded chocolate, but I think that is common sense for most people, we are buying Special K. I eat it with a banana sliced in it and its an excellent breakfast or snack.

Comment submitted: 3/6/2011 (#2767)



By choco craving

I had a dream with me eating this kind of cereal and in the dream I LOVED it, so I might try to buy this for a try since I'm craving chocolate cereal, which is weird cause I hate to eat cereal xD

Comment submitted: 2/25/2011 (#2749)



By chocoholic


| | |
| --- | --- |
| Product Rating (out of 5): | |

I am not a big breakfast eater but I love chocolate... Some of you can relate. I thought chocolate cheerios looked funny btu they were pretty good. Chocolate chex looked and was amazing and my friend had some chocolate special k that when I saw it I thought I wouldn't like because the chunks of chocolate in cold milk remind me of chocolate chip ice cream. I like my chocolate melt in my mouth friendly not pre chilled. Well I was hungry and gave it a go and it is my favorite of the new chocolate adult cereals.

Comment submitted: 1/20/2011 (#2679)



By Missy


| | |
| --- | --- |
| Product Rating (out of 5): | |

I WAS NOT IMPRESSED AT ALL. Waxy chocolate tidbits. $3.89 a small box here in Idaho. So, find a better chocolate, and put more in the box. I read that someone said there was a chocolate in every spoonful. Not likely. I won't recommend this to anyone.

Comment submitted: 11/21/2010 (#2620)



By whitetrashpeg


| | |
| --- | --- |
| Product Rating (out of 5): | |

The "chocolatey" chunks are reminiscent of the old "chocolatey" ex-lax bars... waxy and brown but with the flavor of candle wax or perhaps Bonnie Bell chocolate lip gloss. The flakes were good.

Comment submitted: 11/10/2010 (#2607)





By CTSWDS (Team Breakfast Member)


| | |
| --- | --- |
| Product Rating (out of 5): | |

Definitely the best Special K cereal ever made, and one of the best cereals I've EVER had...

Comment submitted: 10/23/2010 (#2581)





By gaarafangirl54 (Team Breakfast Member)


| | |
| --- | --- |
| Product Rating (out of 5): | |

I like this cereal. When I was on a diet I did eat this everyday for breakfast beside having my usual bowl of frosted flakes. Though I would sometimes be bad & only pick out the chocolate pieces from the bowl. hehe

Comment submitted: 9/23/2010 (#2536)



By Starlitkate


| | |
| --- | --- |
| Product Rating (out of 5): | |

I hate this cereal. I barely got any left and I'll give that to my kid. Maybe she'll like it. It smells like butt and the milk at the end taste how it smells. Nasty stuff!

Comment submitted: 7/11/2010 (#2415)



By DJCP


| | |
| --- | --- |
| Product Rating (out of 5): | |

I've been buying this cereal off and on for about a year now and it satisfies my little sweet craving and as a bonus it's healthy. If you are eating healthy I recommend this cereal if your out for a chocolate craving I recommend you buy something else. I hope they continue to manufacture this cereal!

Comment submitted: 6/17/2010 (#2373)





By DL_77 (Team Breakfast Member)


| | |
| --- | --- |
| Product Rating (out of 5): | |

I love this cereal so much I eat it dry sometimes with the chocolate pieces. It's especially good with cold milk. I love the flakes too. I occassionally will get a box where the flakes aren't as sweet or thick but I still love this cereal!!!

Comment submitted: 6/2/2010 (#2356)



By Evan


| | |
| --- | --- |
| Product Rating (out of 5): | |

Yup it sucked, it's been discontinued here in Canada which is a shame since I'm a Special K addict and would buy it... occasionally. I agree with everyone, the "chocolate" tasted like wax, it's decent when eaten dry but in cold milk they become hard little wax shards with barely any flavor.

I don't know how to rate this, the selling point is chocolate, which stinks, otherwise it's an okay cereal (I guess) not to mention a health(ier) alternative for those soccer moms.

Comment submitted: 5/7/2010 (#2319)



By Chris


| | |
| --- | --- |
| Product Rating (out of 5): | |

I am a chocoholic, but this was just terrible. When I got to the bottom, lots of chocolate bits were left. I thought it was a treat but when I tried to eat them, they congealed into a big waxy ball which never dissolved as I chewed and chewed. I spit the wax ball onto the kitchen floor and called the dog over, but she wouldn't eat it.

Comment submitted: 4/30/2010 (#2300)



By chalky


| | |
| --- | --- |
| Product Rating (out of 5): | |

I found the chocolatey pieces to have a chalky texture and a very bland taste. Probably won't buy this cereal again.

Comment submitted: 3/24/2010 (#2242)



By Nancy


| | |
| --- | --- |
| Product Rating (out of 5): | |

I absolutely love this cereal.

Comment submitted: 3/6/2010 (#2202)



By I. B. 2198


| | |
| --- | --- |
| Product Rating (out of 5): | |

I have no idea what you guys are talking about! I'm 21 and 98 pounds with no reason to diet at all and I love this cereal. I don't even eat it because it's healthy, I just love it :) Maybe you guys just got a weird box or something..

Comment submitted: 3/5/2010 (#2201)



By Lou


| | |
| --- | --- |
| Product Rating (out of 5): | |

This stuff is bad. The chocolate is really really disgusting. The flakes are okay (not great) and the chocolate sinks to the bottom of bowl so it's easy to just dump down the drain.

Lou in Texas

Comment submitted: 2/13/2010 (#2155)



By Rhymenoceros


| | |
| --- | --- |
| Product Rating (out of 5): | |

How to make this cereal tasty:
1) Separate chocolate wax from chemical coated flakes.
2) Eat flakes in milk.
3) Eat wax without milk.

Comment submitted: 1/19/2010 (#2096)



By MissRansom


| | |
| --- | --- |
| Product Rating (out of 5): | |

Meh. The flakes taste a bit like Golden Grahams after a chemical bath, but I find the "chocolatey" pieces tolerable. I use this to kill a craving for sweets. It kills the craving fairly instantly, and it takes a few taste buds along with it.

Comment submitted: 1/19/2010 (#2095)



By cocoagirl

I'm so happy i didn't go by all the neg reviews. I love this cereal and satisfies the craving for chocolate.

Comment submitted: 1/19/2010 (#2094)



By bda


| | |
| --- | --- |
| Product Rating (out of 5): | |

I hate it! I'm eating it right now. It tastes like plastic. No wonder it makes you skinnier. It s-u-c-k-s.

Comment submitted: 1/18/2010 (#2092)



By BfastConasaur


| | |
| --- | --- |
| Product Rating (out of 5): | |

This is the most disgusting cereal ever, it's not chocolaty pieces, its waxy, perservative full, chemically made brown pieces in the cereal... it is not chocolate... it is the worst special K brand cereal.

Comment submitted: 12/11/2009 (#2041)





By handonium (Team Breakfast Member)


| | |
| --- | --- |
| Product Rating (out of 5): | |

I love the flavor of the chocolate, personally. I guess I enjoy waxy things. Chalk me up as the small minority that does. Anyway, I love the flavor of the flakes. I could eat boxes of this, mixed with something else to make it a little healthier, of course.

Comment submitted: 11/16/2009 (#2007)



By Kris


| | |
| --- | --- |
| Product Rating (out of 5): | |

Awesome cereal but I really do not recommend it dry! You can taste the chemicals. With milk it is totally fine and the chocolate isn't great but it's certainly better than not having any! What can you expect for 120 calories, right?

Comment submitted: 11/7/2009 (#1990)



By Bad Batch


| | |
| --- | --- |
| Product Rating (out of 5): | |

I usually love to eat this cereal but the last box I purchased tasted horrible. The flakes tasted very bitter like there was some sort of chemical on them! Nasty! I have not been able to bring myself to try another box yet.

Comment submitted: 10/22/2009 (#1970)



By SwaDorgk


| | |
| --- | --- |
| Product Rating (out of 5): | |

I love eating this cereal with silk soymilk and i like eating it dry as a snack. I eat it in a small bowl size. everyday. I just wish the box was just a little more bigger cause i can finish this in a few days...

Comment submitted: 10/10/2009 (#1955)



By souixana


| | |
| --- | --- |
| Product Rating (out of 5): | |

Oh dear God the worst cereal EVER. And I will eat anything, just about. But not this stuff.

Comment submitted: 9/7/2009 (#1903)



By Bad Box


| | |
| --- | --- |
| Product Rating (out of 5): | |

Normally, this is my favorite cereal, however, I just opened a new box and it was majorly bitter!! I mean the flakes were extremely bitter! Maybe I got a tainted box!

Comment submitted: 5/17/2009 (#1662)



By K in TX


| | |
| --- | --- |
| Product Rating (out of 5): | |

One of my all time favorite cereals! Although contrary to other postings, it is really not "healthy." Too high in sugar and too low in protein and/or fiber to fit that bill. It is a good alternative to higher calorie items though, and as a dieter it helps with my sweet cravings. It is very delicious with Light Vanilla Silk.

Comment submitted: 5/16/2009 (#1661)



By Special R


| | |
| --- | --- |
| Product Rating (out of 5): | |

Love it!! Its my new favourite cereal!

Comment submitted: 4/29/2009 (#1631)



By Shay


| | |
| --- | --- |
| Product Rating (out of 5): | |

I finished the box in 1 day... of course I had help from my friends at school... btw I am 14... lol

Comment submitted: 4/27/2009 (#1622)





By wakka092 (Team Breakfast Member)


| | |
| --- | --- |
| Product Rating (out of 5): | |

It's not bad at all; I mean, it's cereal. But the "chocolate" is just mockolate.

Comment submitted: 4/22/2009 (#1611)





By nancyd (Team Breakfast Member)


| | |
| --- | --- |
| Product Rating (out of 5): | |

I'd rather have one or two pieces of Dove dark chocolate than a bowl of fake chocolate. The taste didn't throw me off near as much as the texture -- waxy, waxy, waxy

Comment submitted: 4/14/2009 (#1592)



By prell


| | |
| --- | --- |
| Product Rating (out of 5): | |

This cereal is awesome. If you're used to the sorta buffered flavor of healthy (diet) food you'll love it. Plus I love chocolate. To make the chocolate taste better sometimes I'll pop the dry cereal in the microwave for 30 seconds, then pour on the milk.

Comment submitted: 3/15/2009 (#1529)



By I Love It


| | |
| --- | --- |
| Product Rating (out of 5): | |

I love this cereal! I love the fact that it's both chocolate and healthy!

Comment submitted: 2/17/2009 (#1472)





By Extra Syrup (Team Breakfast Member)


| | |
| --- | --- |
| Product Rating (out of 5): | |

Love it. Love it. Love it. I love it full force with cold milk and I also love it to just nibble on dry. Snacking on this has saved me a ton of calories.

Comment submitted: 1/22/2009 (#1396)





By gcoke (Team Breakfast Member)


| | |
| --- | --- |
| Product Rating (out of 5): | |

I wasn't thrilled with it.. I'm on my second bowl and it's kinda blah... not buying it again.

Comment submitted: 1/7/2009 (#1358)





By salemcat111 (Team Breakfast Member)


| | |
| --- | --- |
| Product Rating (out of 5): | |

I have pretty serious chocoholic issues, but I really was not "feeling" this cereal. I like plain Special K.

Comment submitted: 12/16/2008 (#1337)



By bkfst lover


| | |
| --- | --- |
| Product Rating (out of 5): | |

The cereal would be better without the chunks of "chocolate." Try honey bunches of oats with chocolate. It has less fat and no faux-chocolate bits.

Comment submitted: 12/6/2008 (#1321)



By dissapointed


| | |
| --- | --- |
| Product Rating (out of 5): | |

The "chocolate" bits taste like wax. I like Special K cereal, but you couldn't pay me to eat this stuff. Terrible

Comment submitted: 12/1/2008 (#1318)





By rockinsheppymom (Team Breakfast Member)


| | |
| --- | --- |
| Product Rating (out of 5): | |

Are you kidding me? A cereal with chocolate! One of the best cereal products made- right behind Coco Puffs. I LOVE it. I always need a chocolate fix.

Rockinsheppymom

Comment submitted: 11/22/2008 (#1308)





By sweetpea89 (Team Breakfast Member)


| | |
| --- | --- |
| Product Rating (out of 5): | |

I haven't tried it with milk yet but i actually like it. I'm not a fan of milk chocolate, but i love dark chocolate. The taste of the chocolate doesn't bother me i actually like it.

Comment submitted: 11/1/2008 (#1285)



By Sara


| | |
| --- | --- |
| Product Rating (out of 5): | |

I liked it ... definitely good for a dieter in need of a late-night snack. If you're dieting and don't regularly eat chocolate or sweet foods, you can't really tell it's not real chocolate. The flakes, however, are really hard and a little tough to chew.

Comment submitted: 10/16/2008 (#1264)





By bonnie60 (Team Breakfast Member)

How many colories per serving of Special K Chocolaty Cereal?Bonnie Bolander bbvranch@centurytel.net

Comment submitted: 10/12/2008 (#1261)



By isa


| | |
| --- | --- |
| Product Rating (out of 5): | |

I don't know what people are expecting for a DIET cereal... but I love this cereal!

Comment submitted: 8/10/2008 (#1140)



By FCprincess


| | |
| --- | --- |
| Product Rating (out of 5): | |

If they had a Special K Chocolatey Delight REHAB center, I'd be admitted. This cereal is crazy good, with whole milk it tastes delicious.

Comment submitted: 8/7/2008 (#1136)



By Rachel


| | |
| --- | --- |
| Product Rating (out of 5): | |

If your on a diet and have been eating less sugar, this tastes great. I love it because, I have been cutting out sugar, so this is a great sweet treat, with or without milk. However, if you are accustom to kit-kats and other Hershey products this probably will taste odd to you.

Comment submitted: 6/7/2008 (#1050)





By SarcasticLive (Team Breakfast Member)


| | |
| --- | --- |
| Product Rating (out of 5): | |

At first I didn't care for it at all, but one day I was craving chocolate cereal and it was all I had, so I tried it again. I loved it. I'm glad I gave it a second chance.

Comment submitted: 4/19/2008 (#971)



By cpet


| | |
| --- | --- |
| Product Rating (out of 5): | |

I enjoy it as a snack at night while watching TV. I love how crunchy it is, and I don't think the chocolate pieces are bad at all since I love dark chocolate.

Comment submitted: 3/5/2008 (#911)



By hellome


| | |
| --- | --- |
| Product Rating (out of 5): | |

I actually really love this cereal... so much so that i have to keep it stocked well in advance because I go through about a box and a half a week! I am not the biggest chocolate fan, so the carob-like version is great for me. Tastes much better with milk than dry, in my opinion, and for all of you wondering why the flakes taste like the chocolate? don't your lucky charms have the slightest taste of the marshmallows too? they're all in the same box. Be glad that they don't all sink to the bottom.

Comment submitted: 2/4/2008 (#861)



By amy


| | |
| --- | --- |
| Product Rating (out of 5): | |

This was my first time trying this cereal... I thought I had bought a tainted box. The cereal was very BITTER!!!! My 6 year old and myself couldn't take a second bite.

Comment submitted: 12/7/2007 (#791)



By Lisa


| | |
| --- | --- |
| Product Rating (out of 5): | |

I made it through the box after switching from soy milk to regular milk. The off flavors and waxy texture of the fake chocolate definitely didn't work well with soy at all. I found myself picking out the "chocolate" with the regular milk in an attempt to enjoy the flakes. If you're not a chocolate connoisseur you might not care that those little brown chunks are an abomination to the idea of chocolate. Nice idea, poor execution.

Comment submitted: 11/16/2007 (#754)



By Kerrisan


| | |
| --- | --- |
| Product Rating (out of 5): | |

I would never eat this for breakfast, but for a late-night snack when you JUST HAVE to have some chocolate, it's alright.

Comment submitted: 11/15/2007 (#753)





By TurtleMawmee (Team Breakfast Member)


| | |
| --- | --- |
| Product Rating (out of 5): | |

So horrible our 8 and 6 year old kids wouldn't even eat it! Probably the nastiest cereal I've ever had the misfortune of trying. I agree about the smell making you sick to your stomach. We ended up throwing away the box after the first time trying to eat the wretched stuff.

Comment submitted: 10/29/2007 (#736)



By Monique


| | |
| --- | --- |
| Product Rating (out of 5): | |

I really like this cereal. It's sweet and chocolately enough to satisfy my sweet tooth without feeling like I'm over-indulging. It think it's a great option when you're dieting or just trying to eat better.

Comment submitted: 10/3/2007 (#703)



By Nothing Special


| | |
| --- | --- |
| Product Rating (out of 5): | |

It was okay.

Comment submitted: 8/16/2007 (#615)



By pitoufo


| | |
| --- | --- |
| Product Rating (out of 5): | |

It works really well for me. for someone who never has breakfast (a really bad habit), this is easy to stick in a tupperware and take to work, and i sit there and much on them dry while in front of my pc.

2nd use is for the 2-3 times a week i crave desert or something sweet after lunch (on weekends) or diner, this is my choice, because i eat it without feeling guilty, i gues i tell myself it's healthier than any other fatty desert i would have impulse-bought otherwise.

taste wise, sure, it's not godiva, but it satisfies my chocolate craving in a healthy way more than anything else i've tried.

Comment submitted: 6/24/2007 (#519)



By I LOV SPECIAL K


| | |
| --- | --- |
| Product Rating (out of 5): | |

i was in france and i had the kind they had there and i didnt know they had it in america so i was really upset but....basically best cereal EVER i was planning on buying a couple of boxes from france it was so good

Comment submitted: 6/23/2007 (#517)



By Ron


| | |
| --- | --- |
| Product Rating (out of 5): | |

The worst cereal I have had in a long time.

Comment submitted: 6/20/2007 (#513)





By arcticamy (Team Breakfast Member)


| | |
| --- | --- |
| Product Rating (out of 5): | |

This cereal was ok at first bite, but the review was accurate when they said that the flakes absorb the weird chocolate flavor. It made me kind of sick to my stomach to smell it, and I ended up throwing away half the box.

Comment submitted: 5/28/2007 (#487)



By Cristina


| | |
| --- | --- |
| Product Rating (out of 5): | |

It was good... pretty good.

Comment submitted: 5/8/2007 (#454)



By godisastud


| | |
| --- | --- |
| Product Rating (out of 5): | |

My family loves this cereal, and are happy to eat it in lieu of eating a horrible fast-food dinner when there isn't time to prepare dinner.

Comment submitted: 4/22/2007 (#435)





By ChocolateFiend (Team Breakfast Member)


| | |
| --- | --- |
| Product Rating (out of 5): | |

When I am desperate for a chocolate goodie at night and am pretty sure that my daughter would notice if the ears of her chocolate Easter Bunny mysteriously disappeared, I am pretty pleased to have a chocolatey-(ish) treat that won't totally wreck my diet. Sure it is not Godiva Quality, or Dove....or even Hersheys. But it fills the bill (and tummy) when those midnight cravings hit.

Comment submitted: 4/14/2007 (#419)



By hi

This is my new favorite cereal. Favorite food, actually. out of all food.

Comment submitted: 4/13/2007 (#417)



By WrenSez


| | |
| --- | --- |
| Product Rating (out of 5): | |

My son and I mix the Special K Chocolaty Delight with Kellogg's Frosted Flakes -- makes a healthy breakfast cereal combo for children. I like it on it's own without milk personally.

Comment submitted: 4/6/2007 (#403)



By anon


| | |
| --- | --- |
| Product Rating (out of 5): | |

I liked it... but then makes you crave it more.

Comment submitted: 3/26/2007 (#378)





By love always x m (Team Breakfast Member)


| | |
| --- | --- |
| Product Rating (out of 5): | |

OMG. That was the most disgusting thing I've ever tasted lol. The chocolate tasted like completely fake and waxy. I love you though Mr Breakfasttt ;]

Comment submitted: 3/15/2007 (#346)



By marg


| | |
| --- | --- |
| Product Rating (out of 5): | |

This was not good at all. The chocolate was waxy and doesn't belong in "healthy cereal".

Comment submitted: 3/14/2007 (#344)




---
Connect With Mr Breakfast:



Most Recent
Product Reviews: