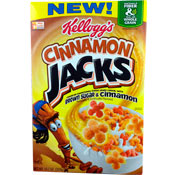 New Product Review:
Cinnamon Jacks
From Kellogg's
Reviewed by Mr Breakfast on 2/1/2013
When you first open the box, you're struck by a couple things. The first is the smell of cinnamon. It actually smells like grating real cinnamon sticks. The second thing that gets your attention is the color of the cereal pieces. They are a combination of vibrant pink and orange. On the box, it appears they toned downed the color saturation to get more of a feeling of cinnamon-brown in the color. They're more colorful than on the box and really kind of pretty.
As for taste, this cereal delivers on the promise of cinnamon. The box also alludes to a brown sugar flavor. That taste didn't really come through for me. It was probably overpowered by the cinnamon.
Despite looking very different from original
Apple Jacks
, this cereal will remind you of the classic. This cereal has clover-shaped pieces as opposed to the tradition Apple Jacks loops. To me, original Apple Jacks was always short on apple flavor and has always highlighted cinnamon. So Cinnamon Jacks just tasted like Apple Jacks with more cinnamon.
Some people might find that the cereal pieces soften too quickly in milk. I took 4 or 5 minutes to finish a bowl. For the most part, the pieces retained their structure and had a mild crunch. But near the end, they were getting a little soft and gummy.
If you enjoy cinnamon and don't take any longer than 5 minutes to eat a bowl of cereal, you'll probably like new Cinnamon Jacks.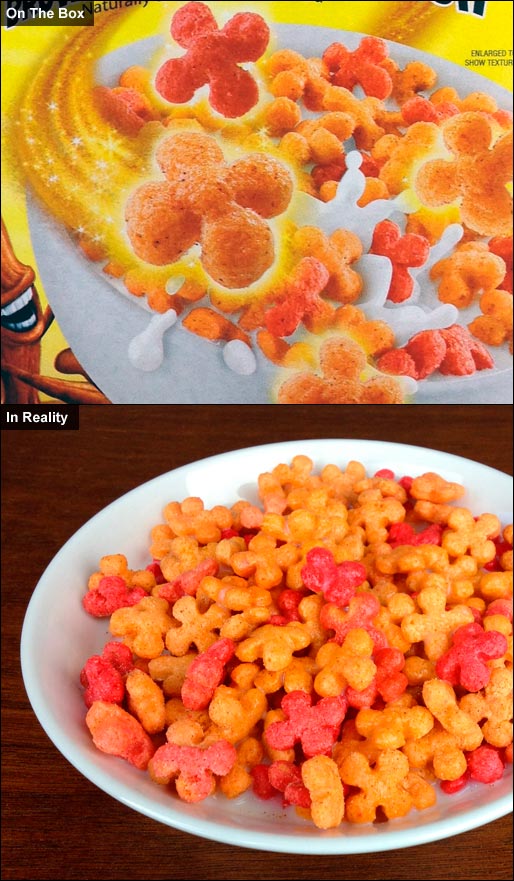 Nutritional Considerations:
Each 1 cup serving of Cinnamon Jacks has 110 calories, 2 grams total fat (0 saturated and 0 trans), 0 mg cholesterol, 125 mg sodium, 24 grams total carbs, 3 grams dietary fiber, 10 grams sugar and 2 grams protein.
The price we paid: $2.99
Comments About This Product Review
What do you think of Cinnamon Jacks?

By CreepysFan (Team Breakfast Member)


| | |
| --- | --- |
| Product Rating (out of 5): | |

Besides looking like cat food, the cereal tastes good. Great cinnamon flavor.

Comment submitted: 9/14/2013 (#4316)



By C4pathology


| | |
| --- | --- |
| Product Rating (out of 5): | |

Wonderful! I love how it's not So Hard that it's like chewing gravel, like so many other competitors! It actually has a really neat texture and yes it does seem to get soggy faster then other cereals, but if you eat it in under 5 minutes like I do, there should be no problems! I love the taste and the texture and they remind me of some kind of spice cookie I had as a child! This one is defiantly a keeper!

Comment submitted: 7/30/2013 (#4046)



By Spartacus


| | |
| --- | --- |
| Product Rating (out of 5): | |

Eating Cinnamon Jacks cereal is like attempting the infamous "Cinnamon Challenge". It is VERY unpleasant. The cinnamon element is completely overpowering, not just in taste, but in the way it made my mouth feel like a parched desert after only a few bites - and that was with milk. I fought my way through eating half a bowl, really trying to give it a chance, before I finally just dumped out the remainder and quickly poured a bowl of Apple Jacks with extra milk to alleviate my excessively dry mouth. Do yourself a favor and stick with Apple Jacks.

Comment submitted: 7/21/2013 (#4015)



By J.S.


| | |
| --- | --- |
| Product Rating (out of 5): | |

This cereal is my new favorite, right along with my kids! It's tastes like an equal amount of both cinnamon and sugar, if you want a cereal the whole family will eat, this is the one!

Comment submitted: 5/16/2013 (#3851)





By WafflesRock (Team Breakfast Member)


| | |
| --- | --- |
| Product Rating (out of 5): | |

This cereal was okay, but the cinnamon flavor was sort of overpowering and artificial. It had a little bit of a chemical note for me. It definitely could have used more brown sugar flavor. I think I'll stick with regular Apple Jacks and get my cinnamon fix elsewhere.

Comment submitted: 5/16/2013 (#3847)



By rosemary2


| | |
| --- | --- |
| Product Rating (out of 5): | |

Best I have ever had! I love how it makes the milk taste.

Comment submitted: 4/30/2013 (#3803)



By s.t.l.


| | |
| --- | --- |
| Product Rating (out of 5): | |

Too much cinnamon - not as much "like eating raw tree bark" as Cinnamon Burst Cheerios, but still it's the ONLY flavor. Not "cinnamon and sugar" - just raw cinnamon. And kind of a fakey-tasting cinnamon at that, reminds me of red-hots candies.

Comment submitted: 4/8/2013 (#3727)



By J8888


| | |
| --- | --- |
| Product Rating (out of 5): | |

I love this cereal. It's one of my new favorites.

Comment submitted: 4/1/2013 (#3709)



By Tully


| | |
| --- | --- |
| Product Rating (out of 5): | |

The cereal really sucks. Taste horrible and left my milk undrinkable. Don't buy this one.

Comment submitted: 3/5/2013 (#3640)




---
Connect With Mr Breakfast:



Most Recent
Product Reviews:

Check out our favorite vintage recipes from old magazine ads and recipe cards.
Click here
.