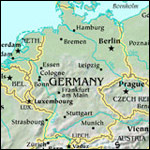 Breakfast In Germany

By Mr Breakfast
A typical German breakfast (
Frühstück
) falls somewhere between what we'd call a deli platter and a continental breakfast. Cold meats (including their famous sausages) and cheeses are served along side a variety of breads and sweet toppings like jam, marmalade and honey. Soft-boiled eggs, cereal and fruit would round out a large breakfast.
Germany is renowned for their bread
and they sport over 200 varieties. For breakfast, crusty rolls know as Brötchen (small bread) are most common. The Germans or "Krauts" as they are affectionately sometimes called, have a knack for adding flavorful seeds to their breads. Sesame seeds, caraway seeds and poppy seeds are often sprinkled on rolls just before they are placed in the oven to bake.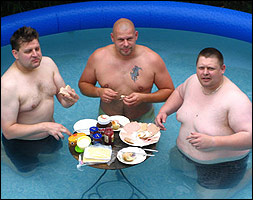 Many Germans will tell you it's not the topping or filler you put on or in bread that makes a tasty breakfast, but rather the way these toppings and fillers highlight the flavor of the bread. Unless of course, that topping or filler is sausage, then they change their tune entirely.
The average German consumes 67 pounds of sausage per year.
That's the average weight of a 9-year-old boy! There is said to be over 1,500 different varieties of sausages produced in Germany.
Sausage is so ingrained in German culture, instead of saying "That's okay with me", they commonly say, "
Es ist mir Wurst
" ("It is sausage to me").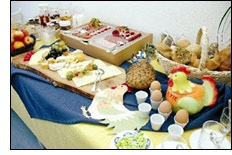 As you approach a German breakfast table, their sausages will look similar to those you're familiar too - links and patties, although the links vary in size from bite size to very large. As you get closer, you'll begin to notice differences from the Bob Evans-type meat you're used to. Their sausages tend to be lighter in color, often nearly white. This is a result of strict guidelines that restrict the use of additives. Interestingly, these same sausages often have a more processed look - like hotdogs. This is simply due to the fact that they grind the ingredients more than we do, resulting in a much finer texture.
Pancakes are only mildly popular for breakfast in Germany, despite the prevalence of
German Pancake
recipes in cookbooks and on the internet. A debate rages as to what a German pancake really is. Some will tell you the official German pancake is crepe-like, between the size of a French crepe and an American pancake. Others will say that it's a large puffy pancake that's baked in the oven.
Pancakes in Germany rarely see maple syrup. Confectioners' sugar and lemon juice vie with fruit toppings and fillings as the accompaniment de jour.

Muesli
is the breakfast cereal of distinction in Germany. It's a collection of grains, seeds, dried fruits and other wholesome ingredients. It's basically granola that was never baked and browned. The grains are often soaked for an extended period to soften them up. Many people find muesli to be bland, but not the Germans... they love it.
The most common German breakfast beverages are coffee, hot chocolate, tea and fruit juices.
If you're a breakfast lover traveling to Germany, you'll be glad to know most hotels and hostels offer a breakfast buffet as part of their rate. Look for signs that says,
Frühstück inbegriffen
(breakfast included).
While you're bumming around Germany, be sure to visit Bavaria.
Southern Germany has a tradition called Zweites Frühstück... SECOND BREAKFAST!
It's typically a lighter meal eaten around 10:30 in the morning consisting of coffee, pastries and/or sausages.
Two breakfasts! You Germans truly are
übermensch
!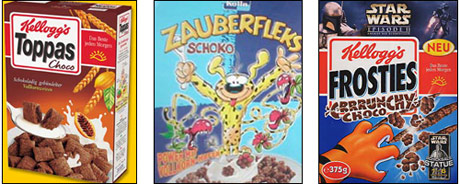 Note From Mr Breakfast:
Hey traveling breakfast lover! Have you been to this part of the world? Do you have a breakfast experience you'd like to share. Facebook me and I'll put it in the article.
Connect With Mr Breakfast:




Breakfast In Africa

Breakfast In Asia

Breakfast In Iraq

Breakfast In Ireland

Breakfast In Germany

Breakfast In Mexico
These are the first in a series of features on international breakfast. Please return to MrBreakfast.com in the coming months as we explore other parts of the world.
Related Links:
International Breakfast Recipes

Holiday Breakfast Traditions

Mr Breakfast Home Page