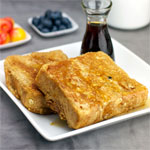 German Toast (aka Pancake French Toast)
1 and 1/4 cup pancake mix (prepared according to package directions)
1 teaspoon cinnamon
4 slices of bread
4 Tablespoons butter or vegetable oil
This is an innovative take on French toast. Rather than dipping bread in a standard egg custard, the bread is dipped in pancake batter. I worried that the thicker batter would make a nice crust but leave the inside of the bread dry. Au contraire! Everything was great. I used a whole grain pancake mix and big Texas toast-style bread. The result was excellent French toast with a new dimension. Bottom line: I loved it! (This recipe was submitted in 2004. It was tested and photographed in August 2014.)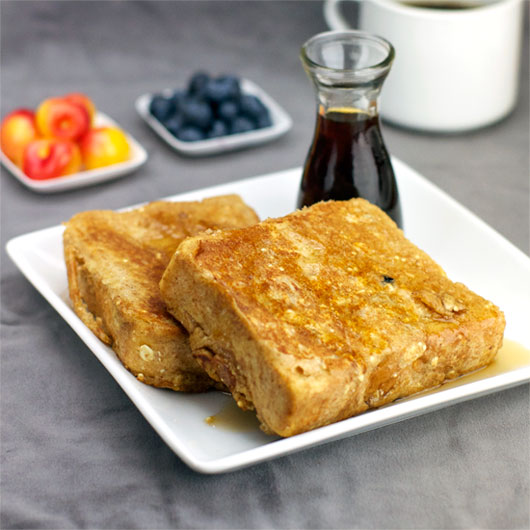 How To Make German French Toast (aka Pancake French Toast)
Melt 1 Tablespoon butter (or heat 1 Tablespoon vegetable oil) over medium-high heat in a large skillet. Prepare pancake mix according to package directions and stir in cinnamon.
Dip bread, covering both sides evenly in the batter. Fry bread one slice at a time until golden-brown, adding 1 Tablespoon of butter or oil per slice.
Serve warm with maple syrup.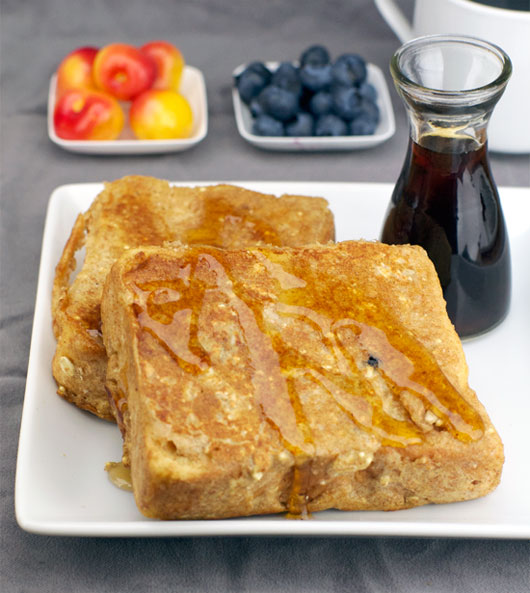 Additional Note From Mr Breakfast:

Next time I make this recipe, I want to try an experiment. The recipe above works great, but it dawns on me that if you soaked the bread in a standard egg custard and then coated it with the pancake batter, it might make something that's terrific into something super spectacularly terrific. I'll keep you posted.

It's French toast where the bread is dipped in pancake batter. Just what makes it German, we're unsure. But we love it.
Mr Breakfast would like to thank
Jessiegranola
for this recipe.
Comments About This Recipe
What do you think of German Toast (aka Pancake French Toast)?
Overall Average Rating =

(out of 5)

From Bit Dry
I dunno. I did it and it tasted like dry French toast. I mean, like, it was practically French toast just with a pancake like texture. And it was dry so it made my stomach hurt a bit. Maybe I did something wrong. I really liked the idea though. I'll try again and maybe it'll come out better next time.

Comment submitted: 6/1/2020 (#20964)





From LooneyTunes&Cer (Team Breakfast Member)
I have heard (two sources) that German Toast is a food made in Germany and in the USA by German immigrants. During the World Wars, Americans held considerable contempt against Germany and German immigrants so people either blended in as Americans or joined a Nazi movement here in the USA (facts). Thus Germans and German businesses often changed their names to 'hide' in plain site. The Bayer corporation became the Miles corporation an English name. Then in the 1990's Miles reverted to their German origins and changed their name back to Bayer. German Toast became French Toast which fits since we Americans term a food "French" to make it appear delicious/worthy. We call deep fried potatoes "French Fries" even though that cooking technique is of Belgian origin (NOT FRENCH).

Well this is what I had heard and was amazed that this site named the egg-battered bread (pancake version) "German Toast," as it very well may be that.

I just today (01/28/2018) made a Brioche 'German Toast' and was looking for other ideas which was present rather grandly with the pancake version. I will try the double battered version next week.

I am rating this as Awesome because its creative and has potential for adaption yet I have still to make it. : }

P. S.

I just noticed the comment from Flapping Jack and see it is not a myth.

Comment submitted: 1/28/2018 (#20514)



From BlueRose

I grew up with my mother cooking French toast this way. Perhaps, it is German-American. Like all immigrants, the food is a combination of what was available at the time.

Comment submitted: 6/25/2017 (#20343)



From miranda j.
It was delicious!

Comment submitted: 11/6/2016 (#20110)



From Ursula
I had these before in Germany and they called it American Toast.

Comment submitted: 4/17/2015 (#19370)



From Jamie D.
It was very good and I liked how the bread had a pancake coating. I used a buttermilk pancake mix which worked great.

Comment submitted: 2/28/2015 (#19297)



From Flapping Jack

French toast used to be called German Toast until WWII... then it became French toast for our ally.

Comment submitted: 12/29/2014 (#19174)



From D. Nugget
This worked kind of cool and I'd make it again. But one thing you should know: The amount of pancake batter it made was enough for 8 slices of bread. So expect to make more or to have good amount of batter left over.

Comment submitted: 8/28/2013 (#16300)



From Wotan

What is German about this recipe? Maple syrup is not common in Germany. What type of bread is this supposed to use? Wonder bread? I grew up in Germany and never had anything like this offered at any home, restaurant or cafe.

Comment submitted: 6/20/2013 (#16061)



From jangles
This is like a great little secret. So easy. Just make the pancake mix and dip. It was really good. I added an extra egg to the pancake mix so it would be a bit more like traditional French toast. Would out really good. Thanks!

Comment submitted: 5/20/2011 (#12699)





From chrisnmegs (Team Breakfast Member)
Wonderful! I made these for my family this morning and they were a huge hit! Thank you for the recipe.

Comment submitted: 9/15/2010 (#11225)



From french toast ex
I can't believe how good and tasty this was.

Comment submitted: 11/24/2009 (#9096)



From Breakfast Chef
Made this with Bisquick "Melt in your mouth" pancake recipe that's on their box. I Halved all of the ingredients except the milk, and it made absolutely the best french toast I've ever had. It made lots more than 4 pieces too!

Comment submitted: 2/14/2009 (#7580)



From Isdino
I was finding out what to prepare for a German breakfast. then I found this recipe on this site and tried out. I took a bite and couldn't wait to write a comment about it so I'm eating it now and writing this. =) It's delicious!! I cant wait to prepare it for my boyfriend when he comes back from Germany. =)

Comment submitted: 12/19/2008 (#7154)



From Gooood
Mmmmm... my oma loves these!

Comment submitted: 3/9/2007 (#1773)




---
Connect With Mr Breakfast: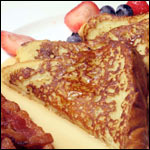 Basic French Toast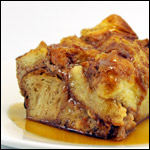 Baked French Toast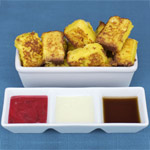 French Toast Bites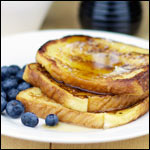 Maple Syrup French Toast