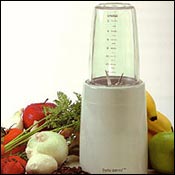 New Product Review:
Insta-Blend Blender
From Energie Corp
Reviewed by Mr Breakfast on 10/14/2003
Generally speaking, I'm against breakfast on-the-go. Every meal should be slowly savored. I equate breakfast to sex which should last at least an hour. In a pinch, a "quickie" or a "nooner" will do, but like the meal on-the-go, this should be considered a tasty snack and not a big enchilda. Keeping that in mind...
The InstaBlend blender is great for quickie. True to its advertising,
it is easy and fun to use
. Put your ingredients in a cup; blend right in the cup; drink from the cup. The small unit is packed with power and crushes ice with relative ease. In the large cup (2 included), I made a fantastic fruit smoothie. In the small cup (also included), I successfully ground coffee beans, agreeing with their claim that InstaBlend can replace your coffee grinder.
Don't rush out and replace your regular blender. However if most your blending is done for one or two people, and saving counter space is a concern,
the instablend might be right for you
.
InstaBlend receives an official Mr Breakfast recommendation. However, the selling price is currently too high. Wait until the retail price drops beneath thirty dollars to buy this one.
The price we paid: $49.95
Comments About This Product Review
What do you think of Insta-Blend Blender?
By Byder


| | |
| --- | --- |
| Product Rating (out of 5): | |

Where can I get parts for this blender?

Comment submitted: 4/8/2020 (#5838)



By Maria


| | |
| --- | --- |
| Product Rating (out of 5): | |

I have the Insta-Blend but do not have the 16 ounce container. Anybody know where can buy this? I hope somebody can help me. Thanks for your attention. trevino2920 (at) yahoo.com

Comment submitted: 1/20/2014 (#4839)



By Lkay


| | |
| --- | --- |
| Product Rating (out of 5): | |

I have had this InstaBlend for a couple of years and love it. However, it began to crack in the blade area and leaked. The last time I used it my shake went everywhere. Although I loved this machine, I bought what was available in the store... The Magic bullet. It does not do the mixing as well as the InstaBlend so I will be buying another InstaBlend and hope it does not crack like this one did. It was a mess for sure.

Comment submitted: 7/19/2013 (#4008)



By eyelo


| | |
| --- | --- |
| Product Rating (out of 5): | |

I have tried a few personal blender and Insta Blend is by far the best. The fact that the cup base is the widest of all others I have tried has made the difference in blending.

Comment submitted: 9/14/2007 (#670)



By Charles


| | |
| --- | --- |
| Product Rating (out of 5): | |

I have tried and still have at least 6 small or hand-held blenders and this is the best one by far... I have a Magic Bullet that works fine but it isn't as powerful or the same quality as the Insta-blend...good quality, nice looking and powerful motor, it just blows thru ice and frozen fruit....I travel with it to make sure I get quality protein meals on the road...I have one in my office too for the quick protein shake meals during the day...great product.

Comment submitted: 5/3/2007 (#452)





By Helen43 (Team Breakfast Member)


| | |
| --- | --- |
| Product Rating (out of 5): | |

Insta-blend is everything they say it is, but it might not last long. I've had mine over a year, and the other day I began to smell something and there was smoke. It got too hot. That might have been my fault, but I used it the same way I always used it. Maybe it's only good for a year or two, but it's great while it lasts. I have sense bought the Magic Bullett. Let's see if it's any better.
- Helen in Toledo

Comment submitted: 11/12/2006 (#116)




---
Connect With Mr Breakfast:



Most Recent
Product Reviews:

I won't reveal #1, but I can tell you it's Gr-r-reat!
Click here
.