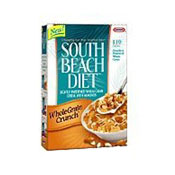 New Product Review:
South Beach Diet Whole Grain Crunch
From Kraft
Reviewed by Mr Breakfast on 6/21/2005
This is the second of two winners I tried recently from Kraft's South Beach Diet line. The first was Toasted Wheats.
Check out the review here
. This Whole Grain Crunch cereal delivered on the first bite.
There's a lot going on in your mouth when you have a spoonful
. There's familiarity with traditional wheat flakes. There's a vanilla/almond flavor burst from the almonds and "artificial and natural flavors". And there's a smoky maturity in the puffed rice.
Healthy or not, this is a downright tasty cereal. It's lightly sweetened, which translates to "properly sweetened" in this case.
The 3/4 cup serving they determine the nutritional information from is a little small. I found it took a full cup to satisfy my morning hunger. As for nutrition, that 3/4 cup serving only has 150 calories with milk and only 2.5 grams of fat with 0 trans fat.
If MrBreakfast.com had a cereal of month category, this would get the prize. Hey... you know what... I'm Mr Breakfast... I can do what I want... Try South Beach Diet Whole Grain Crunch -
It's Mr Breakfast's Cereal Of The Month!
The price we paid: $4.29
Comments About This Product Review
What do you think of South Beach Diet Whole Grain Crunch?
By westerly


| | |
| --- | --- |
| Product Rating (out of 5): | |

Can't find it here anymore, and I loved it too.

Comment submitted: 6/3/2010 (#2360)





By anningm@bellsou (Team Breakfast Member)


| | |
| --- | --- |
| Product Rating (out of 5): | |

I love this cereal. Where can I find it? I used to buy it at publix. I live in Titusville, FL.

Comment submitted: 9/9/2009 (#1906)



By where2buy

Can we purchase any products on line please advise!! gwenschoenfield@yahoo.com Thank you in advance!! Excellent products.

Comment submitted: 2/7/2009 (#1448)



By laura a.


| | |
| --- | --- |
| Product Rating (out of 5): | |

Hey people... I actually buy mine at the 99 cent store. There's all the flavors... and no, they are NOT expired.

Comment submitted: 1/27/2009 (#1417)



By Brian T.


| | |
| --- | --- |
| Product Rating (out of 5): | |

Love this cereal! Can't find it anywhere now. What's going on?

Comment submitted: 1/7/2009 (#1359)



By yulia


| | |
| --- | --- |
| Product Rating (out of 5): | |

Looked all over for it cant believe its gone. Was my favorite cereal - bring it back now.

Comment submitted: 11/27/2008 (#1315)





By Jaxxx (Team Breakfast Member)


| | |
| --- | --- |
| Product Rating (out of 5): | |

I want it back NOW!!!!!!!!!!!! This was the best cereal and very affordable, actually it was to inexpensive. Please consider bringing it back.

Comment submitted: 11/8/2008 (#1294)



By hoophead


| | |
| --- | --- |
| Product Rating (out of 5): | |

Add me to the list of consumers who are left out in the cold. Used this for years as a diabetic who is counting carbs. The last store I could get it here in Wisconsin was Piggly Wiggly and now they do not have it anymore, either

Comment submitted: 6/30/2008 (#1076)



By SAM


| | |
| --- | --- |
| Product Rating (out of 5): | |

Hey Kraft - Bring this cereal back! Can't believe you lost money on it!

Comment submitted: 6/1/2008 (#1043)



By Missing Crunch


| | |
| --- | --- |
| Product Rating (out of 5): | |

Kraft has discontinued and replaced with much more carb-laden cereal with dried strawberries... tastes like cardboard!

Comment submitted: 3/23/2008 (#932)





By bebebebe (Team Breakfast Member)


| | |
| --- | --- |
| Product Rating (out of 5): | |

Have they stopped making this cereal? Is it being marketed under another name? I have never been much on cereal, but this is the absolute best; & now the grocer that has been ordering it for me can't get it. Kraft, are you listening?

Comment submitted: 2/11/2008 (#871)



By FWFW1


| | |
| --- | --- |
| Product Rating (out of 5): | |

Any news on what has happened to this excellent cereal? I used it and also shipped it to my mother in another state as she loved it. Now I can't find it anywhere... HELP!

Comment submitted: 1/28/2008 (#848)



By Reed3rd


| | |
| --- | --- |
| Product Rating (out of 5): | |

Only cereal I really like. Now can't find it anywhere!

Comment submitted: 1/16/2008 (#833)



By Penny


| | |
| --- | --- |
| Product Rating (out of 5): | |

I live in the Tampa Bay area in Florida and they have discontinued the product. Where do I buy it now?

By Pam

Comment submitted: 12/30/2007 (#811)



By Scottie


| | |
| --- | --- |
| Product Rating (out of 5): | |

WE FOUND IT! A&P, I think we were in Hazlet, New Jersey. Bought 10 at $3.99. It's the absolute best.

Comment submitted: 10/22/2007 (#725)



By Michigan


| | |
| --- | --- |
| Product Rating (out of 5): | |

I live in Michigan and could only find this cereal, a great product in my opinion, for a short time. What happened to it?

Comment submitted: 9/16/2007 (#672)



By susie


| | |
| --- | --- |
| Product Rating (out of 5): | |

I love this cereal too. First I bought it at Kroger until they stopped carrying it. Then I found it at WalMart until they stopped too. This summer I bought the last 9 boxes in clearance at Schnuck's. I've been trying to call Kraft, but line is always busy. I'm on my last box! Help?

Comment submitted: 8/27/2007 (#637)



By Valerie


| | |
| --- | --- |
| Product Rating (out of 5): | |

I love this cereal. I bought it a my local food chain on clearance. I would like to buy more. Was it a clearance item because the store is discontinuing this item?

Comment submitted: 7/16/2007 (#547)



By snowbird


| | |
| --- | --- |
| Product Rating (out of 5): | |

I used to stock up at Wegmans, because no other store carried it in my area (Syracuse). Now Wegmans doesn't even carry it! What's going on?

Comment submitted: 7/13/2007 (#544)



By Magpie


| | |
| --- | --- |
| Product Rating (out of 5): | |

Very delicious! If you live near Richmond, VA - you can buy it at ukrops!!

Comment submitted: 6/14/2007 (#508)



By juju


| | |
| --- | --- |
| Product Rating (out of 5): | |

I adore this cereal and attribute it to helping me take of 30 lbs. However, I have a REALLY hard time finding it and when I do, I buy 10 boxes. That is why I'm on line right now. I'm searching to buy it somehow! Amazon sells it for nearly $5 a box...rip off!

Comment submitted: 4/12/2007 (#416)





By Andiepanda (Team Breakfast Member)

I love this cereal and now it is not available at any stores in my area. Why? Do health food stores carry it?

Comment submitted: 4/7/2007 (#406)



By Donald R

I was buying this cereal at Krogers, but they quit carrying it. Now, I can't find it. Where can I buy it? What is going on with it?
Don Grant grant.donaldr@gmail.com

Comment submitted: 3/26/2007 (#379)



By Love It - Can Not Find It


| | |
| --- | --- |
| Product Rating (out of 5): | |

It's excellent. Yes, I also noticed stores have stopped carrying it. Wonder if its legit? Or if they are reformulating it?

Comment submitted: 3/9/2007 (#333)



By I. Approve


| | |
| --- | --- |
| Product Rating (out of 5): | |

Awesome cereal - noticed that some stores do no carry it any longer - what happened?

Comment submitted: 2/9/2007 (#269)



By fitandfvck

I just bought this yesterday and I must say, I love it! It literally takes my huinger away for at least a couple hours. It's so tasty too. To me, it tastes like macaroons.

Comment submitted: 1/16/2007 (#227)



By ian


| | |
| --- | --- |
| Product Rating (out of 5): | |

Love this cereal as well.

Comment submitted: 12/13/2006 (#181)




---
Connect With Mr Breakfast:



Most Recent
Product Reviews: