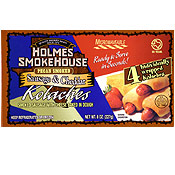 New Product Review:
Pecan Smoked Sausage Kolaches
From Holmes Smokehouse
Reviewed by Mr Breakfast on 4/11/2005
I microwaved two different versions of this product, "Sausage" and "Sausage & Cheddar". I liked them both quite a bit.
Kolache is a funny name for these guys. When my Czeklosovakian Grandma Dahlberg used to make kolaches, they were usually round and usually topped or filled with jam. A better name for these would be "Pigs In Blanket" – as they are pork links wrapped in blankets of dough. But then again, it is interesting to note that when Grandma D. made her Pigs In A Blanket, it was a pork meatloaf wrapped in cabbage leaves.
I can imagine my sweet old gray-haired grandma saying,
"Kolache... my ass!"
But a rose by any other name smells just as sweet.
This is a fun and tasty product.
I certainly wouldn't recommend them as breakfast on their own. But I could definitely see having them as a side dish with eggs. I enjoyed one as an afternoon snack.
Of the two varieties, I liked "Sausage & Cheddar" best... which is strange, because you can't taste the cheese. But what is cheese really? Whatever it is here, it had a relaxing effect on the sausage. Mind you, the sausage is top notch and you really get a snoot full of that smoky flavor. It's just a better smoky flavor when it's offset by the near-invisible essence of cheddar cheese.
For what it's worth, here's the other notes I took while sampling the "Kolaches":
"Smells Good"
"Basically White Bread"



The $0.0 price tags is because the product was sent to Mr Breakfast by the company.



The price we paid: $0.0


Comments About This Product Review
What do you think of Pecan Smoked Sausage Kolaches?
By aley


| | |
| --- | --- |
| Product Rating (out of 5): | |

It is totally awesome!

Comment submitted: 11/30/2007 (#778)



By lueymann


| | |
| --- | --- |
| Product Rating (out of 5): | |

I purchase a box of sausage kolaches on October 20, 2007, at the Super Wal-Mart in Katy, Texas. All four of the kolaches were moldy. Very disgusting. Would you purchase again?

Comment submitted: 10/23/2007 (#726)



By Amy R.

I loved these kolachies until purchasing them at the Fiesta in Houston Texas (I-10 and blalock location). Two packages of the holmes smokehouse sausage kolaches were entirely moldy! My son was disgusted and does not want to eat them again, you may wish to research this. AMy Richards, Houston, Texas 713 461-0504

Comment submitted: 9/7/2007 (#653)



By Kolacheluvr

I agree! The Kolaches at Walmart are much better.

Comment submitted: 8/27/2007 (#636)





By katmandu (Team Breakfast Member)


| | |
| --- | --- |
| Product Rating (out of 5): | |

What are you talkin' about - these are awful! A Kolache should have a flavorful smoked sausage - wrapped in a sweet dough. Options come in Original Smoked Sausage and Sweet Dough - then Sausage and Cheese with Sweet Dough - and Jalapeno "My Favorite" with Cheese Sausage and Sweet Dough. Try the Great Day Kolaches at Wal-Mart - they will make you slap your momma for another bite! Great Day! Kolaches are awesome!

Comment submitted: 1/22/2007 (#234)




---
Connect With Mr Breakfast:



Most Recent
Product Reviews: