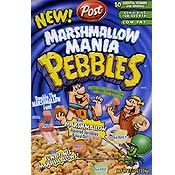 New Product Review:
Marshmallow Mania Pebbles
From General Mills
Reviewed by Mr Breakfast on 2/25/2005
It's a festive looking cereal. Green and red specks in the cereal pieces make it look like a limited-edition holiday cereal. I got a laugh from the marshmallows that are supposed to look like Fred Flinstone and Barney Rubble.
My finger looks more like these characters than the marshmallows do
. I was glad to see the Great Gazoo character on the box. For a Flinstones refresher, this was the prime-time cartoon's jump-the-shark character - a little green alien who would appear to Fred at inopportune times and fail to appear when our hero needed him most. His marshmallow looks like a candy Valentine heart that got wet.
I'm sad to report that
this is a very unnecessary cereal
. It tastes fine - a sweet marshmallow taste just as the box promises. The problem is that its flavor is a carbon copy of several cereals already on the market... most notably Luck Charms. Sure, I know - half the cereals on the market are rip-offs of other cereals... so the relatively high rating I'm giving here is what I'd give Lucky Charms minus one egg for lack of originality.
1 gram of saturated fat per serving. 0 trans fats. 110 calories. A serving size is only 3/4 of a cup so double those numbers if you eat realistically. But good news for the weight-conscience fat-watchers: zero times zero equals zero.
The price we paid: $3.99
Comments About This Product Review
What do you think of Marshmallow Mania Pebbles?

By lovemycereal (Team Breakfast Member)


| | |
| --- | --- |
| Product Rating (out of 5): | |

This cereal is back, it's now called Marshmallow pebbles but it is clearly on posts website as a new cereal just out. I am thrilled can't wait to see it on the shelves.

Comment submitted: 6/22/2010 (#2381)



By turbolover


| | |
| --- | --- |
| Product Rating (out of 5): | |

This is my favorite cereal ever.

Comment submitted: 12/22/2009 (#2054)



By NAY925


| | |
| --- | --- |
| Product Rating (out of 5): | |

Please bring it back!!

Comment submitted: 11/25/2009 (#2020)





By teetra (Team Breakfast Member)

Where to get this cereal at?

Comment submitted: 8/17/2009 (#1873)



By Rusty Shackleford


| | |
| --- | --- |
| Product Rating (out of 5): | |

This was delicious. I wish I could find it again.

Comment submitted: 6/13/2009 (#1788)



By Missing You


| | |
| --- | --- |
| Product Rating (out of 5): | |

This is without a doubt the best cereal I have ever had... but I haven't had it in 2 years!! Where can I get it?

Comment submitted: 7/6/2008 (#1082)





By jnquin (Team Breakfast Member)


| | |
| --- | --- |
| Product Rating (out of 5): | |

My kids and I LOVE this cereal... please let me know where I can still get this.

Comment submitted: 5/17/2008 (#1025)



By MANIA4THIS


| | |
| --- | --- |
| Product Rating (out of 5): | |

I LOOK FOR THIS CEREAL EVERYWHERE... IT IS THE BEST CEREAL I HAVE EVER HAD!!!!!!! IS THERE ANYWHERE THEY ARE STILL SELLING IT THAT I COULD GET A LOT OF BOXES????

Comment submitted: 5/8/2008 (#1012)



By jocereal


| | |
| --- | --- |
| Product Rating (out of 5): | |

This cereal reminds me of a vanilla sprinkle cake with sprinkles mixed into the batter and frosting. Mmm. Slowing fading off the shelves in the stores near me... very sad.

Comment submitted: 11/30/2007 (#781)



By WafflesRock


| | |
| --- | --- |
| Product Rating (out of 5): | |

Personally, I think this is a pretty good cereal. Other than having miniature marshmallows, it really tastes nothing like Lucky Charms. However, I do prefer to eat it dry as a snack. It loses a lot of it's flavor and becomes rather mushy in milk.

Comment submitted: 10/3/2007 (#706)



By PEBBLEMAN


| | |
| --- | --- |
| Product Rating (out of 5): | |

You don't know cereal, you (swear word)!

Comment submitted: 7/27/2007 (#566)




---
Connect With Mr Breakfast:



Most Recent
Product Reviews: