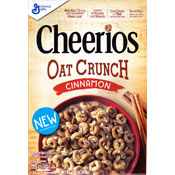 New Product Review:
Cheerios Oat Crunch
From General Mills
Reviewed by Mr Breakfast on 7/5/2018
The complete name of this cereal is Cinnamon Cheerios Oat Crunch. It consists of sweetened Multi Grain Cheerios pieces with a couple oats adhered to most of the pieces.
When you open the box, you don't get much of a smell to tease the flavor you're about to encounter. When eaten dry, you get a warm cinnamon flavor that's reminiscent of a of cinnamon streusel topping. That flavor dissipates the more you eat, leaving more of a Honey Nut Cheerios type of flavor. The pieces are enjoyably crunchy and offer promise that they'll hold up in milk.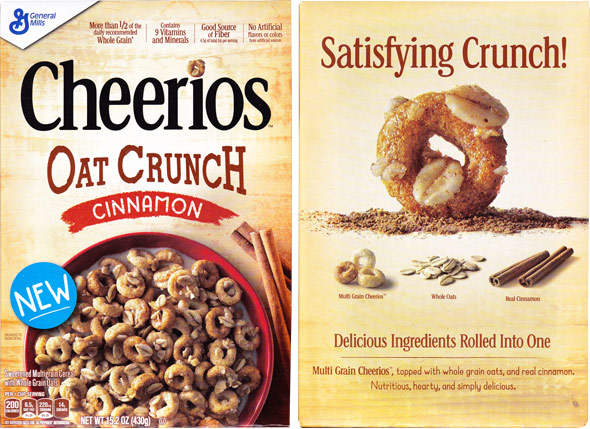 In milk, the cereal is really crunchy for about 2 minutes. After that, the Cheerios loops begin to soften while the oat pieces (especial when multiple oats are stuck together) still offer a nice crispness, if not necessarily a crunch.
As when eaten dry, the cinnamon is very noticeable at first, but becomes less of noticeable the more you eat. Midway through a bowl, you're left with sugar-coated Cheerios flavor that is still a very decent, if not just slightly too sweet.
The milk left at the end of a bowl is quite sweet. It's cinnamon colored, but only mildly cinnamon flavored.
Overall,
Cheerios Oat Crunch has a satisfying flavor and a satisfying texture
. I liked it a lot, but I suspect I'd like it just as much if not more if they dropped 25% of the sugar.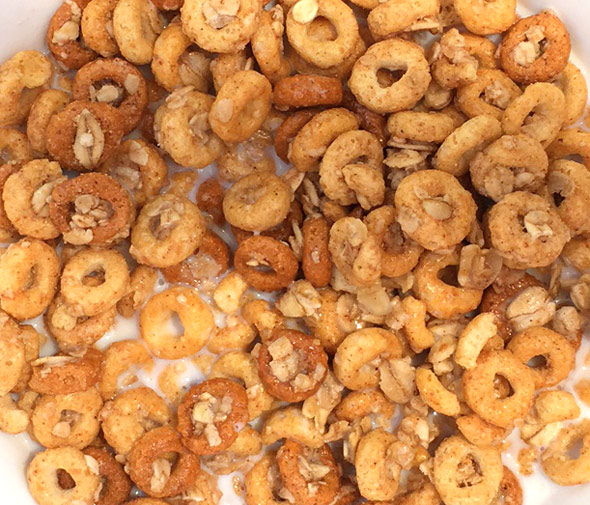 Nutritional Considerations: Each 1 cup serving of Cheerios Oat Crunch has 200 calories, 4.5 grams total fat (0.5 saturated and 0 trans), 0 mg cholesterol, 220 mg sodium, 40 grams total carbs, 4 grams dietary fiber, 14 grams sugar and 3 grams protein.
The price we paid: $3.49
Comments About This Product Review
What do you think of Cheerios Oat Crunch?

By Jamiesuecombs (Team Breakfast Member)


| | |
| --- | --- |
| Product Rating (out of 5): | |

OH MY GOD. I need this back in Costco! Where can I get big boxes? This is more than awesome. It's the bomb!

Comment submitted: 6/10/2020 (#5860)



By DE Fred


| | |
| --- | --- |
| Product Rating (out of 5): | |

Delicious crunch, with cinnamon undertones. There is an aftertaste, but I find it pleasant. This is now my go-to cereal when in a hurry.

Comment submitted: 2/16/2020 (#5826)



By Great One


| | |
| --- | --- |
| Product Rating (out of 5): | |

Very good cereal. I love it. Wish it had a little less sugar... I think it would still taste amazing.

Comment submitted: 3/5/2019 (#5715)



By OJ Remmus


| | |
| --- | --- |
| Product Rating (out of 5): | |

I love cinnamon anything, but this cereal had a nasty aftertaste and I did NOT taste cinnamon at all. I couldn't even finish my bowl. My 12 year old daughter agreed that it was awful. Total waste of money.

Comment submitted: 9/27/2018 (#5663)





By flora68 (Team Breakfast Member)


| | |
| --- | --- |
| Product Rating (out of 5): | |

I concur with Mr. Breakfast's review. I just tried Cheerios Oat Crunch and I enjoyed it; it tastes pleasant enough and seems fairly healthyish but certainly not aggressively so. It might be an interesting base for a quick homemade trail mix and might be interesting if used to make cookies if they come up with a recipe. I honestly like plain (original) Cheerios a little better, but that's just me.

Comment submitted: 8/23/2018 (#5653)





By tiffanyfields33 (Team Breakfast Member)


| | |
| --- | --- |
| Product Rating (out of 5): | |

I bought a box of this just out of curiosity and I love it. It's like a granola bar mixed with Cheerios in one, I love it!

Comment submitted: 7/16/2018 (#5639)




---
Connect With Mr Breakfast:



Most Recent
Product Reviews:

May the force of breakfast be with you.
Click here
.