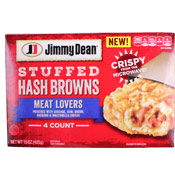 New Product Review:
Stuffed Hash Browns
From Jimmy Dean
Reviewed by Mr Breakfast on 6/23/2016
I tried the Meat Lovers variety of Jimmy Dean Stuffed Hash Browns which consists of potatoes with sausage, ham, bacon, Cheddar and mozzarella cheese. They also offer a Bacon & Veggies variety and a Sausage & Cheese variety which I have not reviewed.
Each of the 4 servings in the box comes with its own microwave crisping sleeve. Instructions are to microwave for 2 minutes and allow to cool for 2 or 3 minutes. I recommend allowing them to cool for at least 5 minutes as the filling is way too hot after 2 minutes.
This product never gets fully "crispy from the microwave" as the package states. You'll have bites that seem crispier than others, but - overall - the crispy promise goes unfulfilled.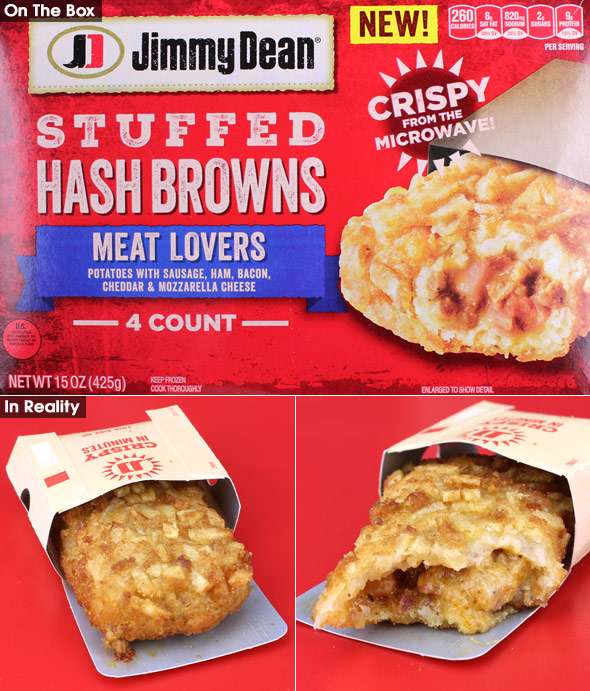 The first taste of the Meat Lovers Stuffed Hash Browns is somewhat overwhelming. At first, the three kinds of meat hit you as one undefined, unusual meat. As you take subsequent bites, you start to distinguish between the flavors. You get a good amount of cheese in every bite with Cheddar totally dominating the nearly imperceptible mozzerella.
Overall, the flavor is too rich and too salty. Worst of all, there's a distinct flavor of the freezer in the potatoes. I would chalk that up to a product being freezer-burnt, but I bought this the day it appeared in stores and made it the following morning. My other minor complaint would be that sticky bits of cheese and potato stick to your teeth.
On the plus side, the smell and aftertaste of these Stuffed Hash Browns triggered memories of big breakfasts at small town diners. And since that is no reason to buy anything except for candles, I DO NOT RECOMMEND this product.
Nutritional Considerations: Each Stuffed Hash Brown has 260 calories, 13 grams total fat (6 grams saturated and 0 grams trans), 25 mg cholesterol, 820 mg sodium, 24 grams total carbs, 2 grams dietary fiber, 2 grams sugar and 9 grams protein.
The price we paid: $4.49
Comments About This Product Review
What do you think of Stuffed Hash Browns?
By Kat


| | |
| --- | --- |
| Product Rating (out of 5): | |

Burnt on one end, and the rest was completely soggy! Eugh! Might try to 'cook' it partially in the microwave then crisp it up and finish it on a pan next time.

Comment submitted: 10/23/2019 (#5778)



By Megz


| | |
| --- | --- |
| Product Rating (out of 5): | |

I bought these at the Walmart neighborhood market to keep in the freezer at work. I often choose sleep over packing a lunch, and highly regret it later. The statement about the freezer burn taste is accurate! I didn't know that's what I was tasting; I attributed it to not necessarily being cooked all the way through - potatoes can be funny that way. I am a hash brown fanatic, so naturally I was attracted to these. I will never buy these again. NEVER. I've eaten two; one while starving (filled me up decently) and one while in need of dinner. It was the same level of gross both times. It tastes like freezer burnt cardboard with salted cheese on the inside The sausage is good and seasoned well - but you can barely taste that through the cheese. So much potential. I'm either going to give the last two away to coworkers, or try my hand at deep frying them. If you're hungry and have $5, you're better off getting a Marie Callender's Pot Pie instead.

Comment submitted: 8/17/2018 (#5649)



By D. Notlicker


| | |
| --- | --- |
| Product Rating (out of 5): | |

Save your time and money. These things suck.

Comment submitted: 7/10/2018 (#5638)



By noMicrowave


| | |
| --- | --- |
| Product Rating (out of 5): | |

I will never buy Jimmy Dean again. They don't even tell you how to cook in an oven. Microwaves suck as it dries out the food gives it a stale consistency.

Comment submitted: 5/24/2018 (#5616)



By Dumbo1


| | |
| --- | --- |
| Product Rating (out of 5): | |

Stuffed hash browns - nice concept. Unfortunately, to me, I have had a tough time eating one - just doesn't taste right. I was hoping for more.

Comment submitted: 3/2/2018 (#5578)



By satisfied


| | |
| --- | --- |
| Product Rating (out of 5): | |

The not-too-crisp is perfect, the flavor is great and they made a product without an egg. 3 cheers.

Comment submitted: 8/21/2017 (#5527)



By Khaki


| | |
| --- | --- |
| Product Rating (out of 5): | |

The crisping sleeve didn't do much for crispiness, and left a metallic taste that is still repeating hours later. Since I had to buy a box of 4, I'll try it again tomorrow without the crisping sleeve, but I doubt I'll buy these again. Too bad. Jimmy Dean products are usually pretty quality stuff, but they didn't measure up on this one.

Comment submitted: 7/17/2017 (#5513)



By Sam


| | |
| --- | --- |
| Product Rating (out of 5): | |

Way too salty. Would not buy this product again.

Comment submitted: 6/1/2017 (#5500)



By C.W.

Of course it is a processed food and it follows that premise and is not very good. The part that ticks me off is that they do not offer a regular oven cooking method, assuming EVERYONE has a microwave. I would not buy these again and I am sorry I bought what I did.

Comment submitted: 5/26/2017 (#5499)



By Salty


| | |
| --- | --- |
| Product Rating (out of 5): | |

Had to trash the one I bought. All could taste was salt.

Comment submitted: 5/23/2017 (#5494)



By Kurt Wetzel


| | |
| --- | --- |
| Product Rating (out of 5): | |

Of course these are not the healthiest breakfast food you can eat. If you eat breakfast at a fast food place or some kind of fast food breakfast then these are a alternative. Maybe not any healthier but easier and cheaper. That said, I like these. All 3 flavors are good. The hash browns used have a great taste. The meat lovers flavor is my least favorite of all the flavors. Bacon and veggies you can taste the bacon flavor. Sausage and cheese you can taste the sausage flavor. The only thing missing is I wish they had scrambled eggs inside. This is one of my go-to breakfast foods. For a frozen breakfast food, I rate them 5/5 but keep in mind it's no food to wow over.

Comment submitted: 4/9/2017 (#5485)



By crystalcanyon


| | |
| --- | --- |
| Product Rating (out of 5): | |

So unhealthy! Sodium 900mg! Greasy nitrite/nitrate laden, msg... after one bite, I threw the box in the trash. I should have read the label before buying. Just one bite and I had head pressure and headache. These are terrible!

Comment submitted: 10/21/2016 (#5443)



By Tugboat


| | |
| --- | --- |
| Product Rating (out of 5): | |

We love these for a quick breakfast but they're hard to find. Sam's used to carry them.

Comment submitted: 10/9/2016 (#5442)



By Kel


| | |
| --- | --- |
| Product Rating (out of 5): | |

Way too greasy and way too salty. And this is coming from someone who loves savory salty things. Not worth the price at all.

Comment submitted: 9/12/2016 (#5433)



By Happy Ann


| | |
| --- | --- |
| Product Rating (out of 5): | |

I'm a hash brown fanatic but did not like these. The flavor was not good and they don't really crisp up.

Comment submitted: 8/25/2016 (#5423)



By Lacemaker


| | |
| --- | --- |
| Product Rating (out of 5): | |

Add to the above that there is so much fat that it makes the mouth feel greasy and if you eat it by hand, the hand gets very greasy. Decent flavor, but way too greasy.

Comment submitted: 7/30/2016 (#5417)





By CerealCrusher (Team Breakfast Member)

These micro-concepts always seem like a good idea going in... then they all end up as disappointing as Hot Pockets. Shame.

Comment submitted: 7/25/2016 (#5414)




---
Connect With Mr Breakfast:



Most Recent
Product Reviews:

All you need to know. The basics and beyond!
Click here
.