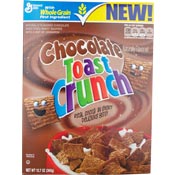 New Product Review:
Chocolate Toast Crunch
From General Mills
Reviewed by Mr Breakfast on 1/22/2014
I liked this cereal a lot. I've reviewed a few new chocolate cereals recently where the flavor of chocolate was barely noticeable. In this cereal, you actually taste the chocolate. Best of all, a hint of cinnamon makes the chocolate flavor taste unique compared to other chocolate cereals.
Other than that, this cereal is exactly what you would expect. The cereal pieces have the same shape and texture as Cinnamon Toast Crunch.
This cereal might actually be better than Cinnamon Toast Crunch. If you held a knife to my neck, I'd probably say that Cinnamon Toast Crunch is the better of the two. But I'm betting that many people would choose this new cereal over the old classic once they've tried it.
After I had one bowl of Chocolate Toast Crunch,
I just wanted more and more
. That's a pretty good indicator to me that this cereal is a winner.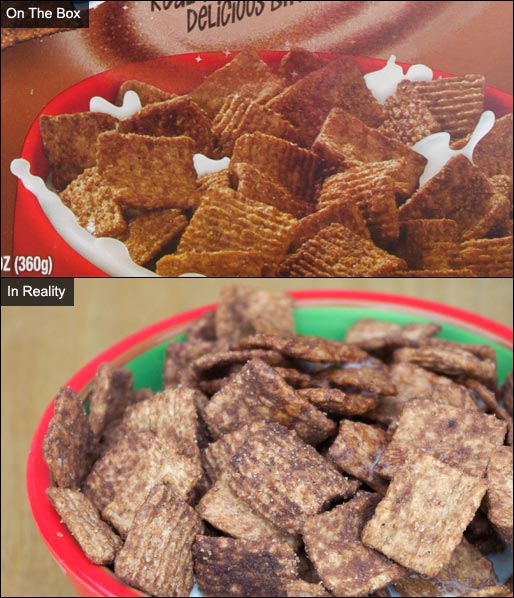 Nutritional Considerations:
Each 3/4 cup serving has 130 calories, 4 grams of fat (0.5 saturated and 0 trans), 0mg cholesterol, 130mg sodium, 24 grams total carbs, 2 grams dietary fiber, 9 grams sugar and 2 grams protein.
The price we paid: $2.49
Comments About This Product Review
What do you think of Chocolate Toast Crunch?
By Bev


| | |
| --- | --- |
| Product Rating (out of 5): | |

One of the best cereals ever! Everyone that I recommended it to also loved it. Bring it back please.

Comment submitted: 12/5/2016 (#5453)





By CerealCrusher (Team Breakfast Member)


| | |
| --- | --- |
| Product Rating (out of 5): | |

All I can say to your review is: right on, brother... chocolate, cinnamon, sweetness, crunch: winning.

Comment submitted: 3/7/2016 (#5367)



By Yum


| | |
| --- | --- |
| Product Rating (out of 5): | |

I am addicted. Seriously. I can eat it every day... Sometimes for two different meals.

Comment submitted: 12/8/2015 (#5331)



By Dr. Crunch


| | |
| --- | --- |
| Product Rating (out of 5): | |

Main ingredient is whole grain wheat! The flavors are ALL NATURAL! People LOVE the taste and it's a cereal that anyone could live off of healthily!

Comment submitted: 6/17/2014 (#5066)



By Joanna


| | |
| --- | --- |
| Product Rating (out of 5): | |

Try mixing it with the peanut butter toast crunch - the combo is TO DIE FOR! Amazing cocoa flavor that I've never tasted anywhere else. A++ to General Mills on this winner!

Comment submitted: 3/19/2014 (#4897)



By A.C.A.


| | |
| --- | --- |
| Product Rating (out of 5): | |

I love it! Great flavor. Gonna buy it again.

Comment submitted: 3/11/2014 (#4893)





By WafflesRock (Team Breakfast Member)


| | |
| --- | --- |
| Product Rating (out of 5): | |

One bite of Chocolate Toast Crunch and I knew I'd found a new favorite chocolate cereal. The hint of cinnamon is the kicker here. Though it's not my all-time favorite cereal in general, it's probably the most addictive cereal I've ever had. I love Frosted Toast Crunch, but I think I gotta give this one the edge. I'll be buying more!

Comment submitted: 2/28/2014 (#4882)



By stonesoul21


| | |
| --- | --- |
| Product Rating (out of 5): | |

Finally... a chocolate cereal that actually taste like chocolate. Coco Krispies and Pebbles being the closest there was until now. Thank You GM for creating this masterpiece! Hands down the best chocolate cereal ever!

Comment submitted: 2/28/2014 (#4881)





By PeruAlonso (Team Breakfast Member)


| | |
| --- | --- |
| Product Rating (out of 5): | |

I bought a box at Wal-mart. Since then, I loved it so much after my first bowl. Chocolate Toast Crunch is now in "my favorite chocolate cereal" list along with Cocoa Krispies, Cocoa Pebbles, Chocolate Crunch and Chocolate Cheerios.

Comment submitted: 1/26/2014 (#4845)




---
Connect With Mr Breakfast:



Most Recent
Product Reviews: