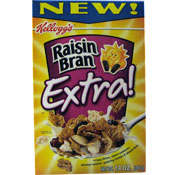 New Product Review:
Raisin Bran Extra!
From Kellogg's
Reviewed by Mr Breakfast on 1/23/2009
Raisin Bran Extra! is exactly what the name promises. It's Raisin Bran with extra stuff and it's pretty good.
The cereal consists of traditional Raisin Bran flakes, raisins, dried cranberries, almond slices and little yogurt clusters. There's not quite as much extra stuff as the spoonful on the box would have you believe, but there's plenty enough to realize that this is Raisin Bran with a little something "extra".
The yogurt clusters add a tiny crunch to the cereal, which is especially nice once the milk has exhausted the flakes of their crunch. The clusters are sweet and have a mild vanilla flavor. But even with the added sweetness, those inclined to sprinkle a little sugar over regular Raisin Bran will probably want to do the same with this cereal.
The only think I'd like to see different would be the addition of more almond slices. They add a nice flavor to the bites that have them, but those bites are relatively rare.
Nutritionally speaking, this cereal is very similar to original Raisin Bran with the sad exception that the new cereal has 1.5 grams of saturated fat - compared to the original's 0 grams. On the flip side, this new cereal has 13 grams of sugars - compared to the original's 19 grams. Both cereals offer 7 grams of dietary fiber.
Given the choice between original Raisin Bran and Raisin Bran Extra! - if they were same price for the same amount - I'd buy the new cereal. I'd don't know if you'll like it as much as I did, but if you like original Raisin Bran at all, you should definitely give this new product a try.
The price we paid: $4.59
Comments About This Product Review
What do you think of Raisin Bran Extra!?
By CerealHead


| | |
| --- | --- |
| Product Rating (out of 5): | |

I wish they still had this. It was the best cereal of my life!

Comment submitted: 11/21/2015 (#5330)



By Crystal


| | |
| --- | --- |
| Product Rating (out of 5): | |

Loved this cereal! It was my favorite! Please bring it back!

Comment submitted: 12/7/2014 (#5152)



By Mystikalgoddess


| | |
| --- | --- |
| Product Rating (out of 5): | |

ABSOLUTELY LOVED this cereal. Would give almost anything for Kellogg's to bring it back. Have no idea why it was discontinued. :(

Comment submitted: 3/9/2014 (#4890)



By Queelo


| | |
| --- | --- |
| Product Rating (out of 5): | |

I absolutely love this cereal! I wish there was some way to convince Kellogg's to bring it back!

Comment submitted: 3/6/2013 (#3644)



By Lost Without U


| | |
| --- | --- |
| Product Rating (out of 5): | |

Raisin Bran Extra... where are you? I miss your great taste!

Comment submitted: 2/5/2013 (#3591)



By Isaac

Best cereal EVER!!

Comment submitted: 8/15/2012 (#3210)



By Grams


| | |
| --- | --- |
| Product Rating (out of 5): | |

Awesome cereal and now it's discontinued! My absolute favorite for 2 years despite the price. Kellogg's - PLEASE BRING THIS BACK!

Comment submitted: 7/3/2012 (#3164)



By Brown Cow


| | |
| --- | --- |
| Product Rating (out of 5): | |

Why can't I find this cereal anymore? I'm gonna be so sad if it's discontinued.

Comment submitted: 6/4/2012 (#3136)





By rayoung (Team Breakfast Member)


| | |
| --- | --- |
| Product Rating (out of 5): | |

Raisin Brad Extra cereal is off the hook. I enjoy the taste of the yogurt cluster, almonds are a great addition. It is my number one cereal. My only problem is I can not find it any more. I live in St. Louis Mo. I am willing to purchase this cereal by the case if I have to.

Comment submitted: 5/28/2012 (#3130)



By Nana


| | |
| --- | --- |
| Product Rating (out of 5): | |

Love it but unable to find it. I would gladly buy it online but couldn't find where I could do that.

Comment submitted: 3/16/2012 (#3053)



By Mommy of 2


| | |
| --- | --- |
| Product Rating (out of 5): | |

I LUV them! Can't find them anywhere, though. My 3-yr old even asks for the cereal with the raisins in it.

Comment submitted: 3/6/2012 (#3035)



By Miss M


| | |
| --- | --- |
| Product Rating (out of 5): | |

I fell in love with this cereal and now I cannot find it on the shelves of any of the stores around here! I am very disappointed!

Comment submitted: 2/20/2012 (#3021)





By kmuise (Team Breakfast Member)


| | |
| --- | --- |
| Product Rating (out of 5): | |

I absolutely love this cereal. It is my new favorite! My 10 year old son picks this over his normal "sugary kids cereal." I can not find it anywhere anymore! I'm so bummed, I used to buy it from market basket and they stopped carrying it then found it at Wal-mart, now they never seem to have it! Anyone know where else to buy it? I'll buy it by the case full!

Comment submitted: 1/27/2012 (#2990)



By Krysta


| | |
| --- | --- |
| Product Rating (out of 5): | |

It's delicious - and the people complaining about sweetness need to realize that they are drugged with sugar their whole lives and could stand to lower their daily fix. I mean, sweetened raisins? That's like dipping a jolly rancher in maple syrup. Raisins are sweet enough. There is no need to smother your day with sugar.

Comment submitted: 8/25/2010 (#2488)



By Bon


| | |
| --- | --- |
| Product Rating (out of 5): | |

I love Raisin Bran Extra! It is great and I eat it for lunch and dinner sometimes too. I do agree that it is a little less sweet because of the normal unsugared raisins but that is an easy fix. The almonds and cranberries were an excellent addition.

Comment submitted: 3/8/2010 (#2210)



By yoyo hoho

This cereal is the bomb. I really enjoy it.

Comment submitted: 7/25/2009 (#1854)



By SugarNut68


| | |
| --- | --- |
| Product Rating (out of 5): | |

I love, Love, LOVE this cereal!

Comment submitted: 7/22/2009 (#1848)



By JuliaJolie


| | |
| --- | --- |
| Product Rating (out of 5): | |

This cereal is amazing. Being the cereal-ho that I am, though, I tend to add coco crispies to this as well :)

Comment submitted: 4/27/2009 (#1621)



By Soy Guy


| | |
| --- | --- |
| Product Rating (out of 5): | |

This is DELICIOUS with vanilla silk!

Comment submitted: 3/5/2009 (#1509)





By plloyd123 (Team Breakfast Member)


| | |
| --- | --- |
| Product Rating (out of 5): | |

I like the Raisin Bran Extra is now my favorite cereal. Walmart in my area is having a hard time keeping it on the shelf.

Comment submitted: 2/26/2009 (#1493)



By Breakfast_Guy


| | |
| --- | --- |
| Product Rating (out of 5): | |

This is an excellent new cereal in the Raisin Bran line, and I actually much prefer this over the regular version. The almonds and yogurt clusters are an excellent addition, hopefully they will make the boxes bigger so the price per oz. will come down a bit. Definitely worth a try, I will be going back for more!

Comment submitted: 2/25/2009 (#1488)



By Wanna Try

Where did you guys find it?

Comment submitted: 2/19/2009 (#1477)



By Rusti


| | |
| --- | --- |
| Product Rating (out of 5): | |

Gave new Extra a try. Flakes were soggy almost immediately. Won't go back for more. The dog even would not even eat the flakes.

Comment submitted: 2/17/2009 (#1470)



By Brad


| | |
| --- | --- |
| Product Rating (out of 5): | |

I loved the clusters! I was expecting them to be stingier.

Kind of like Basic 4, but slightly better and slightly more expensive.

Comment submitted: 2/1/2009 (#1437)





By mrbreakfast_lvr (Team Breakfast Member)


| | |
| --- | --- |
| Product Rating (out of 5): | |

One of my favorite things about original Raisin Bran is the sweetened raisins. This cereal seems to use regular raisins. I think that is why this cereal, overall, seems a bit less sweet, even with the addition of the yogurt clusters. If you're watching your sugar, this is probably a better pick for you. I like it because even with an extra teaspoon of sugar added, you'll still get added benefits from the almonds and cranberries.

Comment submitted: 1/24/2009 (#1404)




---
Connect With Mr Breakfast:



Most Recent
Product Reviews: