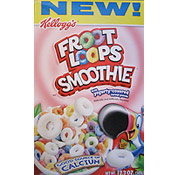 New Product Review:
Froot Loops Smoothie
From Kellogg's
Reviewed by Mr Breakfast on 8/17/2007
The complete name of this cereal is Froot Loops Smoothie With Yogurty-Covered Cereal Pieces. On the box at the bottom it says, "Good Source Of Calcium".
Basically, this is just Froot Loops with what feels like stale pieces of Froot Loops thrown in. The "yogurty-covered" pieces offer nothing but additional sweetness - no flavor, no creaminess, no crunch. When eaten alone, the new pieces have a certain milky texture on the outside, but as you might expect, that milky texture is unnoticeable when it's floating in milk. The new pieces are slightly tougher to chew than the average Froot Loop piece. I'm sure this was meant to be fun and entertaining for your mouth, but since it just feels like Froot Loops gone stale, there's nothing fun about it.
As for the claim that this cereal is a good source of calcium. Take that with a grain of salt. Yogurt is a good source of calcium. Yogurty-Covered cereal pieces... not so much. At 10% of your daily recommended allowance, the same serving of Wheat Chex offers the exact same amount of calcium.
The #1 ingredient in this cereal is sugar. That's 11 grams per serving.
Bad texture and shady claims... this is just a classic cereal gone wrong.
Avoid this one
.
The price we paid: $3.49
Comments About This Product Review
What do you think of Froot Loops Smoothie?
By Loopy4Them


| | |
| --- | --- |
| Product Rating (out of 5): | |

This was the best cereal when I was a kid. The yogurt covered loops melted a wonderful taste in your mouth. They need to come back to grocery stores near me.

Comment submitted: 4/6/2017 (#5484)



By Yona


| | |
| --- | --- |
| Product Rating (out of 5): | |

I felt exactly the same way... the yogurt pieces were hard and felt stale underneath. I expected the fruit taste to resemble a smoothie.... why even call it a smoothie. BTW - really like this site!

Comment submitted: 2/24/2010 (#2182)



By noneater


| | |
| --- | --- |
| Product Rating (out of 5): | |

Not bad - I liked the taste.

Comment submitted: 4/19/2008 (#975)



By Spider Pig


| | |
| --- | --- |
| Product Rating (out of 5): | |

Was this some sort of sick joke. Horrible!

Comment submitted: 1/29/2008 (#853)



By April


| | |
| --- | --- |
| Product Rating (out of 5): | |

Nasty. Doubt I'll finish the box. A real shame.

Comment submitted: 9/13/2007 (#669)



By Froot Fan


| | |
| --- | --- |
| Product Rating (out of 5): | |

Very good.

Comment submitted: 9/10/2007 (#663)



By Chef Mari


| | |
| --- | --- |
| Product Rating (out of 5): | |

I really like this one.

Comment submitted: 8/27/2007 (#638)




---
Connect With Mr Breakfast:



Most Recent
Product Reviews: