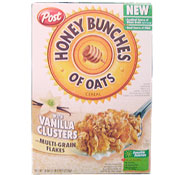 New Product Review:
Honey Bunches Of Oats w/ Vanilla Clusters
From Post
Reviewed by Kellie Hollywood on 8/17/2007
It's like Honey Bunches of Oats got an extreme makeover! I love the original varieties of H.B.of.O., which usually have a corn flake as the base. These flakes were transformed into super-crunchy multi-grain flakes that not only pack in a warmer flavor, but much more fiber and healthy goodness!
The bunches were also super crunchy and worked together well with the flakes to maintain a nice consistency in the cereal. In fact, they gave me a distinct flashback to Craklin Oat Bran cereal, as if those little O-shaped pieces in the aforementioned cereal were crumbled up and made into oat clusters. Needless to say, it is delicious. If you loved Cracklin Oat Bran and any of the original varieties of Honey Bunches of Oats- you'll LOVE this cereal. Stayed crunchy all the way to the bottom of the bowl.
My only complaint is that I did not get a distinct vanilla flavor from the clusters, but on the good side - there wasn't any artificially flavor aftertaste that often follows such flavors. I recommend buying this cereal asap! You can even try it free at
onespoonful.com
Just remember to say that you heard about it at MrBreakfast.com!
The price we paid: $4.59
Comments About This Product Review
What do you think of Honey Bunches Of Oats w/ Vanilla Clusters?

By Ikonkwo1122 (Team Breakfast Member)


| | |
| --- | --- |
| Product Rating (out of 5): | |

This cereal is awesome. This could be one of my favorite honey bunches of oats cereals ever. This is next to the honey and the apple & cinnamon flavor.

Comment submitted: 5/9/2020 (#5855)





By nicolbie (Team Breakfast Member)


| | |
| --- | --- |
| Product Rating (out of 5): | |

It's a good cereal. My favorite is the Original Honey Bunches of Oats, but the vanilla flavor adds a bit more to the whole experience. They're great.

Comment submitted: 4/29/2012 (#3098)



By Canday


| | |
| --- | --- |
| Product Rating (out of 5): | |

This cereal will give you gas... LOL But it is good.

Comment submitted: 1/11/2010 (#2079)



By ambigiz


| | |
| --- | --- |
| Product Rating (out of 5): | |

Where do you put the code that is on the box. It tells me to go to onespoonful.com then it pops up stuff.

Comment submitted: 11/20/2009 (#2011)



By dobber


| | |
| --- | --- |
| Product Rating (out of 5): | |

I really like it, but can't find it lately. The vanilla flavor is really good.

Comment submitted: 10/24/2009 (#1972)



By jill


| | |
| --- | --- |
| Product Rating (out of 5): | |

No vanilla taste at all in this cereal. Poor choice for a "honey bunches of oats" fan! Very bland.

Comment submitted: 12/8/2008 (#1324)





By john sr. (Team Breakfast Member)


| | |
| --- | --- |
| Product Rating (out of 5): | |

Wish person who threw his away would have given it to me. j.f.

Comment submitted: 7/14/2008 (#1091)





By john sr. (Team Breakfast Member)


| | |
| --- | --- |
| Product Rating (out of 5): | |

Love H.B.O. have it even as a snach .J.F.

Comment submitted: 7/14/2008 (#1090)



By HBO Family


| | |
| --- | --- |
| Product Rating (out of 5): | |

This cereal is very tasty and healthy nourishing Breakfast. We all love to have it.

Comment submitted: 6/11/2008 (#1056)



By honey bee


| | |
| --- | --- |
| Product Rating (out of 5): | |

The cereal is really good.

Comment submitted: 5/9/2008 (#1013)





By barbit (Team Breakfast Member)


| | |
| --- | --- |
| Product Rating (out of 5): | |

This cereal is so nasty. It contains more vegetable oil than high fructose corn syrup and has over 200 calories in one serving. It did not taste like vanilla at all, but I could sure taste the vegetable oil! I took two bites and threw the rest away.

Comment submitted: 9/28/2007 (#695)





By rmcintyre (Team Breakfast Member)


| | |
| --- | --- |
| Product Rating (out of 5): | |

I love this cereal. It fills me up and keeps me going until lunch. I can enjoy this cereal all day long.

Comment submitted: 9/20/2007 (#680)





By Mr Breakfast (Team Breakfast Member)


| | |
| --- | --- |
| Product Rating (out of 5): | |

Kellie from Hollywood, CA nailed it with the review she emailed me (above). Thanks Kellie! You are a great chick!

Great texture and great taste. I'm talking about the cereal now and not Kellie... although those descriptions may very well apply to her.

The vanilla in this cereal is so subtle, that it's a stretch to use the word in the name. "Honey Crunch Clusters With A Soft Kiss Of Vanilla" would be more descriptive.

As for health factors, this cereal has zero trans fat and zero saturated fat. There's 4 grams of dietary fiber per serving. The side panel item that surprised me most was that there's 90% of your recommended allowance of iron in each serving. This is good news for women - who loose a significant amount of iron during menstruation. (Before you become to addicted to this cereal - which you could, keep in mind that too much iron causes Hemochromatosis which is deadly if undiagnosed.)

All in all, this is a great cereal. Give it a try. I bet you'll like it.

Comment submitted: 8/17/2007 (#620)




---
Connect With Mr Breakfast:



Most Recent
Product Reviews: