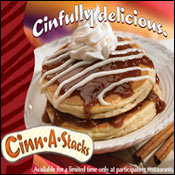 New Product Review:
Cinn-A-Stack Pancakes
From IHOP
Reviewed by Heather H. on 3/23/2006
Dear Mr. Breakfast,
I recently tried the new IHOP Cinna-Stacks pancakes and I thought I would take a moment to give you my review. I hope you like it!
- Heather H.
Dear Heather,
I don't like it... I love it! Thanks so much for sending the review. You've inspired me to try to get to IHOP this week. I'll put it on MrBreakfast.com so other people can read your review. Hey wait... it's already here... on this page. Isn't the internet amazing. Great review Heather! Thanks again.
Your pal,
Mr Breakfast
Heather's Review:
Pancakes and cinnamon rolls... these tasty breakfast dishes have delighted breakfast-eaters for years. What could be better than enjoying one of these delicious treats, you ask? Combining them, of course!
Now I know what you're thinking: Pancakes + cinnamon rolls = feeling sort of sick and taking a trip to the dentist. However, that is not the case with IHOP's new Cinna-Stack Pancakes. Granted, they're not really a combination of pancakes and cinnamon rolls, but all the flavors are there. You've got hot and fluffy flapjacks, rich cinnamon roll filling, drizzles of luscious cream cheese icing, a dusting of cinnamon sugar, and a dollop of whipped cream all piled into one amazing experience.
This may seem like sugar-overload, and well, I'm not going to sugar-coat it (as if they need any more sweetness): It is a very rich meal. Nevertheless, I have to say that these are quite possibly
one of my favorite breakfast foods of all time
. I have had IHOP's latest creation a total of 5 times over the past month and something about them keeps me coming back. After taste-testing these a few times, however, I noticed that the cold whipped cream kind of takes away from the overall taste of the pancakes. I've found that it kind of runs together with the icing and messes up the creamy flavor, so now I simply ask my waiter or waitress to hold that particular topping.
Unfortunately, they are advertising these pancakes as a
limited time
offer, which means us Cinna-Stacks lovers will probably start experiencing withdrawals in a few weeks.
Hurry in to IHOP and get them while they last!
(Note: Cinna-Stacks also come in another version featuring French toast with the same toppings, but I haven't tried this variety.)
Price information unavailable; listed as $0.00.
The price we paid: $0.0
Comments About This Product Review
What do you think of Cinn-A-Stack Pancakes?
By Cinna-Debbie


| | |
| --- | --- |
| Product Rating (out of 5): | |

I loved the Cinn-A-Stack Pancakes. It's been a couple of years since I had them. Do they still have them on the menu?

Comment submitted: 7/20/2012 (#3180)



By CinaStackLover


| | |
| --- | --- |
| Product Rating (out of 5): | |

LOVE those pancakes! So delicious and yummy in my tummy. I could eat them anytime, anywhere. Favorite breakfast yet. I give them infinity out of 5. May sound like I'm over my head, but just try it, you'll see.

Comment submitted: 6/20/2012 (#3156)



By skater girl


| | |
| --- | --- |
| Product Rating (out of 5): | |

AMAZINGEST!!!!! I don't care if that's not a word. :)

Comment submitted: 3/12/2012 (#3047)



By SweetBabyJ


| | |
| --- | --- |
| Product Rating (out of 5): | |

It is smaller then u think but tastes very good. No need for syrup its already sweet.

Comment submitted: 4/23/2011 (#2823)





By juliekayy (Team Breakfast Member)


| | |
| --- | --- |
| Product Rating (out of 5): | |

Whoever is hating and is just going to sit here and call people fat can leave and not come in this forum in the first place You must be really insecure if your going to sit here complaining about "Fat" people. Get a life.

Comment submitted: 3/16/2011 (#2778)



By Judge Rae

Absolutely delicious!!!

Comment submitted: 10/31/2010 (#2593)



By luvbfast


| | |
| --- | --- |
| Product Rating (out of 5): | |

These were very tasty!!! And to guy from England, you guys are ranked 3rd for obesity rates anyways so I don't think you guys are in any position to judge. I'm sure you guys have cinnastacks being prepared somewhere in your country so don't knock on it, until you tried it.

Comment submitted: 4/27/2010 (#2292)



By Rawr!


| | |
| --- | --- |
| Product Rating (out of 5): | |

At least we can properly use exclamation points, Guy. At least we know it's very silly for some English guy to refer to himself as a Guy. And at least our breakfast is tasty!

Comment submitted: 4/12/2007 (#415)



By Yumm


| | |
| --- | --- |
| Product Rating (out of 5): | |

I had the cinn-a-stack french toast this week... yumm!

Comment submitted: 3/31/2007 (#391)



By Guy From England

What on earth!!! And you wonder why you lot are so huge!!!!

Comment submitted: 12/11/2006 (#177)




---
Connect With Mr Breakfast:



Most Recent
Product Reviews: