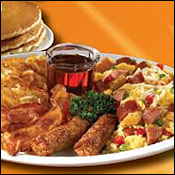 New Product Review:
Denny's Scrambled Sensations
From Denny's
Reviewed by Mr Breakfast on 2/20/2006
I went to Denny's this morning and tried all three of their new Scrambled Sensations. The potions are huge. The scrambles themselves are modest in size - made with two eggs and bulked up with country-fried potatoes. When you add in the three hotcakes, the hash browns, two sausage links and two bacon strips, forget about it. If you can finish the whole thing, you're a better man than me. I left a good portion of my hotcakes and still spent the next four hours grumbling that I ate too much, vowing I'd eat healthier and exercise more in the future.
Before you conclude that I'm a colossal fatso, let me say that I didn't eat all three of the new platters by myself. I brought along a small team of taste testers. We were all in agreement that Denny's new Scrambled Sensations are
pretty good
.
The
Zesty Creole Scrambled Sensation
is my favorite of the three varieties. It has smoked sausage, cheese, onions, peppers, potatoes and a special Creole sauce. The red sauce has a kick and they used just the right amount to make the dish
spicy and unique
without masking the flavor of the other ingredients.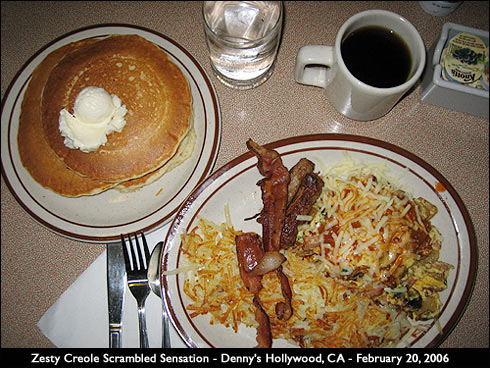 Denny's breakfast menu has been roughly the same for years. Sure, they add more sausage to things sometimes and offer Super Sausage dishes; they add gravy and create new "Country" dishes; and they're great at changing the colors of waffle and pancake toppings to suit seasons and holidays. But this is the first time in a long time that they've added a daring new flavor to their breakfast menu and hit a
Grand Slam home run
.
Coming in second place was the
Pepper Jack And Smoked Sausage Scrambled Sensation
. The selling point of this dish is the sausage...
as smoky tasting as any smoked sausage I've ever had in a restaurant
. It's basically the Creole scramble without the sauce, but there's something about the smoked sausage that permeates the entire scramble and makes it worthy of being called a Sensation. Just between you and me, I suspect they add a little liquid smoke. And there's nothing wrong with that. A little Lazy Kettle Brand Liquid Smoke can give you similar results at home.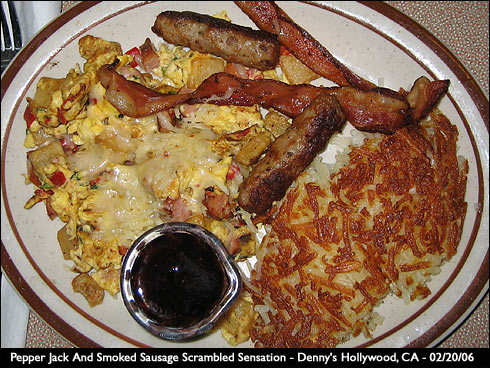 Coming in last place... the lackluster
Ham And Jalapeno Skillet Sensation
isn't a sensation at all. The word "jalapeno" suggests that a dish will have a little excitement. That's not the case here. One of our taste testers was named Matt. You don't know him, but he's a pretty good guy. Anyhow, our waiter placed the Ham And Jalapeno Scramble Sensation in front of Matt. Matt tasted his scramble and then he began to look around the table at the other dishes. "Is this the jalapeno one? It has ham, but I don't think there's any jalapeno." After a couple of bites, he finally started to sense a hint of jalapeno, but not nearly to the extent that the suggestive word should be used to name the dish.
The bottom line:
These new Scrambled Sensations are definitely worth a try. We'd like to see the Creole scramble make the jump to the regular menu. Bring your appetite. At $5.99,
you get your money's worth
.
The price we paid: $5.99
Comments About This Product Review
What do you think of Denny's Scrambled Sensations?
By ArizonaRays


| | |
| --- | --- |
| Product Rating (out of 5): | |

Oh GROSS! Don't eat at Denny's... ANYWHERE! Practically comes in a package/bag or out of a can and the day I watched a "cook" drop a T-Bone steak into the deep fryer then throw it on the grill was the day I KNEW I was working in a slop pit. Nothing is brought up from scratch. It's a grease-pit, hog slop trough. How do I know? I tried to work there but couldn't because of the pig slop they serve. That is not restaurant quality food folks and a true chef/cook would be embarassed to serve such greasy slop food. Sad to say, but you're better off going to McDonald's or Burger King, by comparison. Better yet... just stay home and cook your own. It would be better for you with half the grease.

Comment submitted: 12/11/2009 (#2040)



By brian king


| | |
| --- | --- |
| Product Rating (out of 5): | |

I go to Denny's for breakfast twice a month at least. Now I came across some official Denny's recipes at bestrestaurantrecipes.tk so i try to cook some of my own denny's breakfasts.

Comment submitted: 9/25/2009 (#1939)



By Mucho Salt

Each one of these has double your suggested daily sodium intake! This was the first link when I googled the sensations!

Comment submitted: 4/13/2009 (#1591)





By arcticamy (Team Breakfast Member)


| | |
| --- | --- |
| Product Rating (out of 5): | |

Denny's where I live sucks. What is worse than sucks? I like Denny's in other places though. We dot go to Denny's so I cant review this exact item. What I do know is that when we went there last, we spent $20 on food that we couldve made at home for $2, and wouldve tasted better.

Comment submitted: 8/14/2007 (#609)



By chad

Looks like you didn't get your wish... the creole sauce is no longer offered at Denny's. I guess everyone else didn't agree with you. I work there but I never tried so I can't say.

Comment submitted: 3/19/2007 (#357)



By nick J waiter 2


| | |
| --- | --- |
| Product Rating (out of 5): | |

I work at Denny's - so it's Awsome.

Comment submitted: 11/10/2006 (#113)




---
Connect With Mr Breakfast:



Most Recent
Product Reviews:

Check out our favorite vintage recipes from old magazine ads and recipe cards.
Click here
.