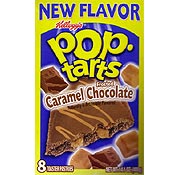 New Product Review:
Caramel Chocolate Pop-Tarts
From Kellogg's
Reviewed by Mr Breakfast on 2/25/2005
I get hundreds of emails each month from hundreds of wonderful people. And every so often I get an email from a bad apple. Recently I was sent an email that said, "Mr Breakfast, how can you promote Pop-Tarts for breakfast? It's unforgivable!!!"
My official stance is that Pop-Tart style products are candy bars... some of the best candy bars on the market. Given the billions of options we have for breakfast, I don't recommend chucking a Pop-Tart in your mouth and calling it breakfast. But I also have to admit that I'm as guilty as the next guy for grabbing a donut or a Pop-Tart for breakfast when time is a consideration or if I have an insatiable urge to be decedent. I'll state for the record... mothers don't feed your children Pop-Tarts. Visit our
healthy breakfast section
and raise a healthy child.
But Pop-Tarts are a permanent part of our American breakfast landscape, so I'll continue to review them and enjoy them when they taste good. So before a jerk like Sherry Sykes of Albany, New York sends me an email saying what a disgrace I am for promoting Pop-Tarts, I hope they'll explore the site first. Sherry Sykes of Albany, New York... I think it's "unforgivable" that you write complaint emails without being informed.
With that nastiness behind us, let's start talking about the very tasty new Caramel Chocolate Pop-Tart, instead of that dopey jerk Sherry Sykes of Albany, New York. The second you take this pastry out of its silver sheathing,
it smells like a delicious brownie
. When toasted, you get a distinct, but not overpowering flavor of caramel. The inside is a gooey treat. The chocolate flavor is similar to Kellogg's other chocolate pastries, but the caramel gives it a new and interesting twist. You might expect it to be too sweet. It's not.
For those of you that opt for un-toasted Pop-Tarts as an afternoon snack, this one isn't so great. It takes toasting to merge the chocolate and caramel flavors. "Fruit" filled Pop-Tarts are always better un-toasted options.
A woman I'd just had sex with tried a toasted Caramel Chocolate Pop-Tart and said, "This is really, really good.
I don't think they can make a better Pop-Tart
." I liked it a lot, but not quite that much.
"Mr Breakfast, did you just say what I thought you did?" I did and you'd be validated in writing a complaint letter. "Was Sherry Sykes of Albany, New York the woman you had sex with?" No way, man.
A one pastry serving contains 200 calories and 1.5 grams of saturated fat. Trans fat information is not listed.
The price we paid: $2.50
Comments About This Product Review
What do you think of Caramel Chocolate Pop-Tarts?
By Donna_k


| | |
| --- | --- |
| Product Rating (out of 5): | |

I Donna Kitchen am letting you know that I am suing you, Your product burnt me and gave me possible fourth degree burns on my left four fingers. I will be getting ahold of my doctor and lawyer tomorrow morning: 12-23-09.

Sincerly Donna Kitchen

Comment submitted: 12/22/2009 (#2053)



By Jess


| | |
| --- | --- |
| Product Rating (out of 5): | |

This was my favorite flavor of poptarts. I'm very disappointed they have been taken off the market.

Comment submitted: 11/11/2009 (#1997)



By HeyCass15


| | |
| --- | --- |
| Product Rating (out of 5): | |

Mr. Breakfast, YOU ARE THE MAAAAAN for writing this review! You tell that sherry chick right where to shove these Pop-Tarts! And if you ever read this lady your kid probably hates you anyways so just keep your Pop-Tart hating comments in your stuck up mother brain. This is my all time favorite Pop-Tart flavor but can't seem to find them anywhere... it's a shame really :(

Comment submitted: 9/7/2009 (#1902)





By JuJu Beans (Team Breakfast Member)


| | |
| --- | --- |
| Product Rating (out of 5): | |

Why they discontinue this flavour? It was one of my favorites!

Comment submitted: 11/26/2008 (#1312)



By Undisputed


| | |
| --- | --- |
| Product Rating (out of 5): | |

I love these but I can't seem to find them.

Comment submitted: 1/2/2008 (#813)



By BOB


| | |
| --- | --- |
| Product Rating (out of 5): | |

I love them! there like so good!!! Take it from a kid :)

Comment submitted: 6/10/2007 (#506)



By I. No Name


| | |
| --- | --- |
| Product Rating (out of 5): | |

It's pretty good.

Comment submitted: 6/7/2007 (#502)





By liljspeed (Team Breakfast Member)


| | |
| --- | --- |
| Product Rating (out of 5): | |

This is the greatest pop tart ever! Now its hard for me to find them.

Comment submitted: 3/21/2007 (#365)



By Try Again


| | |
| --- | --- |
| Product Rating (out of 5): | |

I think they should make them better and more interesting!

Comment submitted: 3/20/2007 (#361)



By breakfastgirl01


| | |
| --- | --- |
| Product Rating (out of 5): | |

After giving it a shot, I feel in love but you could still try a new taste.

Comment submitted: 2/12/2007 (#279)



By brakfastgirl013


| | |
| --- | --- |
| Product Rating (out of 5): | |

I think that they r nasty. I'm a kid and there are certain things I don't eat like that gooie stuff inside. Maybe u could change the taste so it would tatse better!!

Comment submitted: 2/12/2007 (#278)




---
Connect With Mr Breakfast:



Most Recent
Product Reviews: