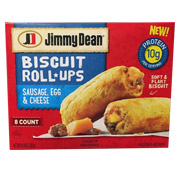 New Product Review:
Biscuit Roll-Ups
From Jimmy Dean
Reviewed by Mr Breakfast on 7/9/2019
I tried the Sausage, Egg & Cheese variety of Jimmy Dean Biscuit Roll-Ups. The first thing you notice when you open the bag of 8 Roll-Ups is that they're quite small - about 3" x 1". Two Biscuit Roll-Ups make a serving. They're very easy to prepare - simply microwave for 60 seconds.
For a microwave product, the biscuit part of the Roll-Up is surprisingly light and flaky. The sausage tastes great. Cheese is noticeable and the egg does it's job. It only takes 3 or 4 bites to eat a Roll-Up. but I did find that my morning appetite was satisfied by the recommended serving of 2 Roll-Ups.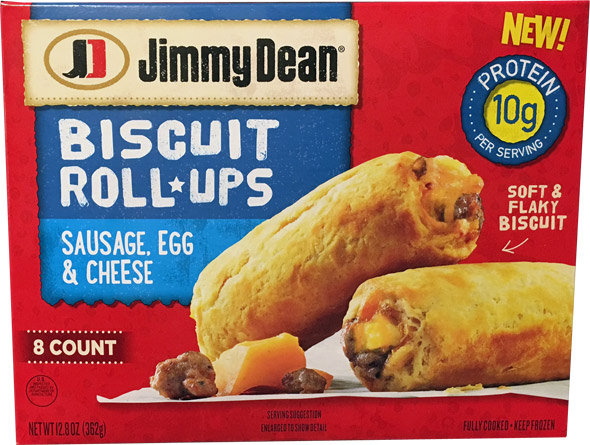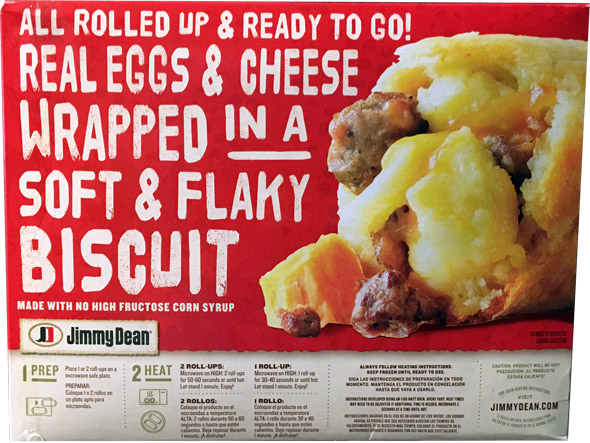 Overall, I liked this product.
They could be more flavorful. The biscuit itself is the dominate flavor, masking some of the flavor of the filling. But that biscuit flavor is very good, so I'll happily finish my box of 8 Biscuit Roll-Ups.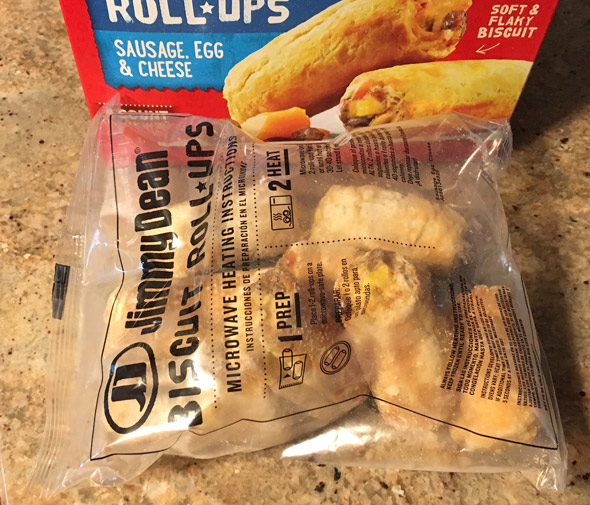 Nutritional Considerations:
Each serving of 2 Sausage, Egg & Cheese Biscuit Roll-Ups has 270 calories, 15 grams total fat (7 grams saturated and 0 grams trans), 70 mg cholesterol, 740 mg sodium, 24 grams total carbs, 2 grams dietary fiber, 3 grams sugar and 10 grams protein.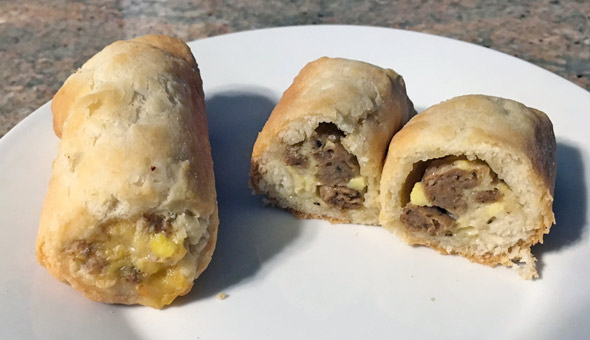 There are 2 other varieties of Jimmy Dean Biscuit Roll-Ups available: Egg & Cheese Biscuit Roll-Ups and Egg, Ham & Cheese Biscuit Roll-Ups. Feel free to comment on any of the varieties below.
The price we paid: $5.99
Comments About This Product Review
What do you think of Biscuit Roll-Ups?
By Catarina


| | |
| --- | --- |
| Product Rating (out of 5): | |

I love the egg, cheese and ham :)

Comment submitted: 9/18/2020 (#5887)



By Nick_Name


| | |
| --- | --- |
| Product Rating (out of 5): | |

They're grrrreat...er than Frosted Flakes, but I don't really care for cereal and prefer a savory breakfast. Dip these in sausage gravy and you have a nice, filling, hearty breakfast in no time at all. They're not perfect, but what is? Millions of people are starving and don't know where their next meal is coming from, so I would never complain, unlike some of the snobby people on here who like to complain every time they don't taste absolute perfection. Next time consider how blessed you are to have food in your belly and stop complaining. Jimmy Dean for President!

Comment submitted: 6/19/2020 (#5867)



By Picky Eater


| | |
| --- | --- |
| Product Rating (out of 5): | |

I love the Jimmy Dean egg & cheese roll ups. I'm a pretty picky breakfast eater. I'm not big on it. And typically the frozen breakfasts have meats in them that are not cooked to my liking. I picked up the egg and cheese and absolutely love them. Especially with ketchup. YUM! But It's three ingredients and I can make it myself for much cheaper and more quantity. Which is what I'll do. But these are still delicious.

Comment submitted: 5/13/2020 (#5856)



By Grammy A.

We tried Jimmy Dean Biscuit Roll UPS - Egg & Cheese. Where's The Cheese?! Packaging looks delicious but couldn't find the cheese. Sorry, but not happy.

Comment submitted: 3/8/2020 (#5832)



By luvthemtrainz


| | |
| --- | --- |
| Product Rating (out of 5): | |

I enjoy the product immensely! Yes, they're not too large but they're made of three of my favorite grubs and only take a minute to prepare. Too dry? Well, that's the nature of biscuits. I like to jazz them up with some maple syrup. Give 'em a shot.

Comment submitted: 2/9/2020 (#5821)



By GMA Texas


| | |
| --- | --- |
| Product Rating (out of 5): | |

I have found many breakfast type biscuit sandwiches over the years. The ones I loved were discontinued. I am so happy to give found these. Biscuits are my favorite morning meal. These are easy to prepare, thick to eat and delicious.

Comment submitted: 1/28/2020 (#5815)



By hiker


| | |
| --- | --- |
| Product Rating (out of 5): | |

Jimmy Dean eggs, ham and cheese roll ups... Hardly any filling, mostly biscuit which counts for the calories. A lot of money for a nothing breakfast.

Comment submitted: 1/22/2020 (#5809)



By Fontman


| | |
| --- | --- |
| Product Rating (out of 5): | |

Too dry, not very appetizing even for a super-taster. Would be better to use a flakey pastry rather than this dull biscuit.

Comment submitted: 12/17/2019 (#5799)



By Jas Reed


| | |
| --- | --- |
| Product Rating (out of 5): | |

These are surprisingly great! Normally I don't opt for frozen breakfast meals but I tried this one and it totally hit it out of the park. I will be going back to my local Sam's and stocking up!

Comment submitted: 11/8/2019 (#5784)



By D LEAMON


| | |
| --- | --- |
| Product Rating (out of 5): | |

I love this product. I wasn't expecting such a light, fresh biscuit. And the filling is just perfect. I even found myself snacking on them at night instead of reaching for an unhealthy sweet snack. I will definitely be purchasing these again.

Comment submitted: 11/6/2019 (#5783)



By preach

They should have some of their product without cheese... for those of us that cannot eat cheese. Thank you very much. -Carl N.

Comment submitted: 11/1/2019 (#5781)



By Aussie

Unlike the previous 2 reviews, I found the product to be 80% pastry and tasteless filling (egg,ham and cheese). I will not purchase again!

Comment submitted: 10/27/2019 (#5779)



By Texas Red


| | |
| --- | --- |
| Product Rating (out of 5): | |

I usually don't like frozen breakfast products because they're normally not very good or healthy. Because of a hectic schedule I purchased these to have a quick breakfast. I love them. The sausage is better than the ham because it's spicy. A good product.

Comment submitted: 9/11/2019 (#5771)




---
Connect With Mr Breakfast:



Most Recent
Product Reviews: