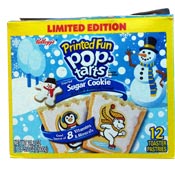 New Product Review:
Sugar Cookie Pop-Tarts
From Kellogg's
Reviewed by Mr Breakfast on 12/8/2011
They're adorable and they actually smell like freshly baked sugar cookies when they're toasting.
As for flavor, there's mixed reviews. Personally, I thought they tasted alright. The filling tastes like frosting. You don't expect any kind of flavor explosion from a sugar cookie. So I wasn't disappointed.
I asked two other people to try these Pop-Tarts and the reviews were less than positive. One person simply shrugged and said "blah". I asked what that meant and was told, "They're kind of boring." The other person actually called them gross and said the filling reminded him of uncooked dough. (I could sense what he described if I ate the Pop-Tarts raw, but that taste of dough seems to disappear once toasted.)
If your expectations are low and you appreciate the kid-friendly winter characters printed into the frosting... go for it (but be sure to toast them).
If you're treating yourself to a Pop-Tart and only have them a few times a year, avoid these. Almost every variety of Pop-Tart (except Ice Creme Sandwich and Vanilla Milkshake) tastes better.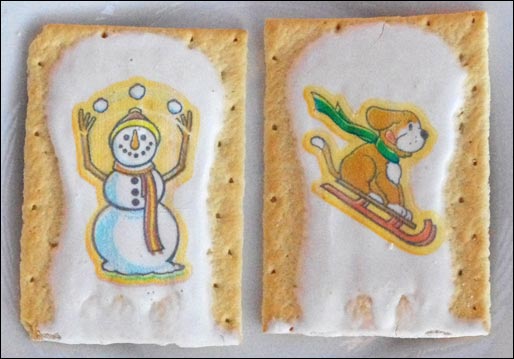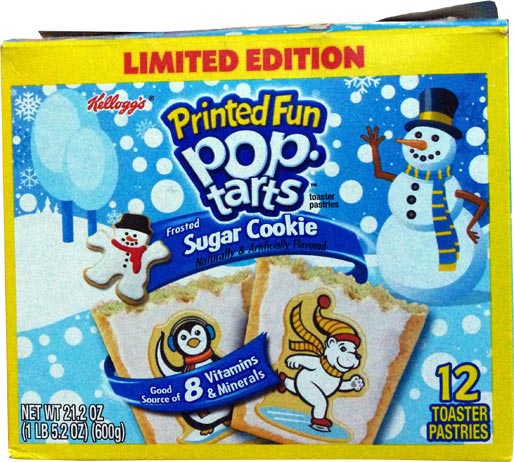 Nutritional Considerations:
Each single pastry serving has 200 calories, 5 grams total fat (2 grams saturated and 0 grams trans), 35 grams total carbs, less than 1 gram dietary fiber, 14 grams sugar and 2 grams protein.
The price we paid: $2.49
Comments About This Product Review
What do you think of Sugar Cookie Pop-Tarts?
By Rainbow


| | |
| --- | --- |
| Product Rating (out of 5): | |

I love them! I wish they would sell them year round!

Comment submitted: 2/4/2016 (#5350)



By Frost


| | |
| --- | --- |
| Product Rating (out of 5): | |

Pretty darned tasty! I found a few boxes at big lots for $1.70 and figured I should at least try them at that price. I think I will go back for the rest tomorrow.

Comment submitted: 6/28/2015 (#5275)



By ConcernedMom


| | |
| --- | --- |
| Product Rating (out of 5): | |

They are dangerous! Both my son and I got burned by the frosting that is like burning marshmallow when hot. It adheres to your skin! I just left an urgent care center where they diagnosed my son with 2nd degree burns. Kellogg's has got to address this issue.

Comment submitted: 10/20/2013 (#4718)



By kimberly


| | |
| --- | --- |
| Product Rating (out of 5): | |

My favorite kind of Pop-Tart!

Comment submitted: 1/18/2013 (#3568)



By phantomriot


| | |
| --- | --- |
| Product Rating (out of 5): | |

Hands down, the best Pop Tarts for me!

Comment submitted: 12/16/2012 (#3542)



By Ice3


| | |
| --- | --- |
| Product Rating (out of 5): | |

Your friend is right, they taste just like uncooked dough. I like them pretty good though.

Comment submitted: 11/23/2012 (#3535)



By Radio GaGa

They're back. Just saw them at Target. Hope they're new and not just left over from last Christmas.

Comment submitted: 11/15/2012 (#3525)





By cid 88 (Team Breakfast Member)

I have been trying to get them. We want to try them, but around here no store ever has them, so disappointed. I even checked Walmart web site, they always seem to have the pumpkin pie kind but we want the sugar cookie. Anyone?

Comment submitted: 11/11/2012 (#3519)



By Amanda1


| | |
| --- | --- |
| Product Rating (out of 5): | |

I hope they start selling them again this winter.

Comment submitted: 9/9/2012 (#3224)



By Sugar Jax


| | |
| --- | --- |
| Product Rating (out of 5): | |

I liked it better than you did. Not the best Pop-Tart, but still pretty good. My favorite is the regular strawberry one with frosting.

Comment submitted: 8/28/2012 (#3220)





By yuminmytummy (Team Breakfast Member)


| | |
| --- | --- |
| Product Rating (out of 5): | |

I loved the Sugar Cookie Pop-Tarts. Please put them back in stores immediately.

Comment submitted: 3/7/2012 (#3039)





By kmgaudet (Team Breakfast Member)


| | |
| --- | --- |
| Product Rating (out of 5): | |

My Daughter and I love these. Especially warmed they taste like a fresh baked cookie. Now I guess you have to love sugar cookies to appreciate these.

Comment submitted: 2/3/2012 (#3003)




---
Connect With Mr Breakfast:



Most Recent
Product Reviews: