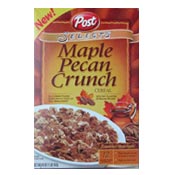 New Product Review:
Post Selects Maple Pecan Crunch
From Post (Kraft Foods)
Reviewed by Mr Breakfast on 1/3/2004
This morning I started my day with a big bowl of new Post Selects Maple Pecan Crunch cereal. This is a cereal with a down-home quality. I was first struck by the pleasant smell - not that it is overwhelming - in fact, I really had to get my nose down into the flakes to experience what I'll describe as an
oven-fresh nutty aroma.
If you're into
crunchy
, this product will not disappoint. The multi-grain flakes are thicker and more substantial than your average cereal flakes, which provide a terrific crunch long after the flakes have been submerged in milk.
As for overall taste, if you like pecans and maple you will probably like this.
It's a quality cereal with an almost homemade flavor.
Thumbs up from me. I'm Mr Breakfast.
The price we paid: $3.99
Comments About This Product Review
What do you think of Post Selects Maple Pecan Crunch?
By CerealGuy


| | |
| --- | --- |
| Product Rating (out of 5): | |

Since Post can't comment on the popular Maple Pecan Crunch, I stopped buying any Post products. Look what happened to the former Detroit auto makers, when THEY decided what we should like.

Comment submitted: 5/4/2015 (#5254)



By W. Oates


| | |
| --- | --- |
| Product Rating (out of 5): | |

It shows on their site it has been discontinued. I loved this cereal.

Comment submitted: 2/19/2013 (#3610)



By JanO


| | |
| --- | --- |
| Product Rating (out of 5): | |

I am still looking for this great cereal... no where to be found in southern California. I emailed Post and asked where I could find it and they replied that it's everywhere. So much for what they know. I see it's on Amazon but at over $5 a box... wow!

Comment submitted: 2/2/2013 (#3586)



By vlang77


| | |
| --- | --- |
| Product Rating (out of 5): | |

This cereal is BACK! It's now under the Post Great Grains label and I just found it on the shelves this week!

Comment submitted: 8/1/2012 (#3186)



By Boom2


| | |
| --- | --- |
| Product Rating (out of 5): | |

Ask Post why this great cereal is gone. I have emailed them and am waiting for an answer.

Comment submitted: 6/10/2012 (#3139)



By Johnny


| | |
| --- | --- |
| Product Rating (out of 5): | |

Best cereal ever! I can't believe they are not making it anymore. The guy at Walmart told me people are asking for it all the time. What a disappointment!

Comment submitted: 5/27/2012 (#3127)



By Peach

I cannot find Post Maple Pecan Crunch anywhere in Maryland. What gives? I had no trouble buying it in Florida (Publix). It's my favorite cereal, but no grocer in my area is interested in getting it for me. What can I do?

Comment submitted: 4/6/2012 (#3074)



By Suzayque


| | |
| --- | --- |
| Product Rating (out of 5): | |

This is my absolute favorite cereal and I cannot find it anymore! Please bring it back. I tried the Crunchy Pecans and it was horrible. They had the perfect cereal already - why change it?

Comment submitted: 3/31/2012 (#3068)



By Cold Steel 2010


| | |
| --- | --- |
| Product Rating (out of 5): | |

As I was in Tinley park IL. 4 days ago I was sure I'd find my Maple Pecan Crunch there at a Jewel store on Harlem av. Was ready to buy a half case (12 boxes) if they had it. No dice - another product I felt was better and thicker than all the rest was Kraft french onion dip. So I checked for that and no dice again. I hate the way other dips get watery. Kraft didn't it seem our country wants us to have the crud of the line only and the good is being eliminated. Thanks Post. Thanks Kraft. It was good until you decided it was too good for me.

Comment submitted: 3/28/2012 (#3065)



By frawgdale


| | |
| --- | --- |
| Product Rating (out of 5): | |

I love this cereal, but like everyone else, can no longer find it. Even out of stock on Amazon. I emailed Post - they said it is still available, but from the comments here, I doubt it.

Comment submitted: 3/14/2012 (#3051)



By H. James


| | |
| --- | --- |
| Product Rating (out of 5): | |

This is my children's favorite cereal, and I can't find it anymore. I just emailed Post to see if it is still available. Fingers are crossed!!

Comment submitted: 3/2/2012 (#3029)



By cold steel 2010


| | |
| --- | --- |
| Product Rating (out of 5): | |

I live in N. Eastern Kentucky, have searched allover Portsmouth Oh. Then went 40 miles to Ashland, KY - figured if I find it there I'll pick up 4 boxes to keep me in business a while. Can't find it at all. It and Raisin Rut Bran are my 2 favorites. I eat each 1 every other day. I'm gonna call Post - will update later if I learn anything. I thought it was just in this area. As I see now, it's not.

Comment submitted: 2/2/2012 (#3002)



By sweetpea


| | |
| --- | --- |
| Product Rating (out of 5): | |

I am no longer able to find the Maple Pecan Crunch cereal at any of my local grocery stores here in Sandy, UT. Has it been discontinued? It has been my favorite! I have tried Walmart, Smith's, Fresh Market, Macy's, etc... Please let us know what has happened to this yummy cereal.

Comment submitted: 1/26/2012 (#2986)



By csthomas


| | |
| --- | --- |
| Product Rating (out of 5): | |

Where can I find this cereal in Indiana? I live in Greencastle and used to find it at Wal-Mart. No longer. Respond to csthomas@frontier.com

Comment submitted: 1/15/2012 (#2968)



By ocotillo


| | |
| --- | --- |
| Product Rating (out of 5): | |

The cereal is somewhat hard to find, I buy it at a small store in my neighborhood. I have looked for it at bigger stores but it isn't stocked, which is a shame. Post hit a home run with this cereal, it's one of the best ever.

Comment submitted: 10/6/2011 (#2903)



By yendi


| | |
| --- | --- |
| Product Rating (out of 5): | |

I consider this the best cereal ever. I like it very much.

Comment submitted: 6/5/2011 (#2854)





By BigSix (Team Breakfast Member)


| | |
| --- | --- |
| Product Rating (out of 5): | |

How about an update or some feedback to all of us who NEED some Maple Pecan Crunch cereal. Where and When will we be able to buy it again? BigSix here.

Comment submitted: 3/2/2011 (#2762)





By BigSix (Team Breakfast Member)


| | |
| --- | --- |
| Product Rating (out of 5): | |

I have found nothing to equal Maple Pecan Crunch by Post Great Grains cereal. We are no longer able to get that flavor in Meijer's, Walmart, etc. in Angola, Indiana - nor in Ft. Wayne, IN. Please let us all know... Why not? - Sharon in Angola, Indiana

Comment submitted: 2/22/2011 (#2741)



By Manchester


| | |
| --- | --- |
| Product Rating (out of 5): | |

I'm wondering IF and WHERE I can purchase Maple Pecan Crunch Cereal. I've checked Shaw's and Stop & Shop in Manchester NH, speaking with the produce manager but neither place could help me, one mentioning they carried Great Grains now. If this is true, would you please bring back the most delicious cereal I've ever tasted - Post Selects Maple Pecan Crunch?

Comment submitted: 11/4/2010 (#2601)



By JShay


| | |
| --- | --- |
| Product Rating (out of 5): | |

This is a great cereal. Unfortunately, I can't find it anywhere in the southern California area. I did find on-line at the Post website. They sell it by the case. Otherwise, my sister in Florida sends me boxes of the tasty treat.

Comment submitted: 9/16/2010 (#2521)



By Mare

I can't find Maple Pecan Crunch cereal anywhere, Did you quit selling it?

Comment submitted: 9/14/2010 (#2518)



By SergeM


| | |
| --- | --- |
| Product Rating (out of 5): | |

Hi - I'm from Moscow, Russia. This Post Selects product is available here. I've been trying it for several months and can say that it's superb. I enjoy it a lot.

Comment submitted: 6/28/2010 (#2396)





By scirdan (Team Breakfast Member)


| | |
| --- | --- |
| Product Rating (out of 5): | |

This is by far the greatest cereal ever created. Of course its kind of hard to find in my area. :(

Comment submitted: 3/29/2010 (#2252)



By pattylu

I am unable to find this product at Marsh, Kroger and most recently at Walmart. Has it been discontinued? If not where can I find it? Can I by it On Line? - Patricia L Query (Lafayette, IN 47909) sciencebob@msn.com

Comment submitted: 2/16/2010 (#2160)



By Charlie Trey


| | |
| --- | --- |
| Product Rating (out of 5): | |

I THOUGHT Crunchy Pecan was the best cereal ever... until I tried this. It's like Crunchy Pecan, but the Maple flavor gives it just the kick it needs to keep it from ever getting boring.

Comment submitted: 10/7/2008 (#1251)



By Cereal


| | |
| --- | --- |
| Product Rating (out of 5): | |

The best cereal I've ever tasted!!!!

Comment submitted: 4/5/2007 (#402)





By rosebello (Team Breakfast Member)


| | |
| --- | --- |
| Product Rating (out of 5): | |

It is great. I've been eating it for years before I started having to watch my sugar. I like to seperate everything exept the flakes and put it on the table. Then I pour the milk on the flakes and eat them. Then at the end you eat the pecans and clusters. I love this cereal. You have to try it!!

Comment submitted: 10/29/2006 (#94)




---
Connect With Mr Breakfast:



Most Recent
Product Reviews: