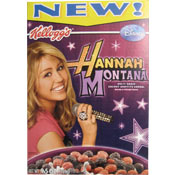 New Product Review:
Hannah Montana Cereal
From Kellogg's
Reviewed by Mr Breakfast on 5/27/2009
The complete name of this Disney/Kellogg's cereal is Hannah Montana Multi-Grain Secret Identity Cereal. It consists of red, purple and reddish purple cereal pieces.
This is a fruity cereal. I don't mean that in any kind of an off-color way. It's filled with berry flavor, mainly strawberry.
It's not a great cereal, but it's better than most novelty cereals. High School Musical Cereal tasted like a whole lot of nothing. Frosted Krusty-O's Cereal (
The Simpsons
) tasted like the generic version of an off-brand shoe. This cereal tastes alright. The nearest flavor comparison I could draw is Cap'n Crunch's Crunch Berries.
Hannah Montana is sweet. I'm talking about the cereal. The sugar content is not totally horrible at 9 grams per serving. The aspect I liked least about this cereal is that the sugary berry flavor yields to a corny (as in corn) flavor after the cereal has been chewed. Those two flavors tend to compete for attention instead of uniting to create a single flavor.
In the end, I'm going to recommend this cereal... to Hannah Montana fans and cereal box collectors. If you just want a nice berry flavored breakfast cereal, there are
many better options
.
Nutritional Considerations: Each 1 cup serving of Hannah Montana has 110 calories, 1 gram of total fat (0 grams saturated and 0 grams trans), 0 mg cholesterol, 25 grams total carbs, 1 gram dietary fiber, 9 grams sugars and 2 grams protein.
The price we paid: $2.49
Comments About This Product Review
What do you think of Hannah Montana Cereal?
By barbara m.


| | |
| --- | --- |
| Product Rating (out of 5): | |

Hannah Montana is sweet :) But her cereal was too sweet.

Comment submitted: 2/16/2012 (#3017)



By Frodo

Ugggghh, what's next?

Comment submitted: 12/19/2009 (#2052)



By BestOfBothWorlds


| | |
| --- | --- |
| Product Rating (out of 5): | |

This is one of the best cereals I've ever tasted! I wasn't expecting it to be good. No other look mom cereal is. Disney Princess cereal was the nastiest cereal I ever tried to eat. This one was so good I bought it for myself also. I'm not a big cereal eater. I think it's odd grown adults knock thing they don't try based on a picture and name of a girl that they don't agree with. Grow up. This was Kellogg's only excellent cereal!

Comment submitted: 11/12/2009 (#1998)



By DJ


| | |
| --- | --- |
| Product Rating (out of 5): | |

You Have Got to be Kidding! Who would buy her records let alone this *#$@

Comment submitted: 9/11/2009 (#1907)



By bologna

I wouldn't feed this to Billy Ray Cyrus.

Comment submitted: 7/8/2009 (#1827)



By megan


| | |
| --- | --- |
| Product Rating (out of 5): | |

Eh.

Comment submitted: 6/6/2009 (#1782)




---
Connect With Mr Breakfast:



Most Recent
Product Reviews:

Just because it looks fancy and tastes great doesn't mean it's hard.
Click here
.