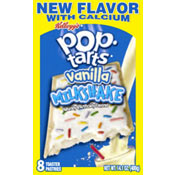 New Product Review:
Vanilla Milkshake Pop-Tarts
From Kellogg's
Reviewed by Mr Breakfast on 7/7/2008
These Pop-Tarts have the least amount of flavor of any Pop-Tart I've ever tried. In fact, they have less flavor than any brand of toaster pastry I've ever tried.
Vanilla Milkshake Pop-Tarts are surprisingly short on vanilla. The most prominent taste is that of the dough. It's very sweet... but when sweetness has nothing to enhance or mingle with, what's the point? This Pop-Tart is dull.
If you like the frosting on Pop-Tarts and have ever wished you could get the same sugary frosting on the inside, you might want to try them. Everyone one else should stay away from this one.
Nutritional considerations:
Each toaster pastry has 200 calories, 6 grams of fat (2 grams saturated; 0 grams Trans), 35 grams of Carbs, less than 1 gram of dietary fiber, 2 grams of protein and 16 grams of sugar.
The price we paid: $1.99
Comments About This Product Review
What do you think of Vanilla Milkshake Pop-Tarts?

By nicolbie (Team Breakfast Member)


| | |
| --- | --- |
| Product Rating (out of 5): | |

I like the taste of these, but I think they're just extra sugary. I wouldn't mind just dipping them in milk.

Comment submitted: 4/29/2012 (#3101)





By alaneyjaney (Team Breakfast Member)


| | |
| --- | --- |
| Product Rating (out of 5): | |

I was disappointed to learn Kellogg's is discontinuing my FAVORITE PopTart... VANILLA MILKSHAKE. Some people drink coffee every morning for breakfast but I eat the Vanilla Milkshake PopTart. And now I don't know what I will eat because I don't care for any of the other ones. Please join me in letting Kellogg's hear the voices of those who are unhappy with their decision to discontinue the Vanilla Milkshake PopTart. They also discontinued the chocolate with white filling too.

Comment submitted: 2/12/2012 (#3014)



By michaela


| | |
| --- | --- |
| Product Rating (out of 5): | |

It Is So DELICIOUS!!!!!! I Do not like The Crust Though.

Comment submitted: 8/24/2010 (#2484)



By Stokey


| | |
| --- | --- |
| Product Rating (out of 5): | |

MADDDD Good. They are the only ones I eat.

Comment submitted: 4/30/2010 (#2302)



By blair


| | |
| --- | --- |
| Product Rating (out of 5): | |

These are my favorite pop tarts.

Comment submitted: 3/4/2010 (#2198)



By domi


| | |
| --- | --- |
| Product Rating (out of 5): | |

I ate one yesterday and I love these vanilla milkshake popterts. Thier even better than smores =)

Comment submitted: 1/1/2010 (#2064)



By melmax


| | |
| --- | --- |
| Product Rating (out of 5): | |

Where did these go? They are the best pop-tarts ever!

Comment submitted: 12/3/2009 (#2029)



By skheartsmshake


| | |
| --- | --- |
| Product Rating (out of 5): | |

Please, tell my local grocer to put them back on the shelves!

Comment submitted: 6/27/2009 (#1810)



By mshake recommen


| | |
| --- | --- |
| Product Rating (out of 5): | |

I regret to say I've had sort of an addiction to pop tarts for a while. It started with the hot fudge sundae flavor but it's been milkshake for a long time now. I think they taste just like sugar cookies! My favorite!

Comment submitted: 6/27/2009 (#1809)



By Leafy


| | |
| --- | --- |
| Product Rating (out of 5): | |

I'm eating some right now, after my brother just complained how disgusting they were. I personally think they're OK but nothing more. they have an interesting , and appealing taste, but I see how eating two of them could get boring. One is ok.

Comment submitted: 5/1/2009 (#1636)



By kronik

Blah! Spam is better than this!

Comment submitted: 4/27/2009 (#1623)



By scrooner


| | |
| --- | --- |
| Product Rating (out of 5): | |

I had some of these last night, and within 20 minutes they completely cleaned out my insides. Holy cow, it was a colon blow. I will never eat these again... unless I get backed up.

Comment submitted: 4/7/2009 (#1578)



By heart vanilla


| | |
| --- | --- |
| Product Rating (out of 5): | |

Loved these actually. I like the cake batter flavor of the vanilla, reminded me of desserts toasted with powdered sugar. Probably my favorite flavor in a long time.

Comment submitted: 4/4/2009 (#1569)



By Momof 3


| | |
| --- | --- |
| Product Rating (out of 5): | |

These are easily the least appealing pop-tarts ever. Even my kids didn't care for them. The dough is the same, but the filling is a flavorless goo. It's like eating dough-flavored frosting.

Comment submitted: 2/23/2009 (#1483)





By WafflesRock (Team Breakfast Member)


| | |
| --- | --- |
| Product Rating (out of 5): | |

I actually thought these were really good. Unlike some other people have noted, I thought they tasted just like a vanilla version of the Hot Fudge Sundae Pop-Tarts, which are my favorite. Vanilla Milkshake Pop-Tarts might be a close second though!

Comment submitted: 1/28/2009 (#1421)





By verby (Team Breakfast Member)


| | |
| --- | --- |
| Product Rating (out of 5): | |

Had these recently, and I agree, they're pretty bland/boring. Once it was warm it seemed as though the filling melted and soaked into the dough, it's like it disappeared.

Comment submitted: 1/11/2009 (#1370)



By Potty Mouth


| | |
| --- | --- |
| Product Rating (out of 5): | |

I liked this one.

Comment submitted: 11/5/2008 (#1293)



By I Like Them


| | |
| --- | --- |
| Product Rating (out of 5): | |

These are actually my favorite next to smore!

Comment submitted: 10/3/2008 (#1247)



By shinai


| | |
| --- | --- |
| Product Rating (out of 5): | |

I do sympathize with the taste of dough (actually to me, cake batter or cupcake batter) but i actually prefer it over the hot fudge sundae. i like the flavour itself, though very light. I don't agree that it has the least amount of flavour, but i can understand how you can say that especially compared to other flavours, like cherry or apple.

Comment submitted: 9/3/2008 (#1205)



By aarp


| | |
| --- | --- |
| Product Rating (out of 5): | |

I'm eating one right now and it's delicious.

Comment submitted: 8/5/2008 (#1127)



By P


| | |
| --- | --- |
| Product Rating (out of 5): | |

These are actually very good frozen. The filling's taste comes out a little better. It's funny, as I liked the vanilla half of the splitz, and these seem different.

Comment submitted: 7/10/2008 (#1087)



By Taylor


| | |
| --- | --- |
| Product Rating (out of 5): | |

I recently bought these because I am a big fan of the Hot Fudge Sundae pop-tarts. I thought they would be very similar. However, I was wrong. All I could taste really was the dough. Interesting idea, horrible execution.

Comment submitted: 7/8/2008 (#1086)




---
Connect With Mr Breakfast:



Most Recent
Product Reviews: